LOS ANGELES (TheBlaze/AP) — Bruce Jenner offered condolences to the family of a woman killed in a multi-vehicle crash he was involved in and said he'll cooperate with investigators in every possible way.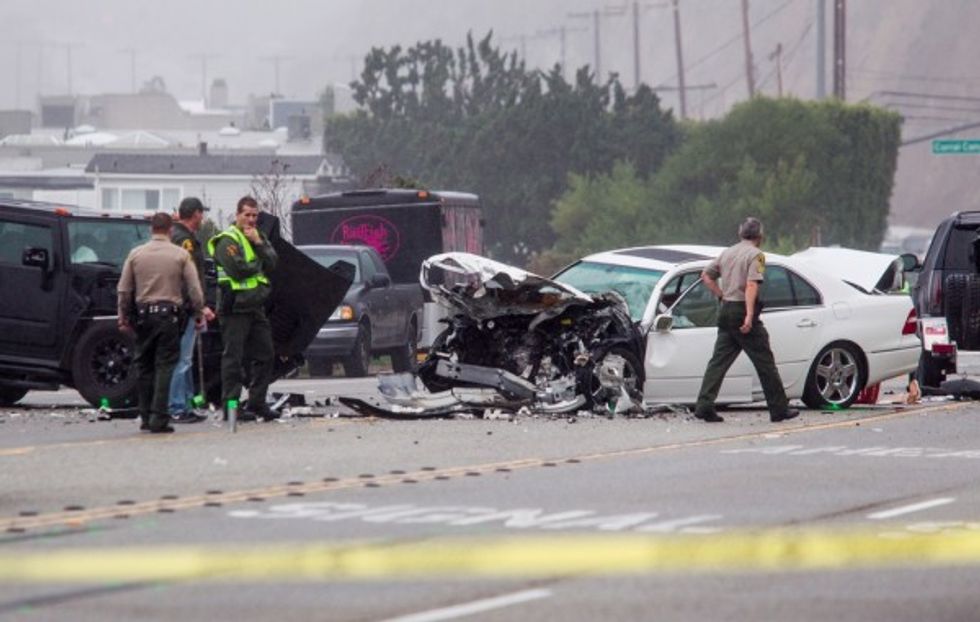 Los Angeles County Sheriff's deputies investigate the scene of a multi-vehicle collision in Malibu, Calif. on Saturday, Feb. 7, 2015. Officials said former Olympian Bruce Jenner was a passenger in one of the cars involved in the Pacific Coast Highway crash that killed one person. (Image source: AP/Ringo H.W. Chiu)
The Olympic gold medalist and Kardashian family patriarch said Sunday that he was praying for all those who were involved or injured in what he called "a terrible tragedy."
Authorities said Jenner was driving an SUV on Saturday that rear-ended a Lexus sedan that had just struck the back of a Toyota Prius. The Lexus veered into oncoming traffic and collided head-on with a black Hummer.
The driver of the Lexus was killed.
The moment of impact was captured by celebrity photographers, but authorities said there was no indication Jenner was being chased by paparazzi at the time of the crash.
Jenner wasn't texting while driving, his publicist said Sunday, adding that Jenner will provide his cellphone records if investigators request them.
This story has been updated.
—
Follow Dave Urbanski (@DaveVUrbanski) on Twitter