Potential 2016 presidential hopeful and Louisiana Republican Gov. Bobby Jindal, who once supported Common Core education standards, is now a staunch opponent of the curriculum for a number of reasons, including for ones related to how technology is used in the classroom.
At an event in Washington, D.C. on Monday, Jindal acknowledged his reversal on the issue of Common Core while explaining the reasons he is now opposed, as they relate to technology.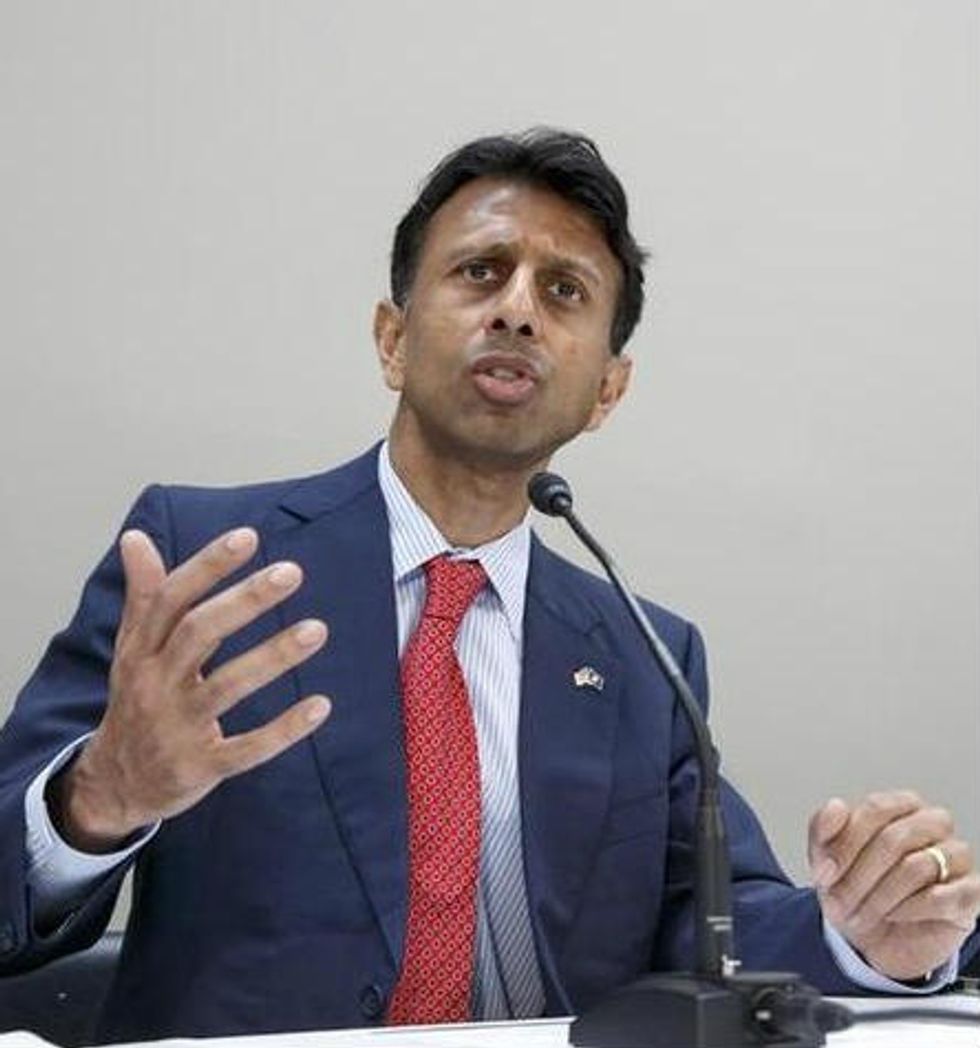 Louisiana Gov. Bobby Jindal talks about his plan for national education reform at a policy breakfast on Capitol Hill in Washington, Monday, Feb. 9, 2015. If he runs for president, Jindal is expected to make education a central part of his message with a focus on his opposition to Common Core. (AP Photo/J. Scott Applewhite)
"I think some of the advantages of technology are that kids can learn at their own pace so that you don't have to slow down the entire class for kids who may be struggling with one concept so you can focus on them," Jindal said.
"For others who are advanced, you can move ahead. Too often, we end up hurting both the advanced kids and the kids that are behind and they both get frustrated quite frankly in a lot of classrooms. You can also engage students who may otherwise get bored if you're not using technology."
While noting that technology is not a "cure-all," Jindal said a variety of approaches to educating America's children is needed.
"Some parents will tell you, 'My kids don't learn as well with technology. I'd rather my kids be taught in the more traditional method.' There will be other parents who will tell you their kids do great with online learning and they just need a little bit of mentoring," Jindal continued.
"So what we need is the flexibility to let all of those approaches flourish," he said.
Common Core, as defined by CoreStandards.org, is an alternative primary and secondary school alternative curriculum aimed to prepare students for college and their careers no matter where they live.
"For years, the academic progress of our nation's students has been stagnant, and we have lost ground to our international peers," the website states. "One root cause has been an uneven patchwork of academic standards that vary from state to state and do not agree on what students should know and be able to do at each grade level."
So in 2009, the Council of Chief State School Officers and the National Governor's Association met to develop what they say is a clear, consistent and more comprehensive framework of standards to fit every classroom.
Jindal praised his administration's efforts in implementing Common Core curriculum back in 2012, saying, "Over the past four years, we've already taken steps to meet these goals, including adopting the Common Core State Standards, which will raise expectations for every child.
But fast forward three years and the potential 2016 Republican hopeful will tell you something much different. Jindal said the "bureaucrats in Washington" don't how kids learn the best. Rather, it's the "parents [who] know their kids the best."
–
Follow Jon Street (@JonStreet) on Twitter