Republicans and Democrats started the new week just where they left last week — blaming each other for an impending partial shutdown of the Department of Homeland Security.
Senate Minority Leader Harry Reid (D-Nev.) took to the floor Monday to accuse Republicans of putting U.S. national security at risk by advancing a DHS spending bill that Democrats don't like. "Republicans are hell-bent on playing chicken with our national security," Reid said.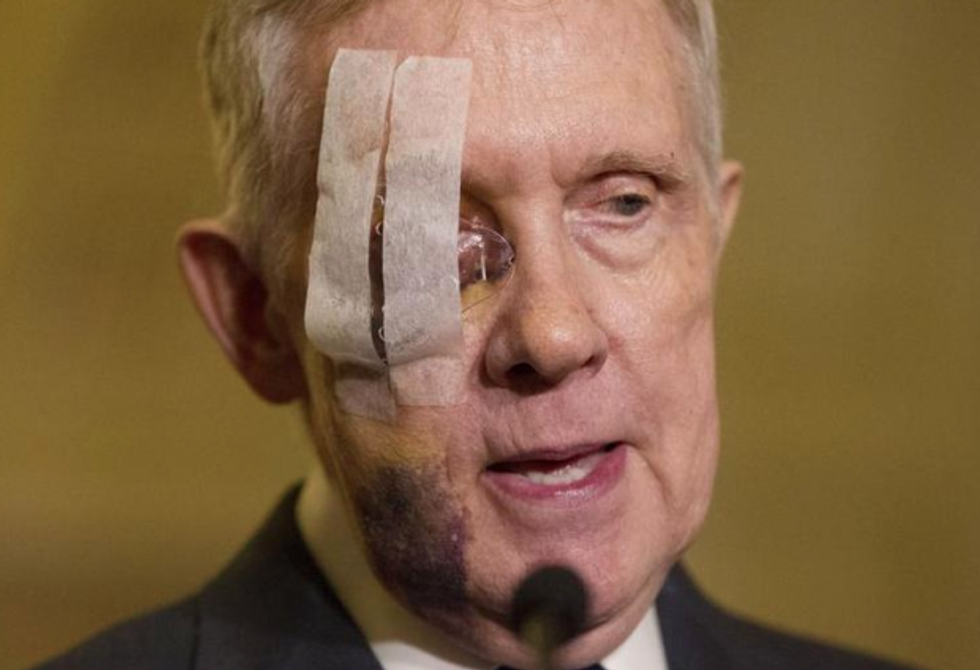 Senate Minority Leader Harry Reid (D-Nev.) said Republicans are playing chicken with U.S. national security by failing to amend their preferred DHS spending bill. Image: AP Photo/Pablo Martinez Monsivais
But Republicans say it's Democrats who are refusing to take up the DHS bill at all. Last week, Democrats voted against advancing the bill three times in as many days, which prompted Sen. Jeff Sessions (R-Ala.) to say Democrats are the ones putting DHS funding at risk.
"Our Democratic colleagues, now unanimously it appears, are blocking even moving to the bill that funds homeland security," Sessions said. "So I ask with all sincerity, how can it be said that the Republicans are failing to fund the operation, making sure that we have a strong border security?"
Both Republicans and Democrats have said it's up to Senate Majority Leader Mitch McConnell (R-Ky.) on how to proceed in the Senate in light of this stalemate. But in his brief floor remarks Monday afternoon, McConnell said nothing about the issue.
Democrats don't like the bill because it would defund President Barack Obama's executive action on immigration. Republicans say that's no excuse, and have said moving ahead with the bill would allow senators to consider amendments, and then negotiate a final bill with the House.
But while Republicans have been hoping Democrats will come around on this, Reid indicated Monday that Democrats would still oppose the bill, even with funding scheduled to run out on February 27. Reid noted criticism in the press of the GOP's plan so far to force more votes on the bill, such as today's Wall Street Journal op-ed that said Republicans are headed toward a "spectacular crack-up."
Reid also charged Republicans with fearing immigrants who might be helped by Obama more than they fear terrorists who might be stopped at the border by a funded DHS.
"The Republicans have come to the conclusion that they're far more afraid of these people, some of whom were here last week, they're dreamers," he said.
Over the weekend, Homeland Security Secretary Jeh Johnson said he might have to furlough up to 30,000 people if Congress fails to pass a bill that boosts funding for DHS. However, Republicans have noted that failure to pass the full-year funding bill could lead to a continuing resolution, or a shutdown in the worst case that would keep all essential security officials in place.