Robert Mugabe, the 90-year-old president/dictator of Zimbabwe who has overseen the African nation's legendary hyperinflation and total destruction of its national currency since 1987, has an image to maintain.
When he unceremoniously tripped and fell down the stairs at Harare International Airport on Thursday, the rest of the world may have laughed, but inside Zimbabwe, the fall's fallout has been more serious.
The government has reportedly launched an investigation into Air Zimbabwe, and 27 of Mugabe's security team members were suspended on Friday, according to the Zimbabwean outlet the Standard.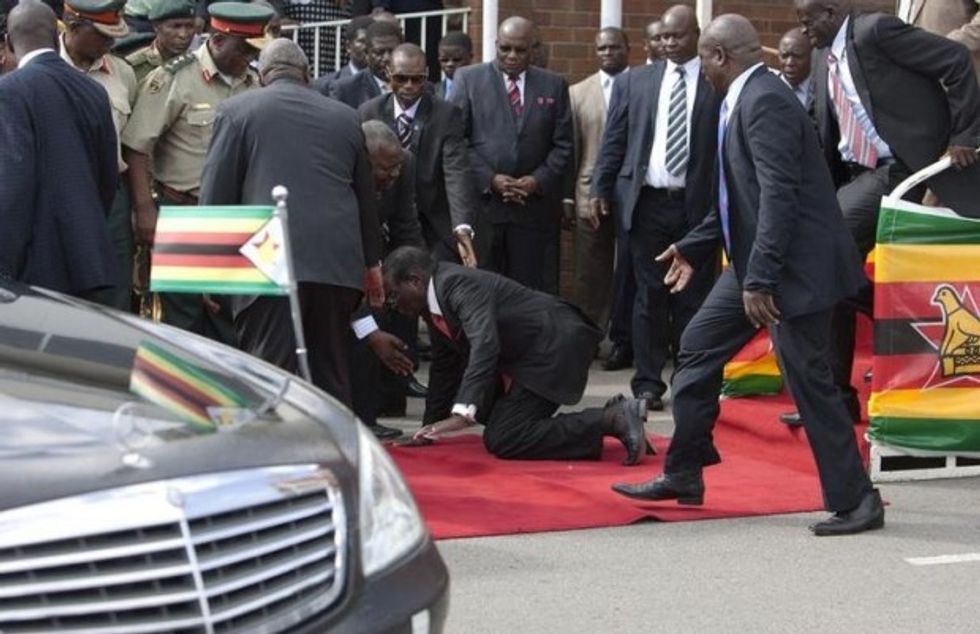 Zimbabwean President Robert Mugabe falls after addressing supporters upon his return from an African Union meeting in Ethiopia, Wednesday, Feb. 4, 2015. (AP Photo)
Some of the suspended team will likely be fired, an official who spoke anonymously told the Standard.
Their main mistake: not standing close enough to Mugabe to catch him before he fell.
The official said:
There are many departments that are being investigated, from Air Zimbabwe, the advance team and the security. I doubt if some of them will come back.

The issue here is simple. The security team was caught napping.

They were taking things for granted and failed to adhere to basics. It is protocol that the immediate proximity is, at most, three meters from the President.

These are the bullet takers and in cases where he falls they are supposed to hold him either by the arm or by the shoulder and should never take their eyes off him.

He went on to touch the ground on all fours. That should never happen.

What if someone pulled a gun? The immediate proximity team should have helped him up because those are the people that are allowed to touch him before anyone else.
After Mugabe fell, government officials reportedly tried to make photographers delete their photographs of the misstep, but they were unable to delete every photo — watch Mugabe's tumble below:
(H/T: International Business Times)
—
Follow Zach Noble (@thezachnoble) on Twitter