Manuel Cobarubies, a student at Stockton High School in Stockton, California, didn't have a lot of cash for lunch, so he stopped at a nearby KFC and ordered what appeared to be an ordinary $4 meal.
That wasn't exactly the case.
Nestled in with his food, Cobarubies chomped down on what he described to KTXL-TV as a "brain."
"I ended up spitting it in the trash can because I get grossed out by that," Cobarubies said. Then, doing what's become natural for most people, he tweeted at KFC about it. He just wanted his money back.
"As far as what I paid for my meal because I mean my meal didn't sit too well with me. I think that might be it," Cobarubies said.
He tweeted at KFC to say what he found in his food. KFC responded, but all it offered was a quick apology.
That's when KTXL stepped in.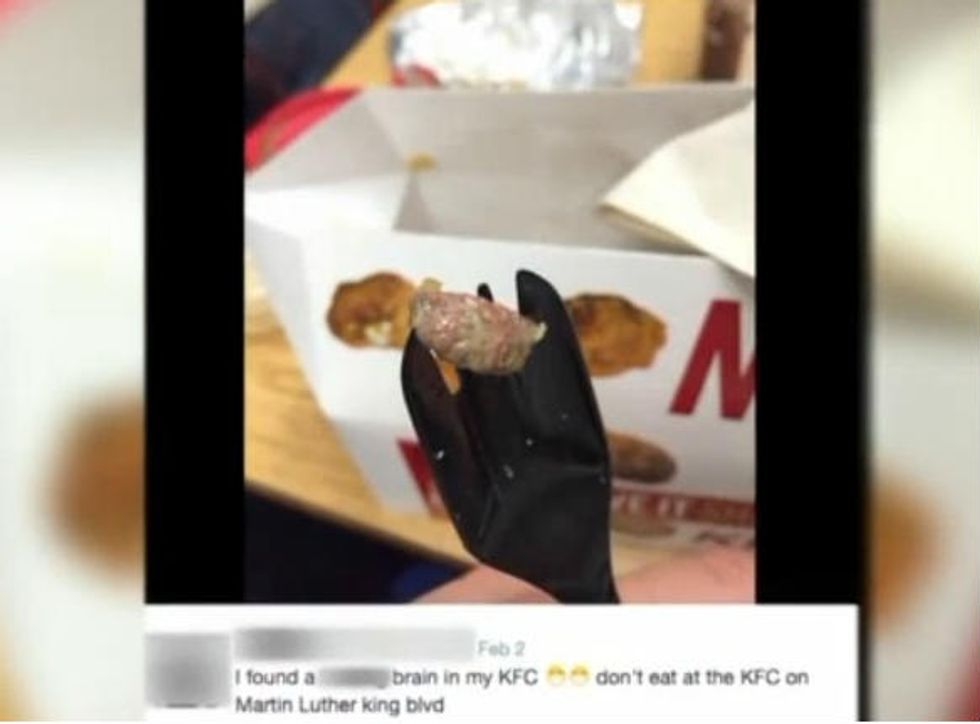 Image source: Twitter via KTXL-TV
The outlet attempted to contact KFC and got no response at first. But when others began mentioning KFC on social media and retweeting Cobarubies' post, the restaurant gave in and issued the refund.
KFC consultant Richard Ramos said that what the teen thought was a "brain" was actually a kidney or gizzard and is safe to eat. Ramos said the restaurant would coordinate with its cooks to ensure they are cooking the chicken correctly.
While Cobarubies finally managed to get his $4 back, he said he isn't willing to take anymore chances.
"I'm probably just going to have to start packing my own meals, making my own sandwiches," he said.
A representative for KFC did not immediately respond to TheBlaze on Tuesday.
(H/T: KTXL-TV)
–
Follow Jon Street (@JonStreet) on Twitter