A small Pennsylvania township has been getting a fair amount of attention over the unusual welcome signs slated for posting along every road leading into the community:
"Welcome to Conoy Twp. This Is Not a Gun Free Zone."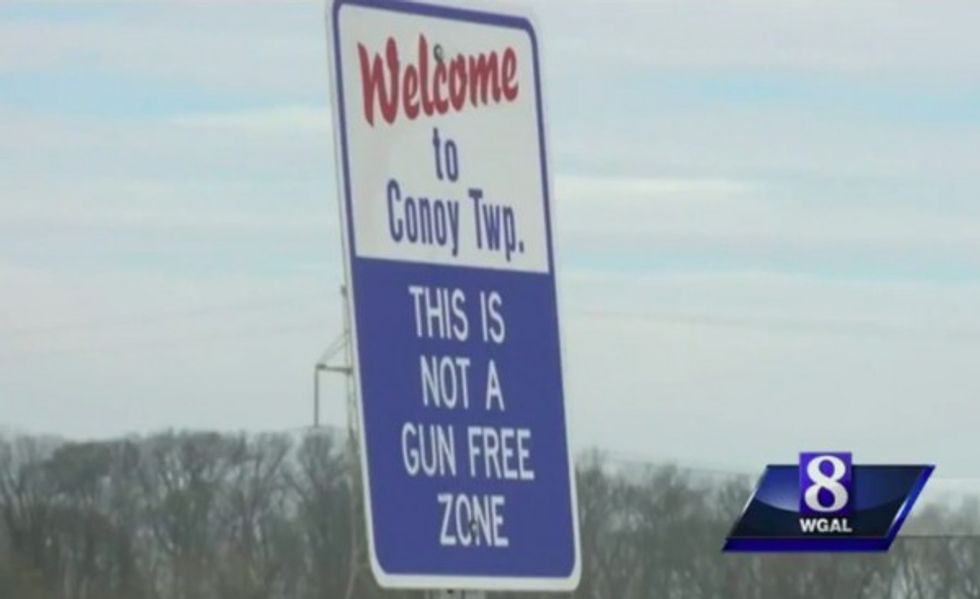 Image source: WGAL-TV
Stephen Mohr, a township supervisor and lifetime member of the National Rifle Association, said reaction to the signs had been positive. "You have to realize that to most people in this township God, guns, family and friends are the four most important things," he told Lancaster Online.
The signs are meant to deter crime and welcome law-abiding people, he said.
But a resident of nearby Elizabethtown was skeptical of the signs' impact.
"I personally don't think it will deter someone," said Bill Back, who has a concealed weapons permit. "People don't read those signs."
He was wrong on the latter point.
The day after the first four signs were posted earlier this month, each was covered over and vandalized with spray paint.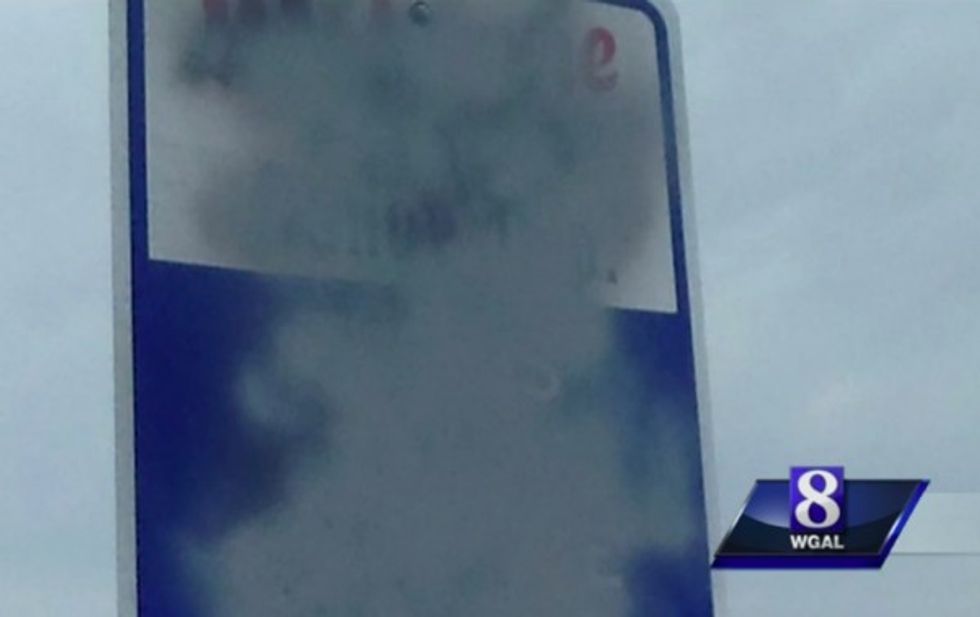 Image source: WGAL-TV
The vandalism led one Conoy resident to jump in her truck with a rag and cleaning supplies and remove the paint from two of them, WGAL-TV reported. Township crews cleaned the other two, the station said.
Authorities hope to nab the culprits given that two of the vandalized signs are covered by video cameras, WGAL reported.
Mohr gave a strong indication to Fox News that the Second Amendment is at stake, saying that many "need to wake up and realize that the right to carry a gun in a lot of areas have already been curtailed."
[sharequote align="center"]"...the right to carry a gun in a lot of areas have already been curtailed."[/sharequote]
Deb Garber and April Ellis disagree with the signs.
"I think it gives the area a feeling that I'm not sure the people want to convey," Garber of West Donegal Township told LancasterOnline. "Knowing guns are around doesn't make me feel any safer."
"It's fine with me if people have guns but I don't think it needs to be advertised," Ellis of East Donegal Township added.
At least one other American town is looking into trying Conoy's sign initiative.
"If you were a thief breaking into homes and businesses, would you choose a city that openly endorses the ownership and training of guns to protect persons and property?" Mayor Brad Holton of Greenleaf, Idaho, told Fox News.
—
Follow Dave Urbanski (@DaveVUrbanski) on Twitter