Senate Majority Leader Mitch McConnell (R-Ky.) on Wednesday morning asked Democrats to end their filibuster of a Department of Homeland Security funding bill, just a day after McConnell suggested that the bill was dead in the Senate and that the House needs to pass another DHS bill.
Speaking on the Senate floor, McConnell said Democrats have blocked the DHS bill because it would defund President Barack Obama's controversial action on immigration. But he said Republicans will allow consideration of amendments, and said Democrats shouldn't hold hostage DHS funding to protect Obama.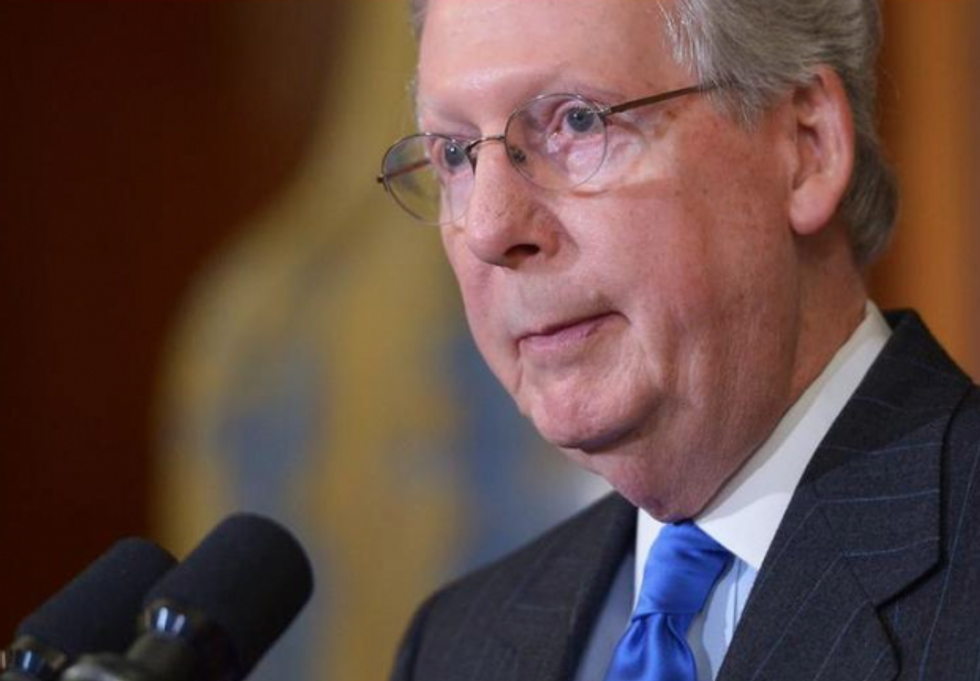 Senate Majority Leader Mitch McConnell (R-Ky.) on Wednesday asked Democrats again to stop filibustering the DHS spending bill. Image: MANDEL NGAN/AFP/Getty Images
"Democrats are blocking homeland security funding in order to defend executive overreach the president has said himself on many, many occasions he didn't have," McConnell said. "This is the reason the Senate can't move forward. So it needs to come to an end, and here's the simplest and most obvious way it can."
"Many Democrats previously indicated their opposition to the kind of overreach described by President Obama himself as unwise and unfair," he said. "So all they have to do is back these words up with some action."
Americans know that construction of this infrastructure project [#Keystone] would pump billions into economy& support thousands of good jobs

— Sen. McConnell Press (@McConnellPress) February 11, 2015
McConnell's comments are a reference to the several Democrats who have said previously that they were not fond of Obama's unilateral action on immigration. But since making those comments, these Democrats have all voted against the DHS bill, which has prompted conservatives to accuse these Democrats of failing to back up their criticism with action.
"If Democrats claim to be against overreach, and claim to be for funding the critical activities of the Department of Homeland Security, then there's no reason for them to continue their party's filibuster," McConnell said. "So vote with us to allow the Senate to actually debate homeland security funding instead."
McConnell's attempt to pin the problem on Democrats came shortly after he told reporters that the DHS bill is essentially stuck in the Senate.
"I can tell you I think it's clearly stuck in the Senate," he said. "And the next step is obviously up to the House."
That prompted House Republicans to say they've already passed the bill they like, and that the Senate needs to find a way to advance the bill, comments that seemed to increase the chances of a partial DHS shutdown.
McConnell's Wednesday comments indicate that the Senate will leave this week without any way forward, with a scheduled week away from Washington next week. That will put pressure on both parties to find a way forward when they return on Feb. 23, with just five days before DHS funding runs out.