Speaking in the state of the first presidential contest, Vice President Joe Biden hit numerous high points that resonate with the base of his party, from taxpayer-financed elections to cataclysmic warnings about global warming — and twice mentioned 2016.
If he runs, he seems likely embrace an Obama-third-term theme, at least in the nominating contest. Biden framed the Obama administration's policies as a success, and said it was in stark contrast to that of the policies of the Republican Congress, which he said favored the rich.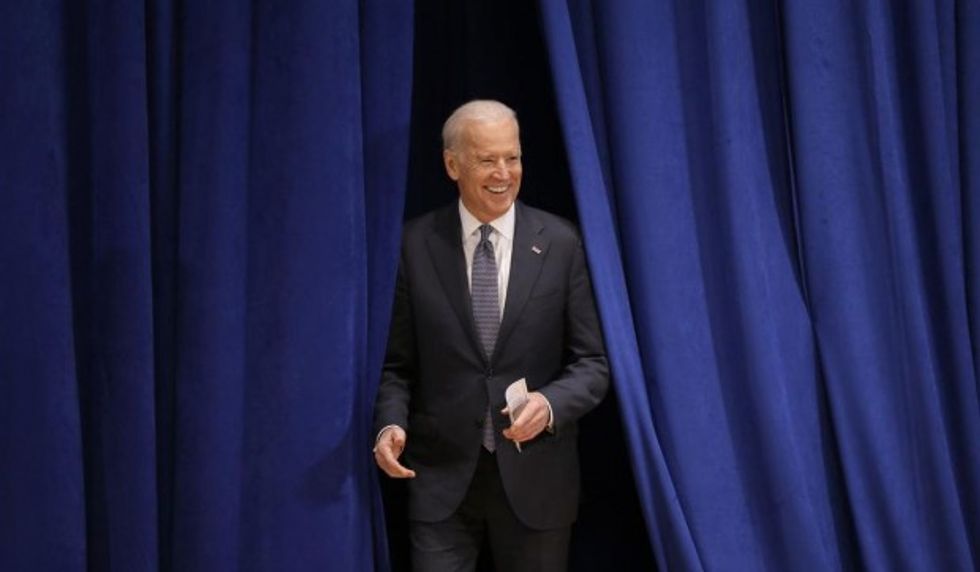 Vice President Joe Biden reacts as he enters the auditorium before speaking about the economy and the Obama administration's policies, Thursday, Feb. 12, 2015, at Drake University in Des Moines, Iowa. (AP Photo/Charlie Neibergall)
"It's a fundamentally different approach," Biden said at Drake University in Des Moines. "That is what the next presidential election will be about. Do we continue on the path we are on or do we go back to the policies of the past?"
Biden was last in Iowa in the fall of 2014, stumping for Democratic congressional candidates during the midterms. He doesn't have strong standing in the state currently among other potential 2016 candidates; the most recent Des Moines Register poll showed him with just 9 percent of the vote, trailing the heavily favored former Secretary of State Hillary Clinton, polling at 56 percent, and Massachusetts Sen. Elizabeth Warren at 16 percent. Warren has insisted that she will not run.
At Drake University, Biden also talked about an issue that's a big favorite of the left: publicly financed elections.
"When I was in the Senate as a 29-year-old kid, the first bill I introduced was publicly financed elections," Biden said. "If you want to change politics in America overnight, you want to have your voice increased exponentially, take money out of the equation. Take special interest out. They are not bad, they are just different. Think about it. We are talking about a presidential campaign that is going to cost up to $2 billion per candidate if they are going to win."
On another theme that animates the liberals in his party, Biden also warned about the consequences of global warming, telling the college crowd that it was the greatest threat to their generation. He said it's not just the good government groups and environmentalist who are concerned.
"You know who is most worried about global warming? The Department of Defense. You know why? Sea levels rise 3 feet, if we do nothing about global warming, and you have dislocation of tens of millions of people, from Indonesia, to Malaysia, to the state of Florida. What causes conflict? Significant migration. Look at Darfur."
He also talked about income inequality.
"There is a greater disparity in wealth in the United States than at any time, " Biden said. "By the way, they talk about the idea of government being involved in income distribution. All the income distribution has been upward not downward.
"It used to be that corporations when they made money would reinvest in expansion and growth and research and development," he said. "The last 10 years there has been something like $4.6 trillion made by corporate America, which is a good thing. But 56 percent of it was used to buy back their own stock."