President Barack Obama suggested Friday that religious bigotry may have played a role in the shooting deaths of three young Muslims in North Carolina this week, even as police say the killings were the result of a parking dispute.
"No one in the United States of America should ever be targeted because of who they are, what they look like, or how they worship," Obama said in a statement. "Michelle and I offer our condolences to the victims' loved ones. As we saw with the overwhelming presence at the funeral of these young Americans, we are all one American family."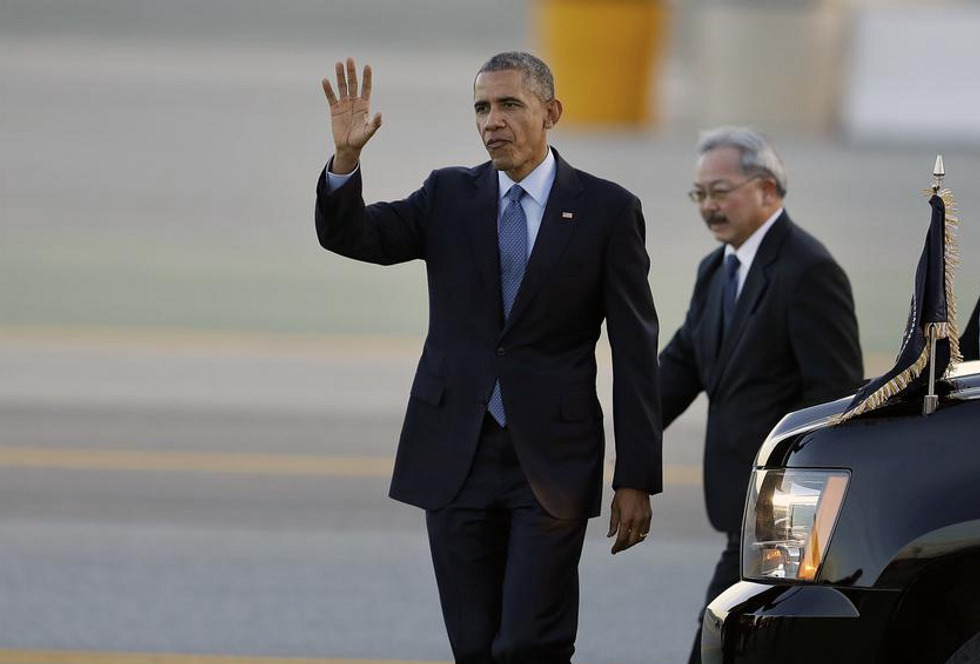 President Barack Obama waves upon his arrival at San Francisco International Airport with San Francisco Mayor Ed Lee, Feb. 12, 2015, in San Francisco. (AP Photo/Ben Margot)
Craig Stephen Hicks is charged with killing Yusor Mohammad Abu-Salha, Deah Shaddy Barakat and Razan Mohammad Abu-Salha. Police in Chapel Hill have said it was a neighborhood dispute over a parking space — the Washington Post reported that Hicks was "obsessed" about parking, though the victims' families and others have charged that the slayings were related to their Muslim faith.
The FBI said Thursday that it would join the investigation as many American Muslim organization questioned whether it was a hate crime.
"In addition to the ongoing investigation by local authorities, the FBI is taking steps to determine whether federal laws were violated," Obama said.
Obama's statement cited a comment from Yusor, who had said, "Growing up in America has been such a blessing."
The Yusor quote continued, "It doesn't matter where you come from. There's so many different people from so many different places, of different backgrounds and religions – but here, we're all one."