A Texas truck driver is claiming he was fired for writing Jesus' name in his official logbook — something he claims his former employer told him is not legally permissible.
Ramiro Olivarez, a veteran driver, told KRGV-TV that all truckers are required by law to keep a logbook and that he had written Christ's name into the space reserved for "co-driver" — an act that he believes caused him to be fired from On Point Services, LLC. in Falfurrias, Texas.
A letter of termination claims that Olivarez submitted incomplete documentation and falsified legal documents — and that writing Jesus' name is a violation of state and federal laws, KRGV-TV reported.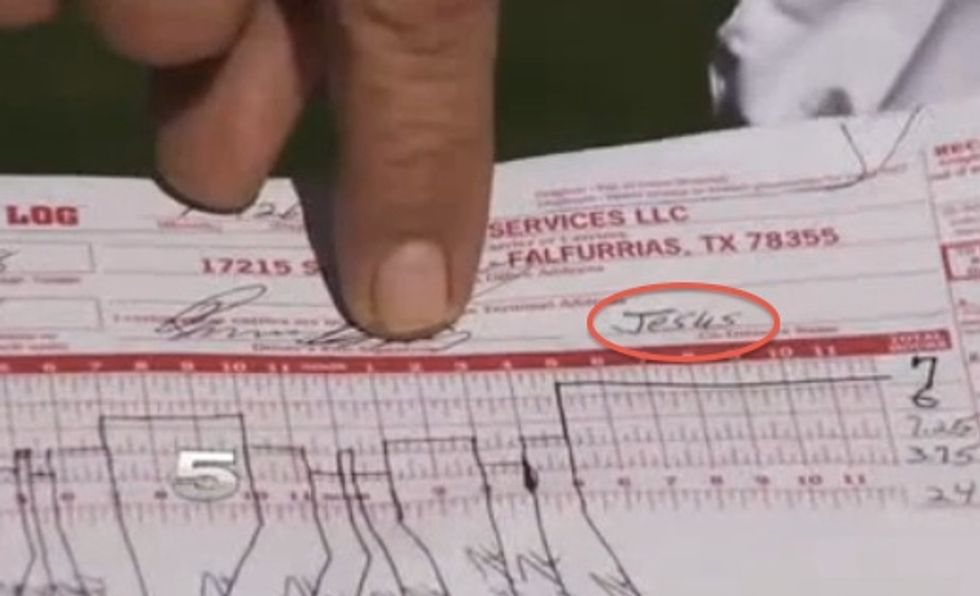 A screen grab from KRGV-TV shows the name "Jesus" appearing in Olivarez's logbook
But Olivarez said he didn't falsify any information and that he believes that Jesus truly is his "co-driver" in life, expressing no regrets.
"The graph on there is strictly Ramiro Olivarez. And Jesus is my co-driver, and that's my belief," he said. "That he's with me."
He said that he was never warned against writing Jesus' name and that he would have stopped had he been told that doing so was inappropriate.
"Jesus is my co-driver, and I have no shame in that," Olivarez told the outlet, encouraging other drivers to also stand up for their faith. "I strongly encourage you to put Jesus as your co-driver. Let's make a stand."
A woman who answered the phone at On Point Service, LLC told TheBlaze that the company has "no comment at this time."
(H/T: KRGV-TV)