You don't want to mess with this dog's owner.
When a would-be robber pulled a gun on Justin Ireland, a gas station worker in Saco, Maine, on Tuesday, it seemed like the thief had the upper hand — until Ireland's three-year-old pit bull-Boxer mix Thor jumped into action, the Portland Press Herald reported.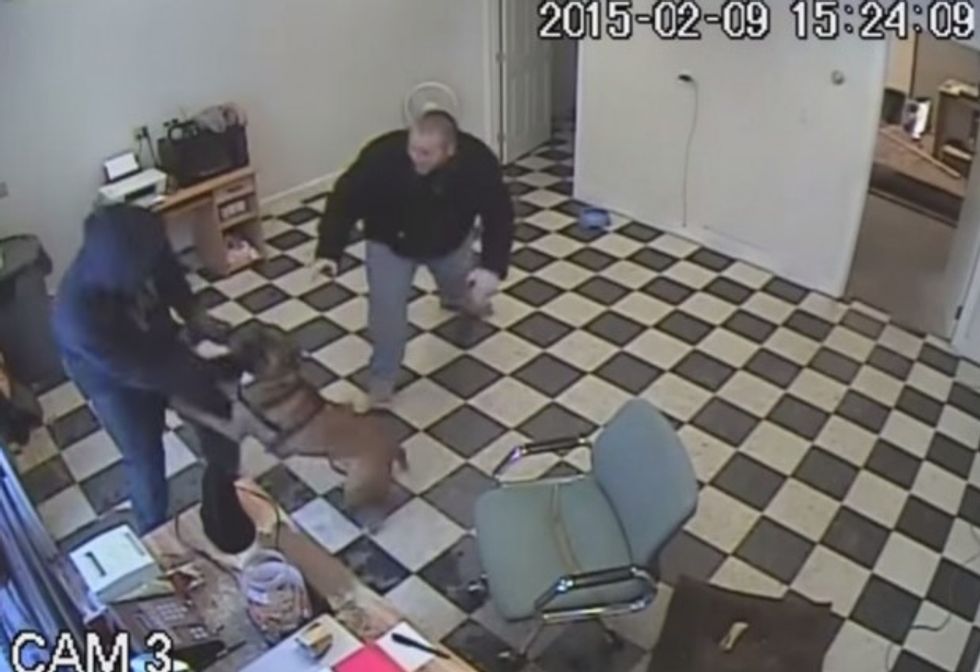 Image via YouTube
As surveillance footage showed, Thor sprang for the robber's gun, biting him and forcing the man right back out the door.
Ireland recalled the hair-raising encounter.
"Guy walked up to the door, asked if he could use my phone," Ireland told WGME-TV. "I never let anyone in the building. So I said no, I don't have a phone you can use."
Ireland said the man pulled a gun out, shoved him and demanded cash.
"As soon as he pushed me, that's when Thor jumped up at him," Ireland said.
Local police noted that generally in an armed robbery situation, it's best to hand over cash without a fight, but in this case things worked out.
Ireland said he'd never trained Thor to attack robbers — the dog operated on sheer instinct.
Police released surveillance footage Friday in an attempt to help identify and track down the would-be robber, described as a 5'8" white male driving a light blue, newer model, Chevy Silverado truck.
The wanted man may have dog bites on his face.
Watch the surveillance video below:
—
Follow Zach Noble (@thezachnoble) on Twitter