The State Department said Monday it's "closely monitoring" reports that Russia is moving new military equipment toward Debaltseve, Ukraine, less than two days after a ceasefire agreement was supposed to take effect.
Reports of ongoing military action, plus the State Department's warning, seemed to indicate that the agreement hailed just days earlier in Minsk was on the brink of falling apart, if it had ever taken hold.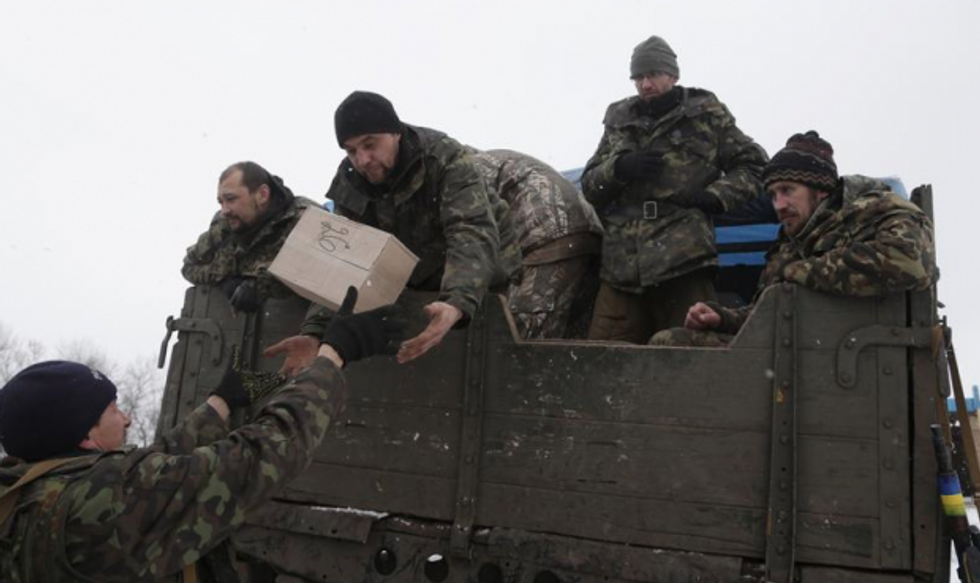 Ukrainian government soldiers load boxes of food rations onto a vehicle. The State Department on Monday accused pro-Russia forces of failing to live up to a ceasefire agreement reached last week. Image: AP Photo/Petr David Josek
State said it was "gravely concerned" by the deteriorating situation near Debaltseve, a city in Eastern Ukraine. In a series of tweets, State warned Russia and pro-Russia separatists to live up to the deal reached last week.
The United States is gravely concerned by the deteriorating situation in and around Debaltseve in eastern #Ukraine.

— Department of State (@StateDept) February 16, 2015
We are closely monitoring reports of a new column of Russian military equipment moving toward Debaltseve. #Ukraine

— Department of State (@StateDept) February 16, 2015
We call on Russia and the separatists it backs to halt attacks, engage with OSCE to facilitate ceasefire, fully implement Minsk commitments.

— Department of State (@StateDept) February 16, 2015
Reuters reported Monday that pro-Russia rebels in Debaltseve have rejected the ceasefire, and had surrounded government forces in that city. Ukraine reportedly said it wouldn't retreat while the Minsk agreement was being violated.
Late last week, the State Department admitted that Russia appeared to be violating the terms of the ceasefire, by moving weapons and supplies to the border instead of away from it. But State said it wasn't ready on Friday to admit the deal was dead, and said it would depend on what happened over the weekend.