When a survivor of Saturday's terrorist attacks in Copenhagen told a television interviewer she would not be silenced by Shariah law, the news anchor interrupted her, saying, "We don't know details about the gunman yet."
Agnieszka Kolek, a Polish artist and free-speech activist who was a panelist at the freedom of speech discussion attacked by a terrorist gunman, told Britain's Channel 4 Sunday that she personally heard the attacker shouting "Allahu akbar."
Kolek, who curates the Passion for Freedom arts festival in London, said that participants at first thought the gunshots were firecrackers meant to frighten them, as they were discussing how accusations of blasphemy stifle freedom of speech and artistic expression.
Kolek said on TV she would not be silenced by Shariah law and that she opposed those who add the words "if" and "but" to the debate, as if to excuse opponents of free speech.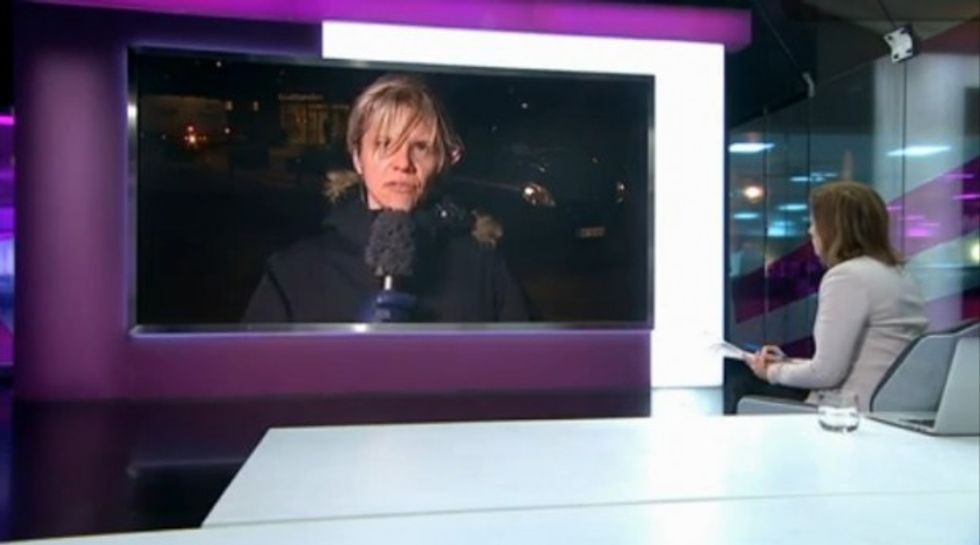 Copenhagen attack survivor and free speech activist Agnieszka Kolek told Britain's Channel 4 she won't be silenced by Shariah law. (Screenshot: YouTube)
"I stand on the side of people that believe in the rule of law, the rule of law in a democratic country," Kolek said. "I don't stand on the side of Shariah law and people that they use blasphemy law in Europe where anyone indiscriminately can go out and shoot at people."
"I think we should all unite in our saying there's no 'ifs' and 'buts,'" she added.
That was when the anchor interrupted her saying, "Sorry to interrupt you. We don't know … details about the gunman as yet."
Kolek responded by recounting what she personally heard as she ducked for cover.
"I could hear him shouting 'Allahu akbar.' I could hear his voice," Kolek said.
Though the television anchor appeared in the clip to downplay the discussion on the possible Shariah motivations of the gunman, when the Channel 4 website posted an excerpt of the interview, it used the title, "Artist claims Copenhagen suspect shouted 'Allahu Akbar,'" highlighting the possible religious motive behind the attack.
The blog CiF Watch, which monitors anti-Israel bias in the British media, presented the interview as an example of what it called "intellect-numbing political correctness" which does a disservice to viewers.
"A serious discussion on the threat to European Jews – and democratic values within the continent – posed by Muslim extremism would of course require that the media cease in their never-ending fealty to such intellect-numbing political correctness," CiF Watch wrote.
Kolek told the Wall Street Journal that police and other witnesses told her that right before the shots began, the gunman had tried to enter the cafe through the backdoor.
"If he had made his way in, we would all have died," she said.
After the shooting ended, Kolek told the Wall Street Journal she persuaded her colleagues to continue to conference for at least a moment.
"I went on the stage and said: They are not just trying to kill us, they want to shut down freedom of speech," Kolek said.
Finn Norgaard, a 55-year-old Danish filmmaker, was killed in the first assault at the cafe. Later that evening, Dan Uzan, 37, was killed as he was guarding a bat mitzvah party at a synagogue.
Swedish cartoonist Lars Vilks, who has received numerous death threats following his depictions of the Muslim Prophet Muhammad as a dog, has said he believes he was the primary target of the gunman, an assessment that was backed up by Danish police.
Danish media on Sunday identified the terror suspect as Omar Abdel Hamid El-Hussein, who was killed in a shootout with police near a Copenhagen train station.