The Islamic State is strengthening its hold over the Middle East, and is killing Christians by the dozens. Last week's ceasefire in and around Ukraine is already falling apart. And the Obama administration admits it will most likely fail to win a strong nuclear agreement with Iran.
But despite what many describe as foreign policy in shambles, the State Department is taking time this week to launch a new initiative that will have U.S. diplomatic missions measure air quality around the world. It also called air pollution a "serious and growing health threat."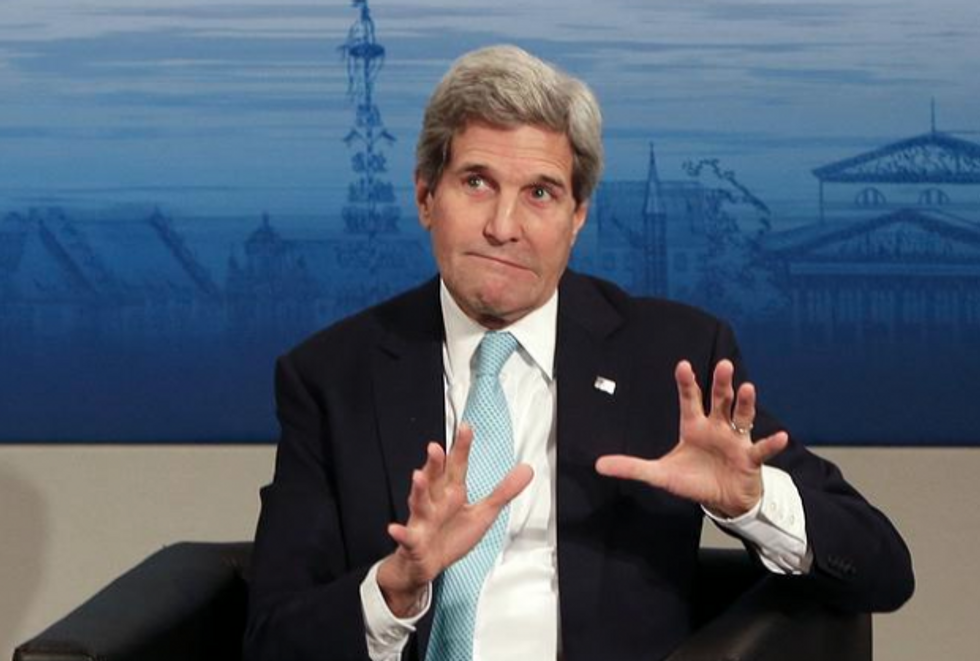 Secretary of State John Kerry, who has traveled the world in pursuit of policies that haven't quite clicked yet, will take time Wednesday to launch a plan to collect air quality data from U.S. diplomatic missions around the world. Image: AP Photo/Matthias Schrader
"The partnership between the U.S. Department of State and the U.S. Environmental Protection Agency recognizes air pollution as a serious and growing health threat worldwide," the State Department said in a release Tuesday. "Yet in many areas, real-time air quality data are unavailable."
Secretary of State John Kerry has been criticized before for worrying too much about oceans and emissions, when he should be worried more about building alliances to fight a terrorist group that has beheaded and burned victims from several countries now. The entire Obama administration has also faced complaints that it has allowed its relationship with Israel to deteriorate, and that it isn't worried enough about embassy security, particularly after the 2012 attack that killed four Americans in Benghazi, Libya.
Nonetheless, Kerry on Wednesday will hold a ceremony with EPA Administrator Gina McCarthy to officially launch the joint air quality initiative.
"The State Department and EPA's collaboration will provide data from U.S. missions overseas to EPA's AirNow platform," the State Department said in release. "That will provide U.S. citizens and government personnel overseas with better information to mitigate health risks from air pollution and make informed health decisions."
"It also will enhance the availability of ambient air quality data and expertise around the world, offering a greater opportunity for the United States to create partnerships on air quality with other nations," State added.
The initiative will be launched at the State Department in a "signing ceremony" that's open to the press. Both Kerry and McCarthy will speak about the project then.
The State Department was heavily criticized late Monday night, when spokeswoman Marie Harf said the U.S. cannot win the war against the Islamic State by killing them, and suggested that the U.S. needs to view the problem through the lens of jobs and economic development.
MSNBC host Chris Matthews seemed to reject that idea by saying there will always be poor Muslims, and the U.S. won't be able to stop them from joining the terrorist group.
"We can work with countries around the world to help improve their governance," she said. "We can help them build their economies so they can have job opportunities for these people."