A racist note circulated at a Connecticut Police Department has officials promising quick action if they determine who was behind it.
Bridgeport police detective Harold Dimbo told WVIT-TV that the derogatory letter, addressed to the police chief, was found in the mail room, an area only police have access to. Authorities, thus, suspect a member of the department is behind the note.
The letter, which begins and ends with "WHITE POWER," referenced a 2011 police abuse incident in which some officers were caught on video beating a suspect, according to WVIT.
"Officer Clive Higgins doesn't belong here in this Police Department," the note said. "These Black Officers belong in the toilet."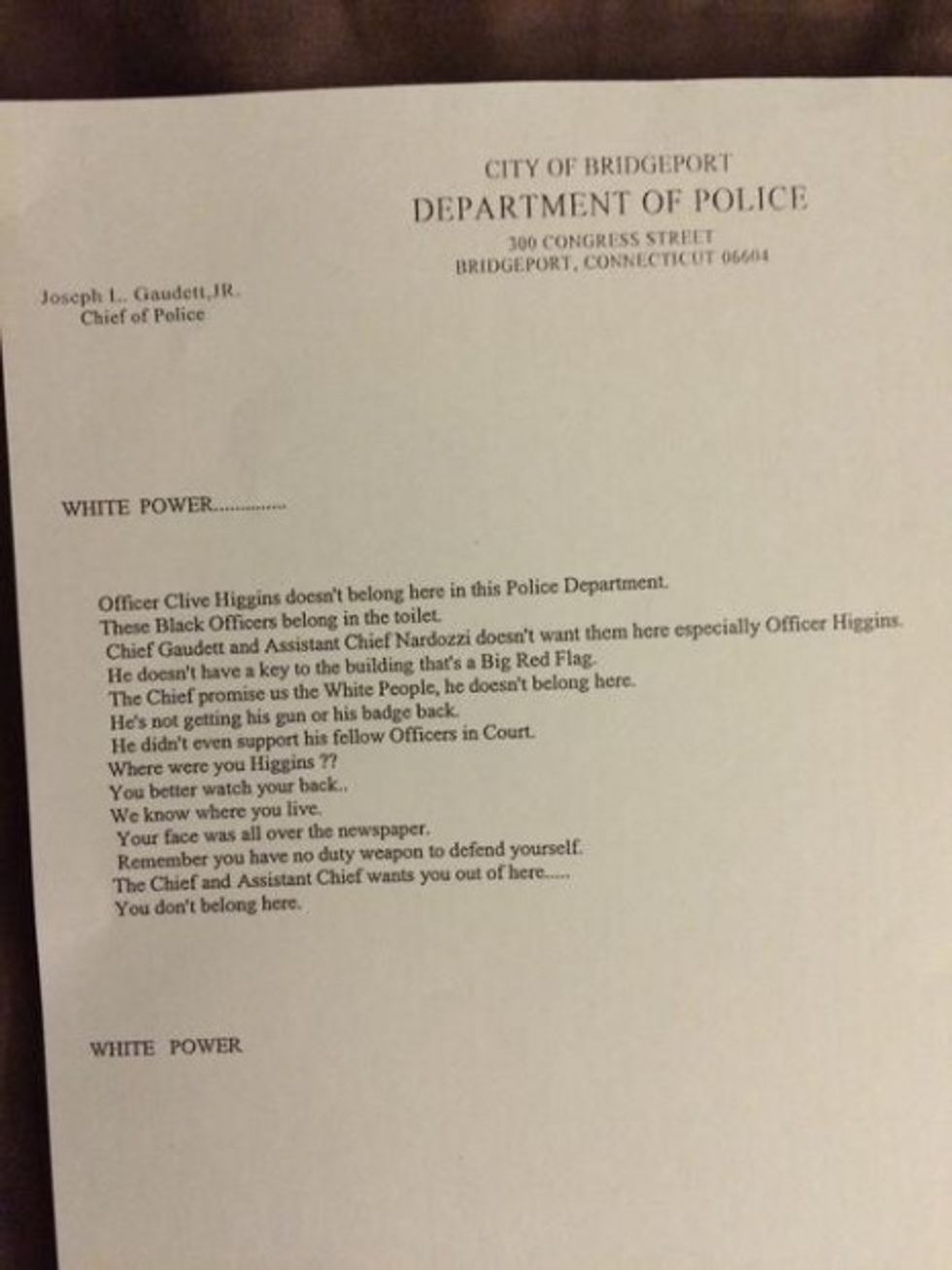 Image source: Bridgeport Police Department
Two were convicted in the 2011 case, but Higgins was found not guilty last month.
The note, which was printed on official police letterhead, ended threatening Higgins.
"You better watch your back," it said. "We know where you live."
City officials said Tuesday they will not hesitate to take action if they figure out who authored the note.
"Bottom line is that any discussion of discrimination within any part of the city is something we have a zero-tolerance policy on," Brett Broesder, City of Bridgeport communications director, told WVIT. "If there is any wrongdoing found in the situation, swift, fair, immediate action will be taken."
Dimbo added that the letter is "creating a hostile work environment."
"This type of behavior affects the minorities and spreads racism and hatred throughout the Bridgeport Police Department as well as the community," he said.
—
Follow Oliver Darcy (@oliverdarcy) on Twitter