The White House late Tuesday claimed that 11.4 million people had signed up for Obamacare at the end of the law's second enrollment period, more than 2 million more than what the Obama administration set for a goal late last year.
The administration said more people signed up for health insurance on the final day of enrollment, Feb. 15, than on any other enrollment day over the last two years.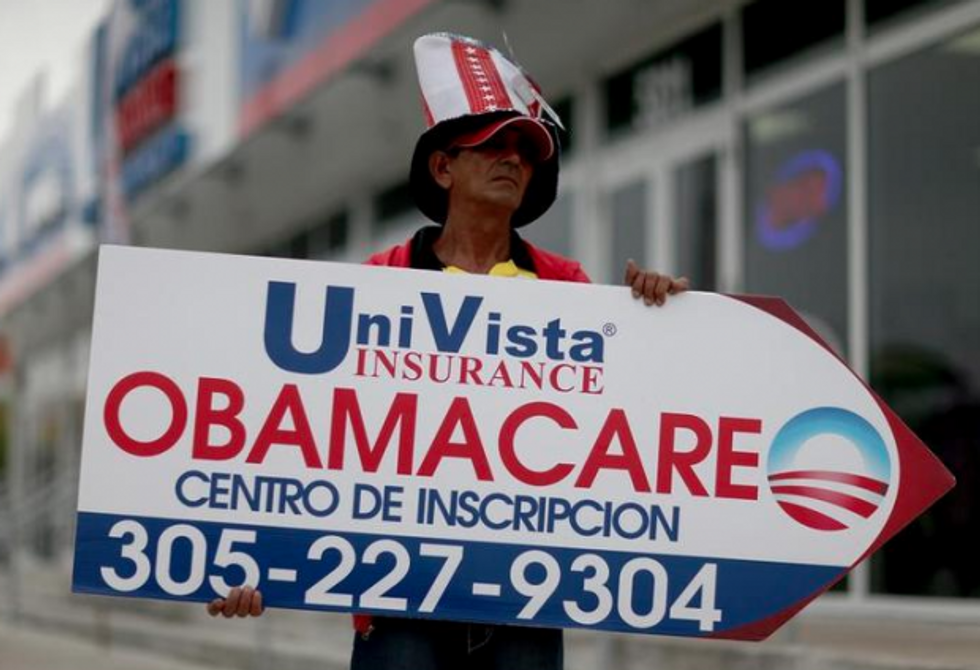 Potential Obamacare enrollees are told where to sign up for health insurance in Miami. The Obama administration said 11.4 million people were signed up by Feb. 15, the final day of enrollment for 2015. Image: Joe Raedle/Getty Images
In November, the Department of Health and Human Services said it only expected about 9.1 million people to sign up for Obamacare by 2015. That's about 4 million fewer than the 13 million that the Congressional Budget Office was expecting.
President Barack Obama praised the 11.4 million numbers as a sign that the law "is working."
"I'll tell you, everywhere I go around the country, I'm meeting individuals who come up and thank me," he said. "How passionate they are about the difference its made in their lives, it really reminds me why we do all of this."
BREAKING: About 11.4 million Americans are signed up for private health coverage. #11MillionAndCounting#ACAWorkshttps://t.co/1zKLkyJvlo

— The White House (@WhiteHouse) February 17, 2015
But the law will face some real challenges in the weeks and months ahead. The Supreme Court is expected to hear arguments next month on whether the federal government is allowed to offer people insurance subsidies when they buy insurance from the federally run HealthCare.gov.
Plaintiffs in that case say the law is clear that subsidies are not allowed to be granted to those people, and if the Supreme Court agrees, it could make insurance coverage significantly more expensive for millions of people.
Earlier this month, HHS boasted that 6.5 million enrollees are getting an average subsidy of $268 per month. At that pace, the government will hand out nearly $21 billion in subsidies in 2015.