President Barack Obama stressed the need to win the communications battle against the Islamic State and other extremists groups in order to change the narrative recruiting terrorist fighters not only in the Middle East but also in the West.
"We need to build and bolster bridges of communication and trust. Terrorist traffic in lies and stereotypes about others, other religious, other ethnic groups," Obama said Thursday, speaking on the final day of the White House's summit on violent extremism. "Let's share the truths of our faiths with each other. Terrorists prey upon young, impressionable minds."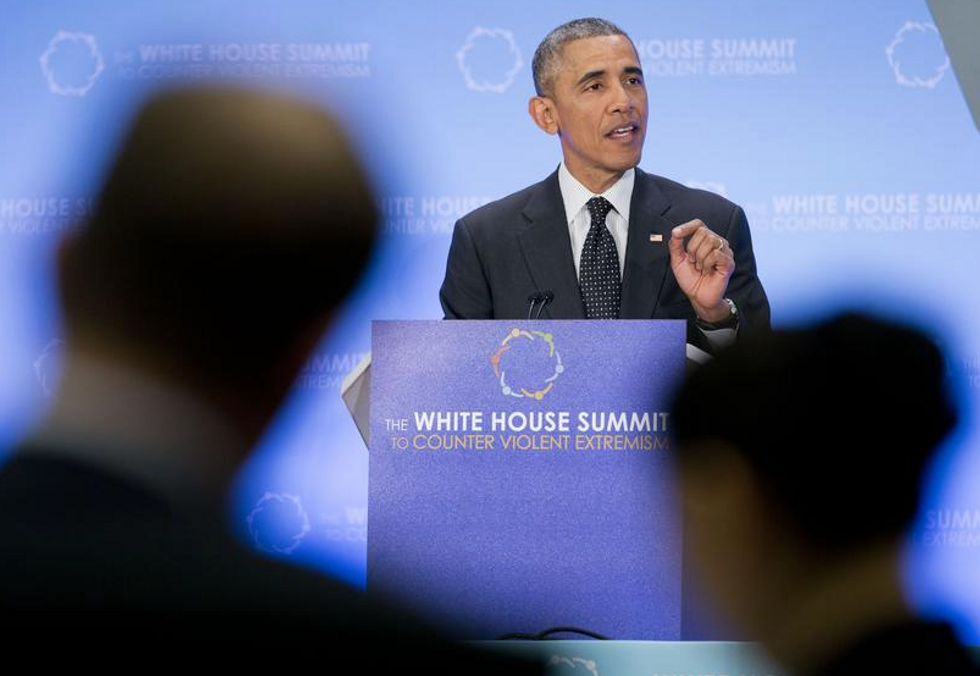 President Barack Obama speaks at the Countering Violent Extremism Summit, Thursday, Feb. 19, 2015, at the State Department in Washington. The White House convened a three-day summit to bring together local, federal and international leaders to discuss steps the U.S. and its partners can take to develop community-oriented approaches to counter extremist ideologies that radicalize, recruit and incite to violence. (AP Photo/Pablo Martinez Monsivais)
Obama announced the creation of a "virtual exchange program" to connect youth around the world and "promote understanding and cooperation." It's named after the late Ambassador Christopher Stevens, one of the four Americans killed in the 2012 terror attacks in Benghazi, Libya.
"Let's bring our youth together to promote understanding and cooperation," Obama said. "That's what the United States will do with our virtual exchange program named after Ambassador Chris Stevens, to connect 1 million young people from America, the Middle East and North Africa for dialogue. Young people are taught to hate. It doesn't come naturally to them."
Much of the three-day conference focused on how the United States has not kept pace with the social media messaging of terror groups like the Islamic State that have used Facebook and Twitter to recruit young people.
The president treaded carefully not to fault any single group for hateful rhetoric, and said discrimination feeds into terrorist recruitment narratives.
"We've also seen, most recently in Europe, a rise in inexcusable acts of anti-Semitism, or in some cases, anti-Muslim sentiment or anti-immigrant sentiment," Obama said. "When people spew hatred towards others because of their faith or because they're immigrants, it feeds into terrorist narratives. If entire communities feel they can never become a full part of the society in which they reside, it feeds a cycle of fear and resentment and a sense of injustice upon which extremists prey. And we can't allow cycles of suspicions to tear at the fabric of our countries."
As he said on Wednesday, Obama again repeated that "grievances" create terrorists, including changing corrupt and oppressive governments in the Middle East.
"We have to address the political grievances that terrorists exploit," Obama said. "Again, there is not a single perfect causal link, but the link is undeniable, when people are oppressed and human rights are denied, particularly along sectarian lines or ethnic lines, when dissent is silenced, it feeds violent extremism."
The president further said there should be more dialogue within countries and within faiths.
"We all recognize the need for more dialogues across countries and cultures; those efforts are indeed important, but what's most needed today, perhaps, are more dialogues within countries, not just across faiths, but also within faiths," Obama said. "Violent extremists and terrorists thrive when people of different religions or sects pull away from each other and are able to isolate each other and label them as 'they' as opposed to 'us,' something separate and apart. So we need to build and bolster bridges of communication and trust."
Obama said that all governments have a role to play to curb the propaganda and announced that the government of the United Arab Emirates is joining the United States in the effort to connect youth.
"At minimum as a basic first step, countries have a responsibility to cut off funding that fuels hatred and corrupts young minds and endangers us all. We need to do more to help lift up voices of tolerance. and peace, especially online," Obama said. "That's why the United States is joining, for example, with the UAE to create a new digital communications hub to work with religious and civil society and community leaders to counter terrorist propaganda."