A federal court gave Republicans a huge win this week by blocking President Barack Obama's executive action on immigration, but a Senate Republican said that decision is exactly why Republicans should drop their legislative fight to defund Obama's immigration plans.
Sen. John McCain (R-Ariz.) suggested on Thursday that in light of the injunction from the U.S. District Court for the Southern District of Texas, Republicans should stop trying to defund Obama's immigration action through legislation that also funds the Department of Homeland Security.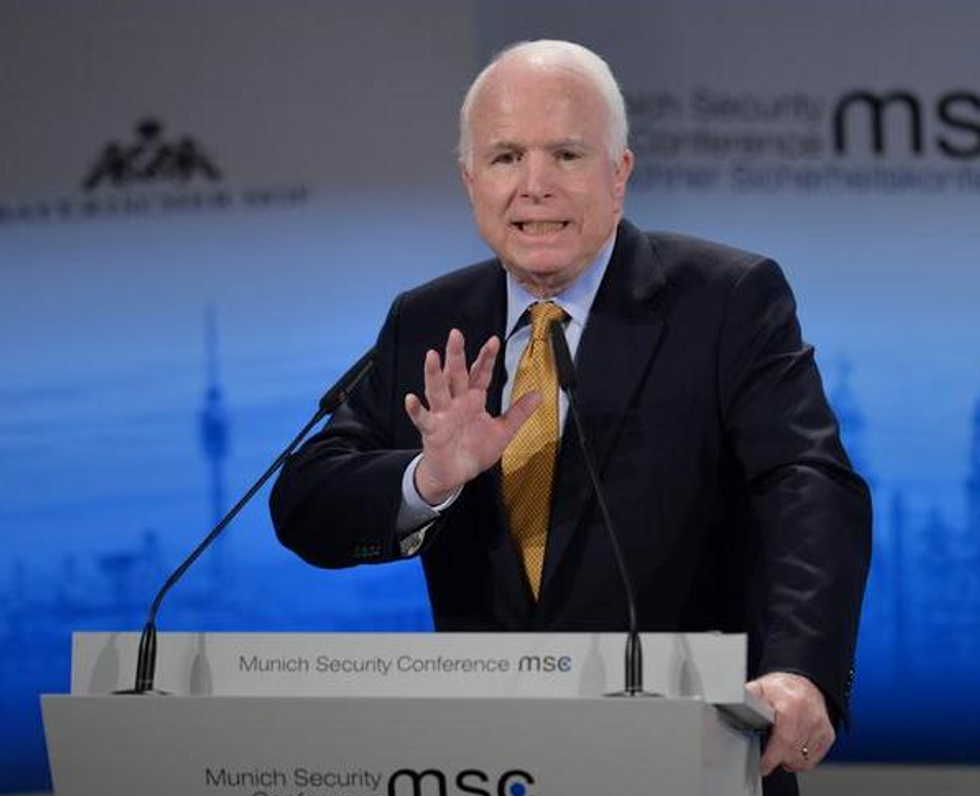 Sen. John McCain (R-Ariz.) said with the court victory on immigration under its belt, the GOP should now end the legislative fight with Democrats over Obama's immigration plans. Image: Anadolu Agency/Getty Images
McCain said that since the injunction has stopped Obama's immigration plans for now, Republicans should now focus on ensuring that DHS is funded after Feb. 27.
"[W]e should be working together, despite the obstruction of our Democratic colleagues, to resolve this issue so that we don't shut it down," McCain said of DHS on MSNBC's Morning Joe. "And now we've got a perfect reason to not shut it down, because the courts have decided, at least initially, in our favor."
McCain said Republicans should "let the courts move forward with this issue, since we have a favorable ruling."
"It's not a good idea to shut down the Department of Homeland Security," he added.
Taking McCain's advice could be tough for many Republicans who are looking for a more permanent solution to Obama's immigration action. The Obama administration has already said it would appeal the federal court's injunction, which could mean the court decision is just a temporary hiccup for the administration.
DHS acknowledged on Tuesday that it would not implement major new pieces of Obama's plan until some final legal outcome is reached.
Still, McCain's plan could be a viable one if enough Republicans decide it's good way to de-escalate the legislative fight over DHS funding. Democrats have opposed the DHS bill because of the language defunding Obama's action, and have shown no sign of caving in.
That has some Republicans worried about where the blame would fall if DHS faces a partial shutdown after Feb. 27. Some, like Rep. Charlie Dent (R-Pa.) and Sen. Mark Kirk (R-Ill.), have already said Republicans should pass a "clean" DHS bill that ignores Obama's immigration plan.
Several others have said the bill is clearly stuck in the Senate, and could potentially gravitate toward McCain's line of thinking.
In Nevada this week, Sen. Marco Rubio (R-Fla.) said he's among those Republicans who are eager to find a way to fund the department.
"Look, I'm in favor of any measure that has a chance of succeeding that could stop the new order, but the truth of the matter is the president's not going to sign that and we don't have the votes to pass it in the Senate," he said. "We can't let Homeland Security shut down."
Many took those comments as a sign that Rubio was in favor of dropping the immigration language from the bill. But his spokesman later clarified that Rubio doesn't support a DHS bill without the immigration language.
While McCain has opened up a possible option for the GOP, some Republicans have already said the pressure should be on Democrats to support the DHS bill with the defunding language. On the day of the ruling, House Speaker John Boehner (R-Ohio) said the court's decision should help convince Democrats that Obama's action was illegal, which could let them support the bill.
And a spokeswoman for Sen. Ted Cruz (R-Texas) said Democrats would have a harder time opposing the DHS bill "now that it's blocked."