Story by the Associated Press; curated by Oliver Darcy.
—
LAS VEGAS (AP) — The Fight is finally on.
Floyd Mayweather Jr. will meet Manny Pacquiao on May 2 in a welterweight showdown that will be boxing's richest fight ever. Mayweather himself announced the bout Friday after months of negotiations, posting a picture of the signed contract online.
Boom. Done. Awesome. https://t.co/7r23JQBhxr@FloydMayweatherpic.twitter.com/yDr3Wnm4jX

— Ryan Parker (@TheRyanParker) February 20, 2015
The long anticipated bout at the MGM Grand in Las Vegas will almost surely break every financial record ever, and make both boxers richer than ever. Mayweather could earn $120 million or more, while Pacquiao's split of the purse will likely be around $80 million.
The fight, which matches boxing's two biggest attractions in recent years, has been in the making for five years. It finally came together in recent months with both fighters putting aside past differences over various issues — including drug testing and television rights — to reach agreement.
"I promised the fans we would get this done and we did," Mayweather said.
[sharequote align="center"]"I promised the fans we would get this done and we did."[/sharequote]
While the fight rivals the 2002 heavyweight title bout between Lennox Lewis and Mike Tyson for interest, it comes more than five years after the first real effort to put the fighters together in their prime. Most boxing observers believe both have lost some of their skills, though Mayweather remains a master defensive fighter and Pacquiao showed in his last fight against Chris Algieri that he still has tremendous quickness in his hands.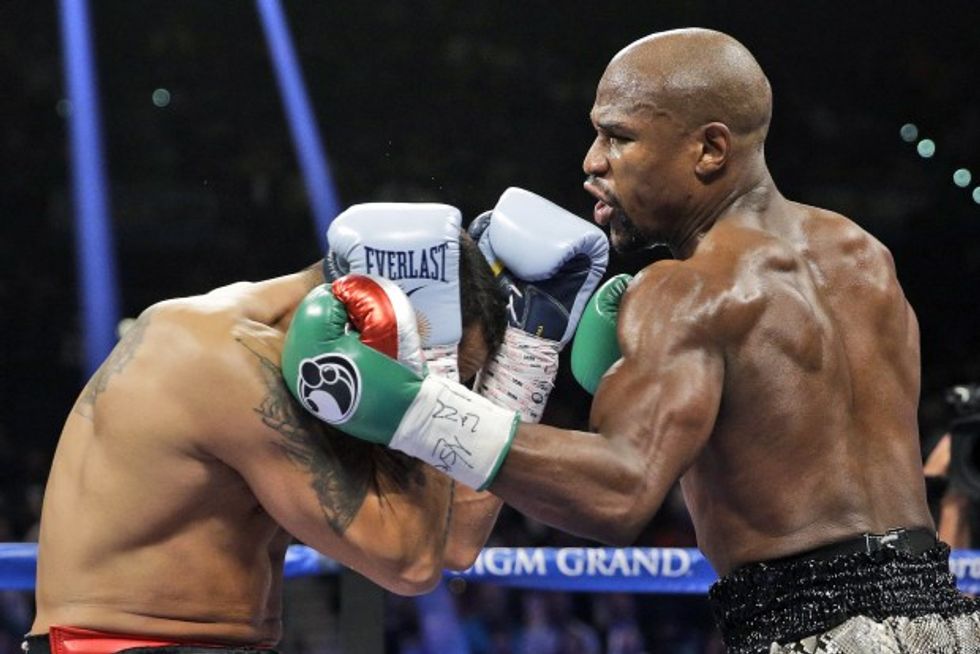 Floyd Mayweather punches Marcos Maidana, left, during their WBA welterweight and WBC super welterweight title fight, Saturday, Sept. 13, 2014, in Las Vegas. (AP Photo/John Locher)
Still, Pacquiao is 36 and has been through many wars in the ring. And while Mayweather has been largely untouched in his career, he turns 38 on Tuesday.
Pacquiao was sleeping in the Philippines when the fight was announced, but his camp issued a statement saying the fans deserve the long awaited fight.
"It is an honor to be part of this historic event," Pacquiao said. "I dedicate this fight to all the fans who willed this fight to happen and, as always, to bring glory to the Philippines and my fellow Filipinos around the world."
As part of the agreement, Mayweather insisted on having the right to announce the bout. He also won concessions from the Pacquiao camp on who enters the ring first, what type of gloves are used, and a number of other issues, including a reported 60-40 split of the purse.
But it didn't take long for Pacquiao's camp to start talking, either. Promoter Bob Arum expressed his elation in making the fight, while trainer Freddie Roach predicted a big win for his fighter.
"Floyd should enjoy being the A-Side while he can because on May 2 Manny is going to put him on his backside," Roach said.
Arum, who has promoted some of the biggest fights in history, said this one would be bigger than them all.
"This boxing match will have the interest in the U.S. of a Super Bowl," Arum told The Associated Press. "I think it will set all kinds of pay-per-view records and gate records. It will be the biggest boxing event of all time."
Both fighters will bring 147-pound titles into the ring, but the fight is about far more than belts. Mayweather, who is unbeaten in 47 fights, wants to stake his claim as one of the greatest fighters ever, and remove any doubts about his legacy by fighting the boxer who is thought to be the greatest challenge of his career.
Pacquiao, meanwhile, will try to show that a knockout loss to Juan Manuel Marquez in 2012 and a disputed decision loss to Timothy Bradley should not define a remarkable career that began 20 years ago in the Philippines
Don't tune in looking for a big knockout, either. The last time Pacquiao stopped anyone was in 2009 when he finished off Miguel Cotto in the 12th round, while Mayweather has only stopped one fighter (Victor Ortiz) in the last eight years.
Oddsmakers have already posted their opinion on the bout, making Mayweather a 2 1/2-1 favorite in betting parlors in this gambling town. The fight is expected to draw record betting, with tens of millions wagered in Nevada's legal sports books.
Another record which will almost surely be set will be the pay-per-view price to watch the fight at home. The fight will be televised as a joint venture between competing networks Showtime and HBO, which will share announcers with Jim Lampley and Al Bernstein reportedly handling the task at ringside.
—