The Department of Homeland Security has produced an internal intelligence assessment that focuses on the possibility of domestic terrorist attacks from right-wing groups, according to CNN.
The report details "sovereign citizen extremist violence" that has taken place in the United States for the last five years, and says this violence is being done by people who try to defend their individual rights from things like traffic stops or court orders.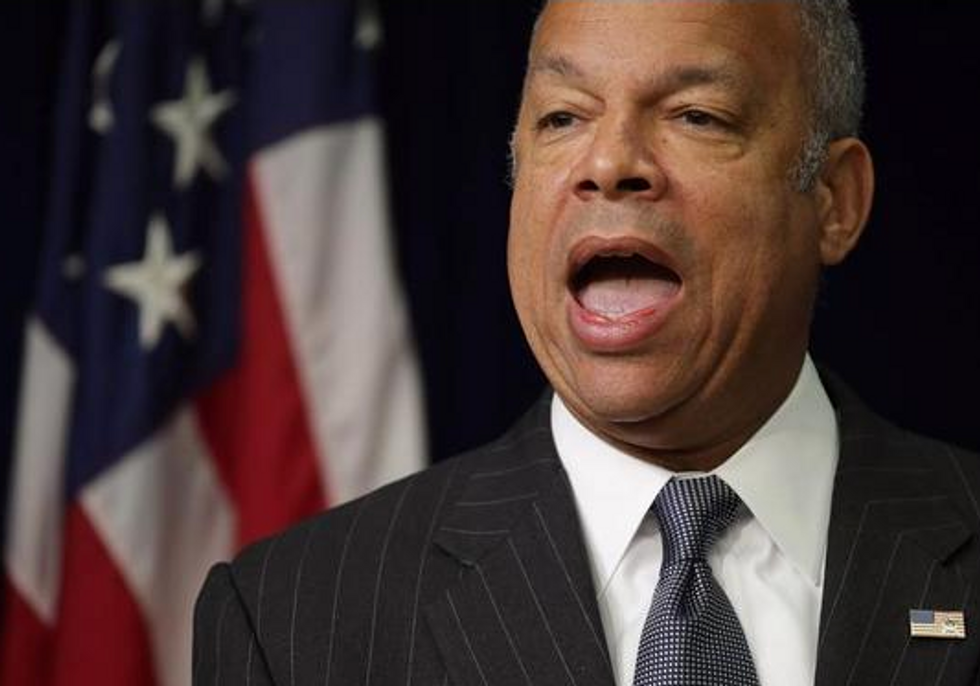 The Department of Homeland Security, run by Secretary Jeh Johnson, has done an internal report outlining possible terror threats posed by right-wing groups in America. Image: Chip Somodevilla/Getty Images
CNN said it reviewed the report, which details examples such a traffic stop that ended in a shootout between police and a father and son in Louisiana. The report said sovereign citizen violence in 2015 will "occur most frequently during routine law enforcement encounters at a suspects's home, during enforcement stops and at government offices."
It also said law enforcement officers are the prime target of this violence, since they're the ones who enforce laws and regulations. CNN said some law enforcement groups see the threat from these domestic groups as even greater than the threat posed by foreign terrorist groups.
The existence of the report was revealed just as the Obama administration has faced criticism that it's going out of its way to cite radical Islamic extremists as a significant source of terrorism around the world. The White House and federal agencies have argued there is nothing Islamic at all about these terror groups, and that the U.S. should instead treat it as a perversion of that religion.
The administration held a summit this week on how to counter extremist violence, and insisted there "no profile" on the type of person who might turn to violence, in the face of numerous questions about whether the risks are high among Muslim populations. Instead, officials have said terror risks can come from anywhere at all.
But that has led to sharp criticism from Republicans and even some Democrats who say the administration needs to identify the enemy before it can fight it. Many have said that even the Islamic State calls itself by that name, and that declaring war against that group is not a declaration of war against all Muslims.
The administration has also been criticized for trying to strip all religious meaning from the conflict. When the Islamic State executed 21 Egyptian Christians, the White House referred to the victims as "citizens."