CINCINNATI (TheBlaze/AP) — Dr. John Willke, an obstetrician who helped shape the modern anti-abortion movement, has died. He was 89.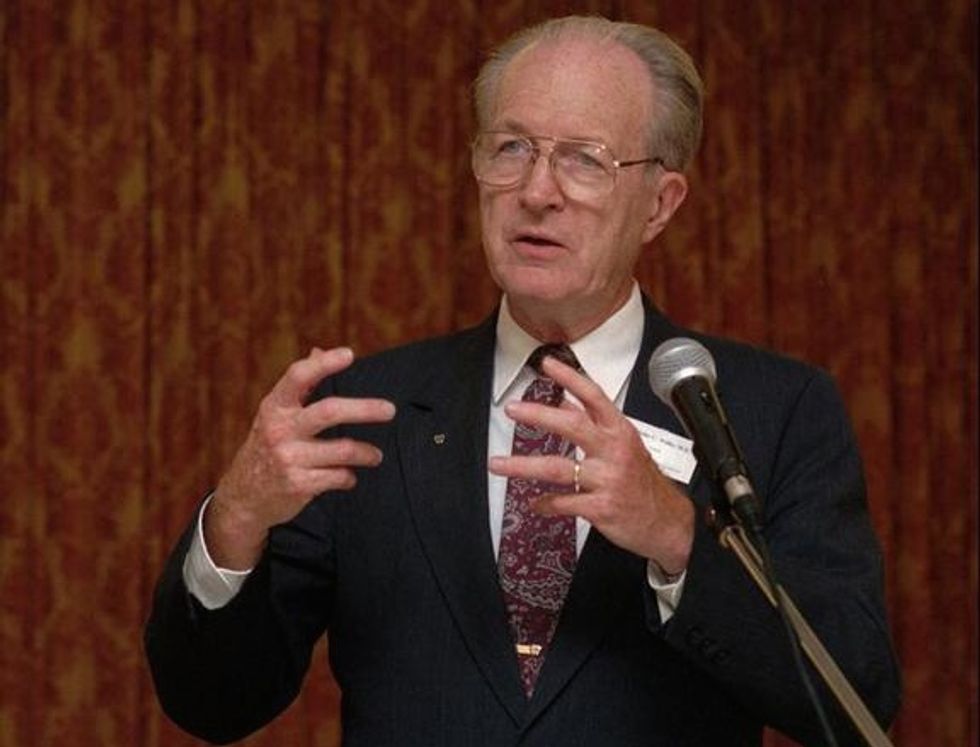 In this Oct. 6, 1995 file photo, John Willke speaks at the first anti-euthanasia conference in Amsterdam. Willke, the doctor who helped shape the modern anti-abortion movement and argued that a woman's body can resist conception in a sexual assault, has died at his home in Cincinnati, on Friday, Feb. 20, 2015. He was 89. The cause of death wasn't immediately known. (AP Photo/Peter Dejong)
Willke, who founded the International Right to Life Federation, died Friday at his home in Cincinnati, his daughter, Marie Meyers, said Saturday. She said the cause of death wasn't immediately known, but that he had seemed in good health for his age.
"The core of his life was caring for people as a husband, a father and a doctor, and that caring extended to his life work for unborn children and their mothers," Meyers said.
Willke quit delivering babies in the late 1960s to oppose abortion, retiring from his medical practice in 1988 to fully devote his time to the anti-abortion movement. He participated in protests and congressional hearings and appeared on national television frequently.
In a statement, Ohio Attorney General Mike DeWine described Willke as a "worldwide leader in the right to life movement."
"He will be remembered as a great teacher and friend and stalwart leader in giving a voice to the most vulnerable in our society," DeWine said.
But other doctors and abortion rights advocates have criticized Willke's views on rape and pregnancy. U.S. Rep. Todd Aiken of Missouri drew criticism from fellow Republicans and lost his 2012 Senate bid after making comments reflecting Willke's view.
"There's no greater emotional trauma that can be experienced by a woman than an assault rape," Willke wrote in 1999 in the journal Christian Life Resources. "This can radically upset her possibility of ovulation, fertilization, implantation and even nurturing of a pregnancy."
The American Congress of Obstetricians and Gynecologists in 2012 said a woman who is raped "has no control over ovulation, fertilization or implantation of a fertilized egg" and that to "suggest otherwise contradicts basic biological truths."
Willke and his late wife, Barbara, co-authored the "Handbook on Abortion," which influenced generations of anti-abortion activists.
One such activist, Janet Folger Porter, said Saturday that she was heart-broken by Willke's death.
"He was my hero, mentor and friend, she said.
Other supporters of Willke's took to Twitter to say goodbye as news of the leader's death broke on Saturday.
Saddened by the loss of my friend, Dr. John Willke, a pioneer in the pro-life movement who deeply believed in the sanctity of every life.

— Rob Portman (@senrobportman) February 21, 2015
Our family's thoughts and prayers join with the many friends & family of Dr. John Willke on his passing today. RIP.

— Dusty Rhodes (@AuditorRhodes) February 21, 2015
—
Follow Zach Noble (@thezachnoble) on Twitter