After the Justice Department sought Friday to reverse a federal court ruling blocking President Barack Obama's immigration executive actions, governors convening in Washington over the weekend reacted largely along party lines.
"I'm very pleased with the initial stay by the federal judge in Texas and I will do everything I can to support that continued effort," North Carolina Gov. Pat McCrory, a Republican, told TheBlaze.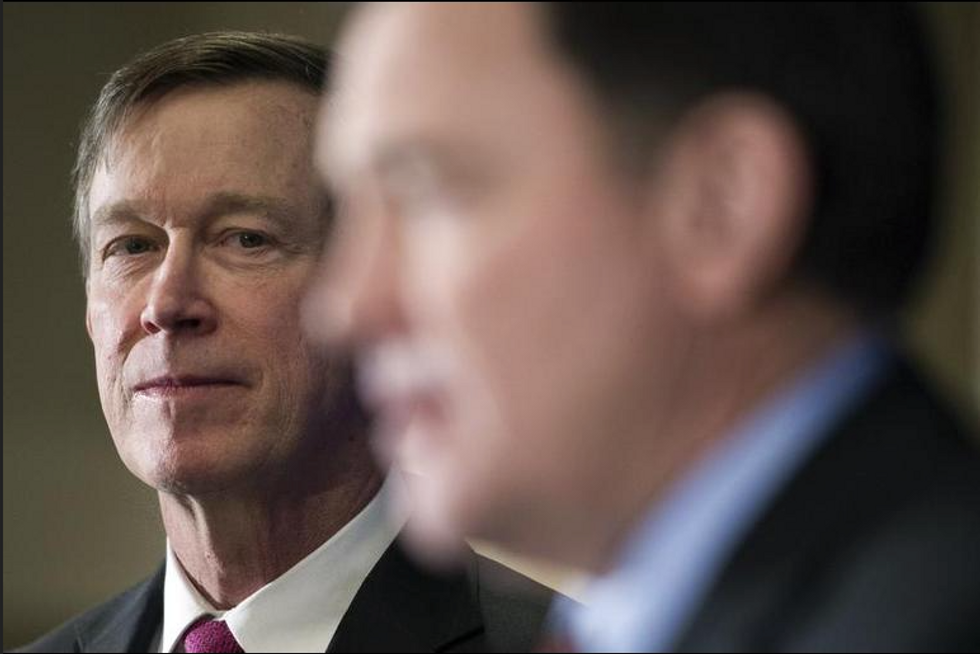 National Governors Association Chairman, Colorado Gov. John Hickenlooper listens at left as Vice Chair, Utah Gov. Gary Herbert, speaks at the opening news conference of the National Governors Winter Meeting in Washington, Saturday, Feb. 21, 2015. (AP Photo/Cliff Owen)
North Carolina is one of 26 states in the case seeking to stop the actions Obama took without Congress to shield 5 million illegal immigrants from deportation.
On Monday, Texas U.S. District Judge Andrew Hanen issued a temporary injunction halting Obama's actions, granting the 26 states time to pursue a lawsuit. On Friday, the Justice Department announced it would seek an emergency stay to block Hanen's ruling.
"The injunction should continue," McCrory said. "There has been executive overreach. And I think the separation of powers issue, regardless of the issues of immigration, has to be resolved in the courts because it sets a very bad precedent."
McCrory and other governors are in Washington for the 2015 National Governors Association Winter Meeting, taking place Friday through Monday.
Virginia Gov. Terry McAuliffe, a Democrat, argued the biggest concern is the threat by Republicans in Congress to block funding for the Department of Homeland Security, which oversees immigration enforcement agencies that would implement Obama's executive actions.
"I support the president. We support the president on his efforts on immigration reform," McAuliffe told TheBlaze, referring to Democratic governors attending the conference. "We all stand with him on it. We will see what the end result of the court decision is."
"But separate that from this DHS funding," McAuliffe continued. "It's totally two different things. It's important. You've got to fund the DHS. This is vital to emergency services in all of our states. But understand, next Friday, those [DHS] checks will stop going out to the states. It will affect sheriffs. It affects everybody. It should not have politics brought into this decision."
Utah Gov. Gary Herbert, a Republican and vice chairman of the National Governors Association, said governors should encourage Congress to secure the border.
"We've had this debate. It's very emotional. Sometimes it becomes so emotional that rational thought is kind of thrown out the window," Herbert said at an NGA press conference. "It is time for the Congress to act and to do something. And there are probably five or six different steps. But let's just get step one done. Let's secure the border. Then move on to other steps that we need to. Doing nothing doesn't seem to be working and yet that sometimes is what Congress is best at, doing nothing."
Newly elected Pennsylvania Gov. Tom Wolf, the only Democratic gubernatorial pickup in the last election, was unclear how Obama's executive action would impact his state.
"I'm not sure how it will affect us," Wolf told TheBlaze. "It's a federal issue, and I'm going to do what I can do to encourage the federal government to do what they're supposed to do to make sure we are safe."