President Barack Obama warned the nation's governors Monday that if the Department of Homeland Security is not fully funded, it will mean financial harm to their states.
"Unless Congress acts one week from now, more than 100,000 DHS employees, border patrol, port inspectors, TSA agents, will show up to work without getting paid," Obama said at the White House, speaking on the final day of the National Governors Association winter meeting. "They all work in your states. These are folks who if they don't have a paycheck, they are not going to be able to spend that money in your states and it will have a direct impact on your economy."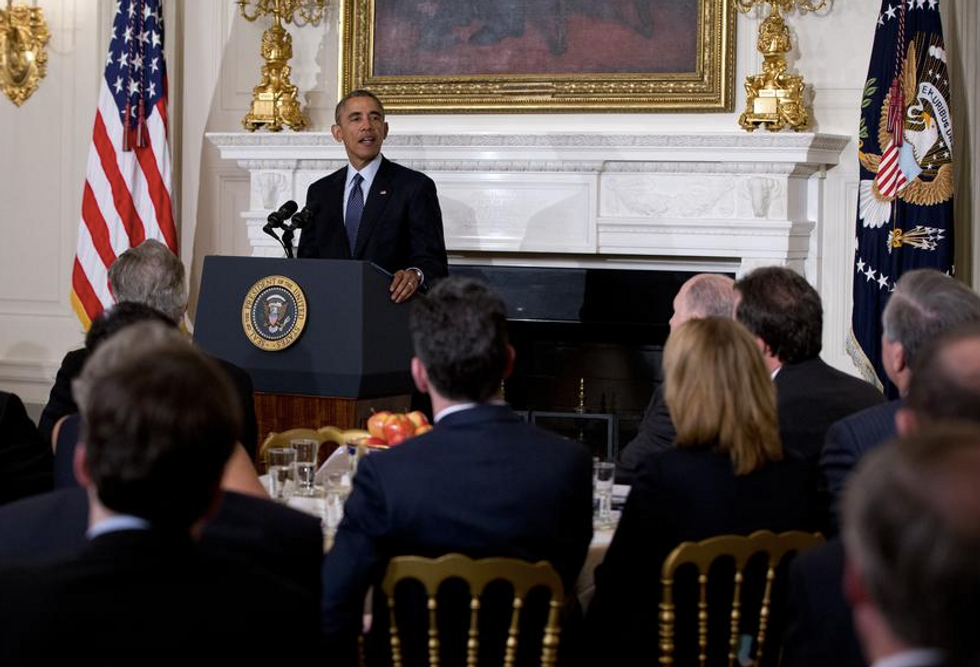 President Barack Obama speaks to members of the National Governors Association, Monday, Feb. 23, 2015, in the State Dining Room of White House in Washington. As they gather in Washington, many of the nation's Republican governors are blaming President Barack Obama for a budget standoff that threatens a potential Department of Homeland Security shutdown. (AP Photo/Carolyn Kaster)
Congressional Republicans do not want to fund Obama's executive actions on immigration, leading to an impasse over the $40 billion spending bill for the Department of Homeland Security. Obama says he will veto legislation that does not fund his immigration action, but the White House has been unclear about whether it would support a continuing resolution to temporarily fund the department.
Last week, a federal judge dealt a setback to the administration with a temporary injunction against the executive actions. The Justice Department has since announced it will seek an emergency stay against the injumction.
Obama said that withholding DHS funding "will have a direct impact on America's national security because their hard work helps to keep us safe. As governors know, you know we can't play politics with out national security."