After a jury in Stephenville, Texas, found Eddie Ray Routh guilty of capital murder in the killings of Chris Kyle and Chad Littlefield, family members offered emotional reactions to the verdict.
Immediately after the guilty verdict, Littlefield's family delivered a victim impact statement directly to Routh.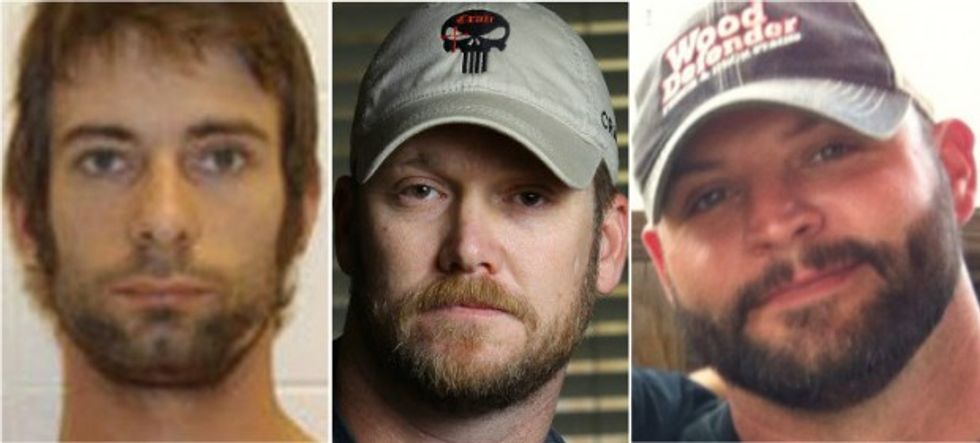 Eddie Routh (left) was found guilty on Tuesday of murdering Chris Kyle (center) and Chad Littlefield (right).
"You took the lives of two heroes who were trying to help you," Don Littlefield, Chad's father, told Routh, according to KDFW-TV reporter Fil Alvarado.
"Your acts have put you in a world you cannot escape," the father added.
More from Alvarado on the impact statement:
State of Texas has decided to spare your life. More than you gave Chad.

— Fil Alvarado (@FilAlvaradoFox4) February 25, 2015
Routh faced Chad Littlefield's father during impact statement. Did not turn away.

— Fil Alvarado (@FilAlvaradoFox4) February 25, 2015
Judy Littlefield, Chad's mother, later thanked God for bringing her family "justice" after their terrible loss during a brief press conference.
"We just wanted to say that we have waited two years for God to get justice for us on behalf of our son," she said. "And as always, God has proven to be that faithful. And we are so thrilled that we have the verdict that we have tonight. And thank you guys for being so compassionate and treating us with respect and honoring us."
Routh has been sentenced to life in prison without the possibility of parole.
—