Senate Minority Leader Harry Reid (D-Nev.) indicated Tuesday that he'd be open to legislation that keeps the Department of Homeland Security open at last year's funding levels, in order to avoid a partial DHS shutdown.
Democrats have been calling for a "clean" DHS bill that doesn't include language defunding President Barack Obama's executive action on immigration, something Republicans have refused to offer them. As a compromise, Congress could pass a "continuing resolution," or a CR, that keeps DHS operating at last year's funding levels.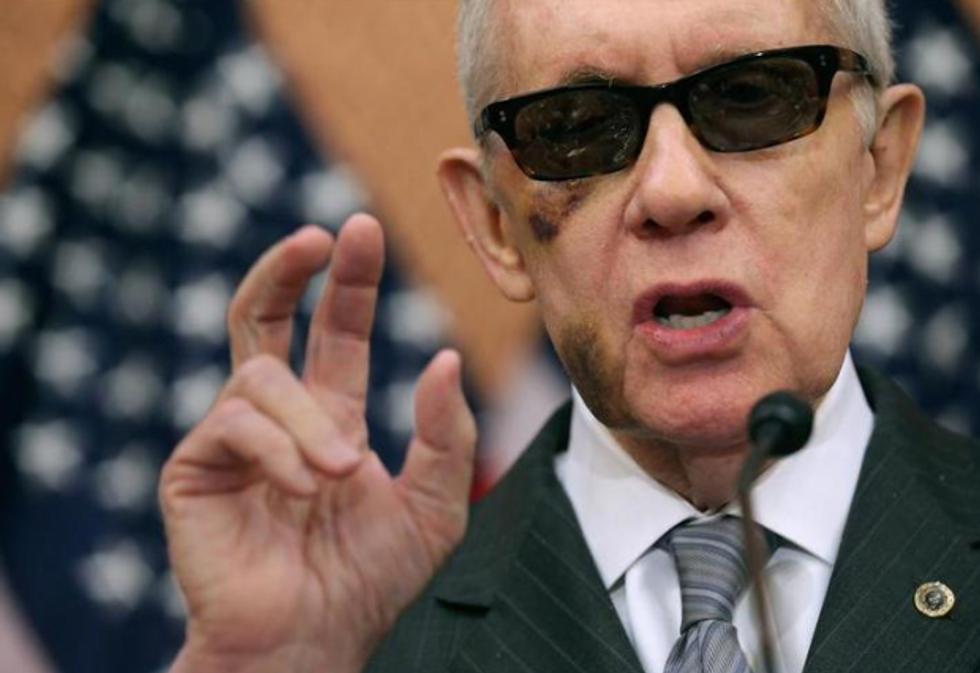 Senate Minority Leader Harry Reid (D-Nev.), who is recovering from a second eye surgery, indicated Tuesday he might be open to a continuing resolution to keep the Department of Homeland Security open. Image: Chip Somodevilla/Getty Images
The Obama administration has warned against this compromise as one that would still do too much damage to DHS. But when asked about it Tuesday, Reid didn't rule out this middle ground option.
"I think it would be a shame to do a CR, but I'm not here for hypotheticals," he said.
At this point, Republicans haven't even offered a CR as a compromise. But with a little more than three days left before DHS funding expires, it's possible the GOP will try to present a CR as a way around the impasse.
On the other hand, House Speaker John Boehner (R-Ohio) has indicated he's willing to allow a partial shutdown of DHS, which he'd blame on Democrats who are unwilling to move ahead with the House-passed DHS/immigration bill.
Reid and other Senate Democrats tried again Tuesday to shift the blame to Republicans, by saying the GOP is inappropriately tying the two issues together.
"It occurs to me that ideologues are still running the Republican Party," he said.
"The burden is on the Republicans," Reid added. "What they're doing is wrong for the country, and they not only will be blamed, they should be blamed for what's going on."