A Vermont state audit alleges problems in how Jonathan Gruber – who gained notoriety for his remark about the "stupidity of the American voter" in selling the public on Obamacare — billed the state for consulting work, and now the matter is before the state's attorney general.
Gruber, a professor at Massachusetts Institute of Technology, was doing consulting work for an economic model of Vermont's single-payer health care system.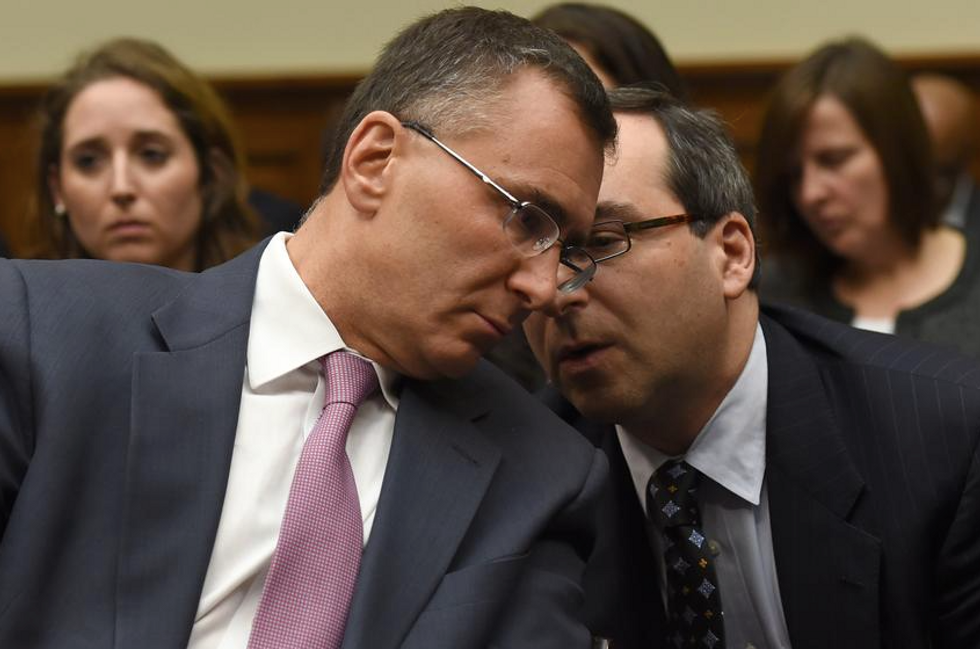 MIT economist Jonathan Gruber, left, huddles on Capitol Hill in Washington, Dec. 9, 2014, while testifying before the House Oversight Committee health care hearing. (AP Photo/Molly Riley)
Vermont Attorney General William Sorrell said the state auditor referred the findings to his office for investigation.
"The auditor has referred the matter to us. His memo raises serious questions as to whether the invoices submitted to the state accurately reflect actual hours worked by the RA [research assistants] under the Vermont contract," Sorrell told TheBlaze in an email Tuesday. "Related questions include whether Vermont has already overpaid for the hourly services rendered and, if not, how much of the unpaid billings should be paid by the state. We will seek documentary and other relevant information and thereafter determine future steps."
Vermont state auditor Doug Hoffer's report released Monday said Vermont health officials missed "obvious signs" of problems in the billing invoices. The audit said state officials "failed to exercise due diligence," the Burlington Free Press reported.
Gruber's contract with the state was for $400,000. Gruber declined to comment to the Burlington Free Press.
The audit said Gruber submitted two consecutive invoices to the state of Vermont, one in September and another in October, with the exact figures each month – 100 hours for Gruber at $500 per hour, and 500 hours for his research assistants at $100 per hour. But only one research assistant worked on the project, according to the audit. It specifically singles out Robin Lunge, director of Vermont's health care reform, and Michael Costa, deputy director of state's health care reform.
"The evidence suggests that Dr. Gruber overstated the hours worked by the RA and that the Agency of Administration ignored the obvious signs that something was amiss," Hoffer's audit said. "Even if the State was not overly concerned about the first invoice, Ms. Lunge and Mr. Costa should certainly have been alarmed by the second. But except for one brief e-mail exchange, there is no evidence that they were troubled, nor did they communicate any concern to Dr. Gruber."
Vermont Democratic Gov. Peter Shumlin's Administration Secretary Justin Johnson defended Gruber and the state's oversight.
"We don't believe that the work was overstated, in part because we were dealing with Dr. Gruber on a daily basis, and he was doing the work that we asked him to do," Johnson told the newspaper.
The full audit on Gruber's Vermont work is below: