Senate Republicans on Tuesday caved in to Democratic demands by saying they'd agree to hold separate votes on a bill to fund the Department of Homeland Security, and another bill to defund President Barack Obama's executive action on immigration.
Republicans cast the move as the only way forward to ensure that a DHS funding bill can be passed by Congress this week. Democrats have conspired to block that bill for the last several weeks, given that it currently includes language to defund Obama's immigration action.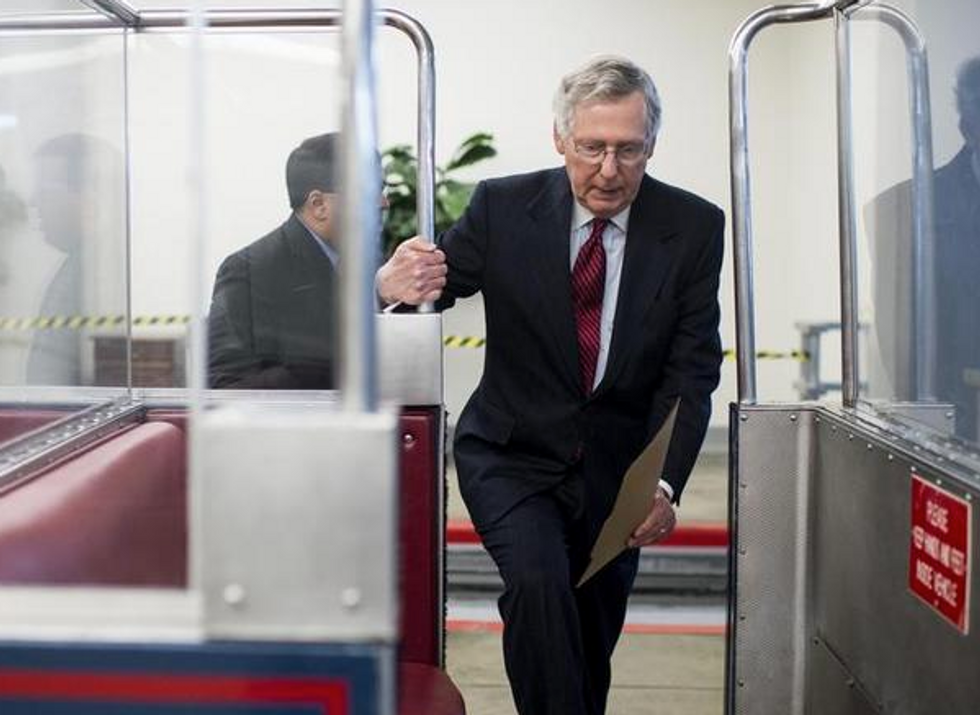 Senate Majority Leader Mitch McConnell (R-Ky.) said Tuesday he would split the DHS and immigration issues into two separate bills, as Democrats have demanded. Image: Bill Clark/CQ-Roll Call,Inc.
DHS funding expires on Friday, and without a decision by Democrats to lift their objection, the only other choice was a partial DHS shutdown.
Last week, a federal court temporarily blocked key pieces of Obama's immigration action, and Sen. John McCain (R-Ariz.) indicated that ruling could give Republicans an excuse to delink the two issues. Comments from Senate Republicans today indicated that this ruling did become part of the rationale behind the decision.
But the move will likely draw opposition from conservatives in the House and Senate, since it will eliminate the leverage the GOP gained by attaching the immigration language to a must-pass DHS spending bill. By splitting the issues, conservatives fear that the DHS funding bill will easily become law, but that legislation to defund Obama's immigration plans will either languish in Congress, or simply be vetoed by Obama.
Senate Majority Leader Mitch McConnell (R-Ky.) told reporters Tuesday afternoon that he offered Democrats two separate votes, and admitted it's something that Democrats have been calling for.
"I've indicated to the Democratic leader that I'd be happy to have his cooperation to advance a consideration of a clean DHS bill which would carry us through til Sept. 30," McConnell said. "With Democratic cooperation on a position they've been advocating for the last two months, we could have that vote very quickly."
Soon after on the Senate floor, Senate Majority Whip John Cornyn (R-Texas) acknowledged that Republicans feel it's now time to ensure DHS is funded after this Friday, when DHS funding expires.
"At the end of the day, the Senate will make sure that the people who protect our borders and our ports and our skies get paid, because that's the responsible thing to do," he said.
McConnell cast the decision as a chance for Senate Democrats to vote with Republicans on the separate bill to defund Obama's immigration plan. He said that vote, which could happen Friday, would give Democrats "an opportunity to express their disapproval of what the president did in November, and some Democrats as you know have already announced they agree with me on that."
But the move drew quick opposition from the Heritage Action, which warned that putting Democrats on record on Obama's immigration move is "no substitute" for keeping the GOP's leverage in the fight.
"As the Majority Leader said last year, the power of the purse is the 'only tool' Congress has to rein in executive overreach," Heritage Action Communications Director Dan Holler said. "As such, Heritage Action will key vote against any DHS bill that would allow for the funding of the President's unconstitutional amnesty."
It's not immediately clear whether House Republicans will support the plan, but a spokesman for Boehner told TheBlaze that Democrats now need to stop blocking DHS funding.
"The Speaker has been clear: the House has acted, and now Senate Democrats need to stop hiding," spokesman Michael Steel said. "Will they continue to block funding for the Department of Homeland Security or not?"
If enough House Republicans oppose it, Boehner may be forced to call up the deal and hope to pass it with Democratic votes. Boehner's support may be critical, as Senate Minority Leader Harry Reid (D-Nev.) said he would only agree to McConnell's deal if he knows House Republicans will also accept it.
But Republicans immediately accused Reid of moving the goalposts, since Democrats before had said they only want a vote on a clean DHS bill. A House GOP aide told TheBlaze that Reid's demand for certainty from the House goes against the Democrats' past comments.
"Apparently inspired by President Obama's own over-reach, Sen. Reid is now shamelessly threatening to filibuster a 'clean' Homeland Security funding bill," this aide said. "The American people are watching, and there will be consequences for Senate Democrats' hypocrisy and irresponsibility."