DALLAS (TheBlaze/AP) — Southwest Airlines grounded one-fifth of its fleet Tuesday after it discovered inspections were missed. As of Wednesday morning federal officials gave them the green light to keep flying these planes provided they are checked within the week.
In a statement, Southwest revealed that it was overdue for a maintenance check on its backup hydraulic system on 128 planes. Once this was discovered the airline voluntarily stopped using these planes, which lead to about 80 flight cancellations.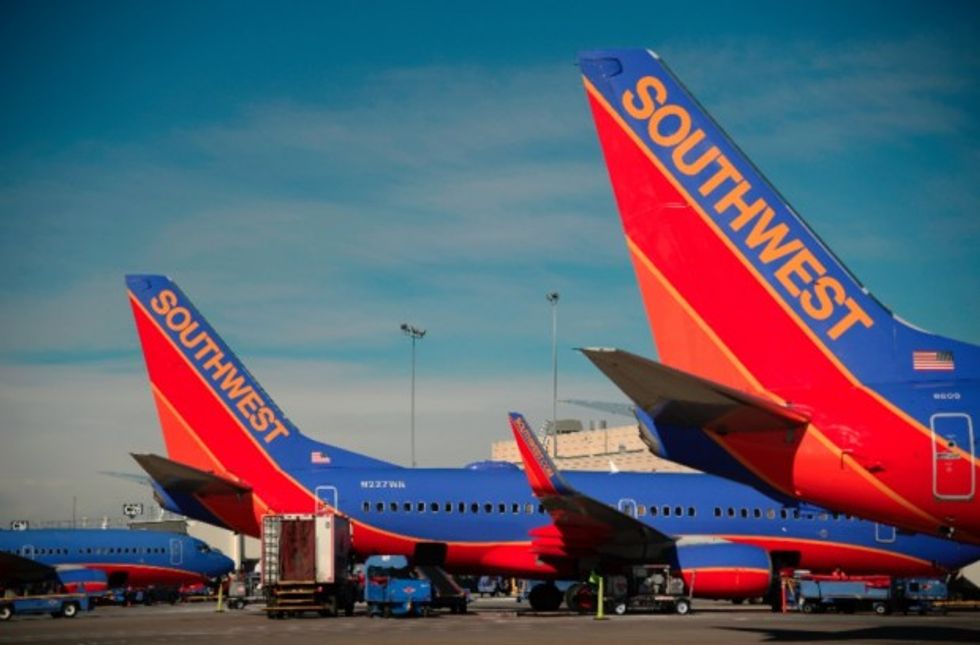 Southwest Airlines aircraft at Concourse 'C' at the Denver International Airport. February 20, 2015 Denver, Colorado. Tuesday night Southwest grounded one-fifth of its fleet because it discovered an inspection of its backup hydraulic system was missed. (Joe Amon/Denver Post via Getty Images)
The Federal Aviation Administration agreed to allow Southwest to fly planes that had not yet been inspected if the airline completed the check within five days. Southwest spokeswoman Brandy King said a "good portion" of the inspections would take place Wednesday morning, which would cancel about 19 additional flights. The hydraulic system being inspected is used to control the rudder if the main system fails.
"The Safety of our Customers and Employees remains our highest priority and we are working quickly to resolve the situation," Southwest said in a statement.
The missed inspections were first reported by the Wall Street Journal.
Dallas-based Southwest is the nation's fourth-biggest airline. It has 665 jets, all of which are some version of the Boeing 737. Tuesday's groundings involved nearly one-third of its 737-700 models, which seat 137 or 143 passengers, depending on the layout.
Southwest was fined in 2009 for failing to inspect dozens of planes for cracks in the fuselage. Southwest agreed to pay $7.5 million to settle with the FAA, which had sought a $10.2 million penalty.
In 2011, the FAA ordered extensive inspections of some of Southwest's older 737s after a 5-foot hole burst open in one plane in mid-flight, forcing an emergency landing at a military base in Arizona.