You might think being the child of a billionaire would make it easy when it comes to getting toys and a big allowance. This is not the case with Mark Cuban.
At the end of Glenn Beck's recent hour-long interview with the billionaire entrepreneur, the host asked, "When all is said and done, who do you hope people remember you as?"
Cuban's instant response, "The dad of Jake, Alexis and Alyssa," triggered an immediate, "Good answer," from Beck.
Cuban continued, "That's my biggest fear in life, after their health, that they'll be normal, well rounded and enjoy their lives."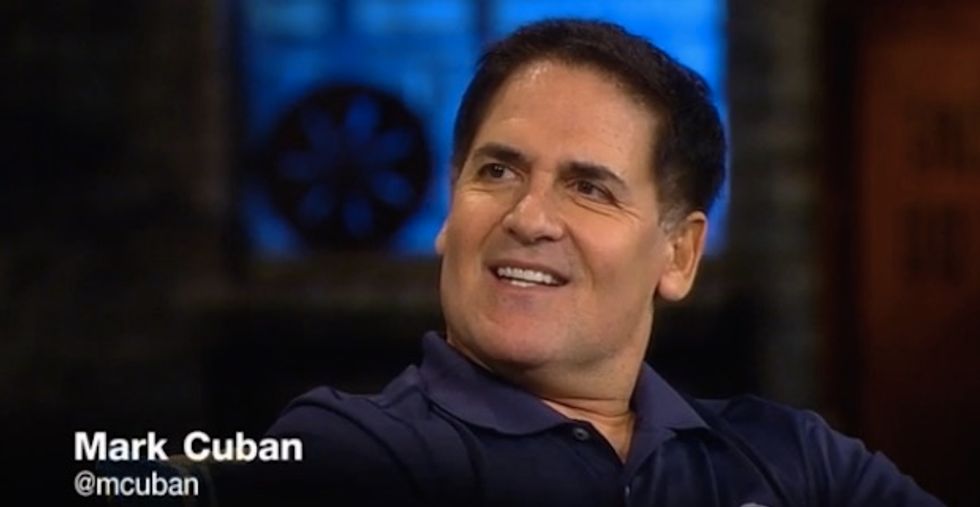 Image: TheBlaze TV
That statement also sparked an interesting back and forth about parenting between the two dads. Beck pressed on, asking, "How do you keep your kids normal with dad being Mark Cuban?"
Cuban talked about his children not caring about watching him on TV, adding, "After six o'clock, you know, we just try to be as normal as possible...the way I was raised...the way my wife was raised.
Do the kids have jobs? Beck wondered.
Cuban chuckled, "They're only 5, 8 and 11, so they're not quite there yet." Adding, "But we do play 'Math for Money.' So, they have to earn their money. I'm not the dad that just brings home toys all the time."
Cuban also explained how he takes his 8-year-old daughter to the bookstore and gives her an incentive to read, "It has to be at least 200 pages, but if you read it in a week, I'll give you $10."
[mlbvideo content_id=38723483]
The full episode of The Glenn Beck Program, along with many other live-streaming shows and thousands of hours of on-demand content, is available on just about any digital device. Click here to watch every Glenn Beck episode from the past 30 days for just $1!
How do you feel about making kids work to earn their allowance? Take our Blaze poll and add your comments below:
__
Follow Mike Opelka (@Stuntbrain) on Twitter.