House Speaker John Boehner (R-Ohio) on Wednesday declined to say what he thinks about a Senate plan to concede to Democrats on immigration and funding for the Department of Homeland Security, and dodged questions about whether his position as House Speaker is in jeopardy if he calls for a House vote on that plan.
Senate Republicans on Tuesday caved to Democratic demands to hold a vote on a DHS funding bill, and a separate vote to defund Obama's action. Republicans had linked the two issues in an effort to force Democrats to accept the defunding language.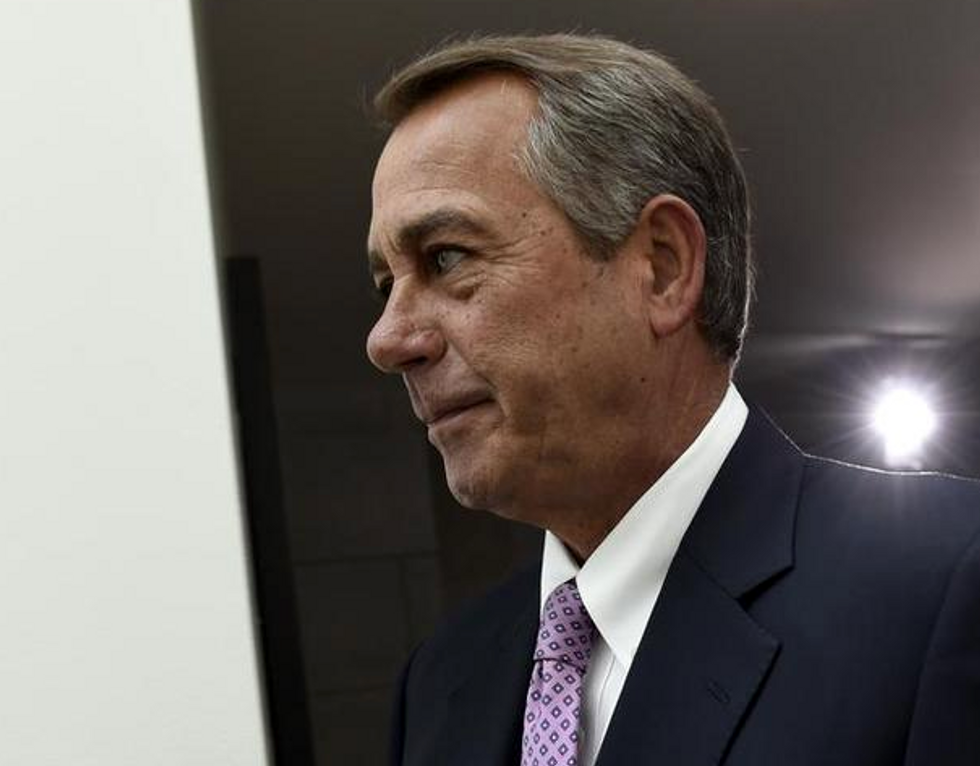 House Speaker John Boehner (R-Ohio) gave no clues as to whether the House will consider a Senate plan to end a fight over DHS funding. Image: AP Photo/Susan Walsh
Senate Majority Leader Mitch McConnell (R-Ky.) indicated Tuesday that splitting them up is the only way to ensure DHS can be funded, given Democratic opposition. But the next question is whether House Republicans can swallow that proposal.
Dozens of conservative Republicans are expected to balk at the plan. Boehner himself said Republicans would fight Obama's immigration plan "tooth and nail," and there have been suggestions that if Boehner goes along with McConnell, his position as GOP leader could be at risk.
When asked about all these issues Wednesday morning, Boehner dodged the questions and said only that he's still waiting for the Senate to do something.
"I'm waiting for the Senate to act," he said. "The House has done it's job to fund the Department of Homeland Security, and to stop the president's overreach on immigration."
"So until the Senate does something, we're in a wait-and-see mode," he said, adding that until the Senate does something, "no decision has been made on the House side."
Boehner's comments could be a sign that House Republicans won't bring up the bill at all. But as of mid-week, it seems more likely that Republicans will simply pass whatever the Senate passes, even if it's a "clean" DHS bill.
Late Tuesday, the House Rules Committee approved a rule that should be passed today, which would let the House quickly take up any bill related to DHS spending. That would let the House move fast to react to a Senate vote, and allow passage by Friday when DHS funding expires.