Cody Wilson, the founder of Defense Distributed, the organization that has made headlines for its 3-D printed firearms, has another product that can help gun hobbyists make their own parts. He has run into a snag, though, which he said he feels is indicative of a larger problem that leads to a "total state mentality": FedEx won't ship it.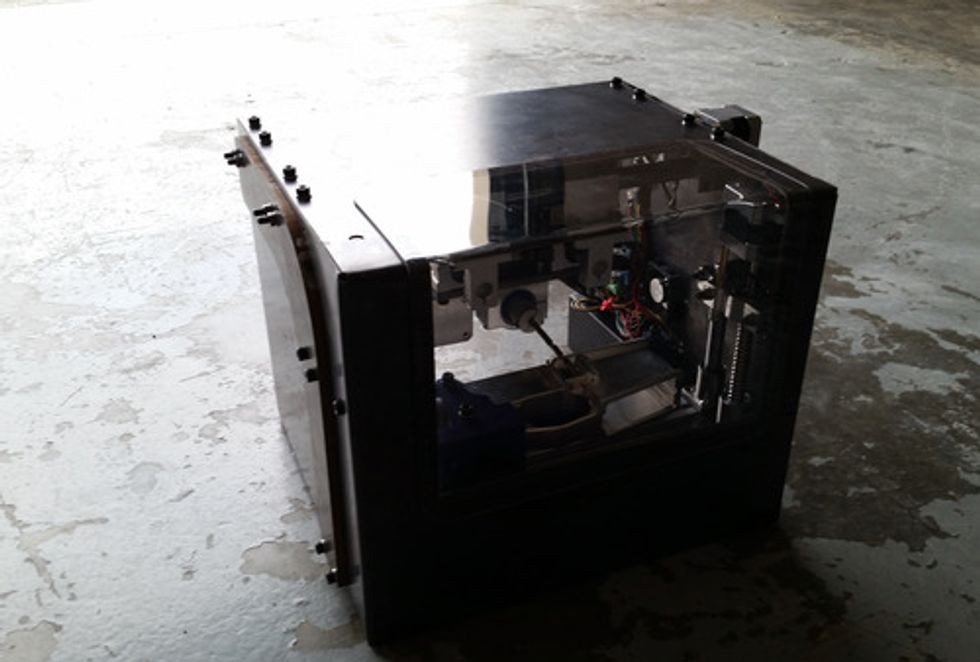 Ghost Gunner is a CNC mill that is shipped with the ability to produce an AR-15 lower receiver. (Photo credit: Defense Distributed/Ghost Gunner blog)
Ghost Gunner by Defense Distributed is a computer numerical control mill that has software that allows users to make AR-15 lower receivers without serial numbers. Preparing to ship Ghost Gunner, Wilson was working with FedEx as a member of its FedEx Advantage/NRA Business Alliance, which provides discounts.
All was going well until last week. Wilson told TheBlaze FedEx decided not to ship his product. Wilson said his account executive, in the last few weeks, started asking more about the legality of the mill and on Friday said the company would not do business with it. Wilson still has not received a formal statement explaining why, but said his account executive said the company had issues with the machine because it was unregulated.
"Maybe they just wanted an excuse to not ship my product," Wilson added.
Wilson told TheBlaze that he explained in conversations with his FedEx account executive that Ghost Gunner is just an industrial tool that has software allowing it to make the gun part.
"It's just a mill people can have, a tool to make rifles in this country," Wilson said.
According to the Bureau of Alcohol, Tobacco, Firearms and Explosives, it is lawful for citizens to make their own firearms without a license if they are not for sale or distribution and if the person is legally allowed to own their own firearms.
Why would anyone have use for such a personal machine like Ghost Gunner though? Wilson said that earlier this year a law went into effect that makes it illegal to take an AR-15 lower receiver that's 80 percent complete to a machine shop or gunsmith and use their machines to finish it.
"You now have to own the tool you use to make your lower receiver," Wilson said.
Hence, why Ghost Gunner was created as a tabletop mill that gives people the ability to "legally manufacture unserialized AR-15's in the comfort and privacy of your home."
Gun parts aren't the only thing that Ghost Gunner can make though. Wilson said the machine could be programed to make other items out of aluminum as well, giving bottle openers as an example.
In a statement to Wired, FedEx spokesman Scott Fiedler said that the company decided not to ship Ghost Gunner with Defense Distributed because it is "uncertain at this time whether this device is a regulated commodity by local, state or federal governments. As such, to ensure we comply with the applicable law and regulations, FedEx declined to ship this device until we know more about how it will be regulated."
FedEx did not respond to TheBlaze's request for comment at the time of this posting.
Watch this video from Defense Distributed showing the capabilities of Ghost Gunner:
Wilson told TheBlaze that he knew early on he would have to be prepared to answer questions about the machine's legality.
"This is an unregulated activity," Wilson said about the legal advice he received on the product. "There are no special implications."
Wilson called FedEx's position a "defacto ban on free activity."
"I understand this is a private company and they can do business with whomever they please," Wilson said. But he said he thinks when it comes to unregulated activities, the "default position should be a liberty perspective."
Things like 3-D printers, drill presses and other industrial tools, Wilson said, are currently shipped by FedEx, but they too could be used to help make gun parts.
Wilson said he thinks FedEx probably felt the need to take this position on Ghost Gunner because of the fact that it can make a firearm piece, which could be seen as controversial in the current political atmosphere.
"This is the very death of the innovative, intrepid spirit of American [entrepreneurship]," Wilson said. "It's completely antithetical to the ideas of the original American spirit."
Defense Distributed is not stranger to legal controversy. Two years ago, the group's forum that hosted 3-D printed gun designs went dark as the government "[claimed] control of the information." The 3-D printer company Stratasys also pulled out of letting the group rent one of its machines a few years ago.
According to the Ghost Gunner blog, it sold out of its originally anticipated amount within 24 hours of pre-orders being made available last fall. Several hundred Ghost Gunners were being manufactured as of late January with the hope they would ship in February.
With FedEx pulling out, Wilson said he's looking at other couriers.
"I'm pursuing all available options at this point," he said.
—
Front page image via Defense Distributed/Ghost Gunner blog.