A robber used an unusual weapon to steal money from a gas station in Florida Saturday morning.
Instead of threatening the clerk at the Kangaroo Express in Palm Bay with a gun or knife, the suspect drenched the man behind the counter with lighter fluid and threatened to flick on a lighter.
"Open the register, I'm going to burn you," clerk Raul Rosado told WKMG-TV of what the robber said after spraying the college student with the flammable liquid.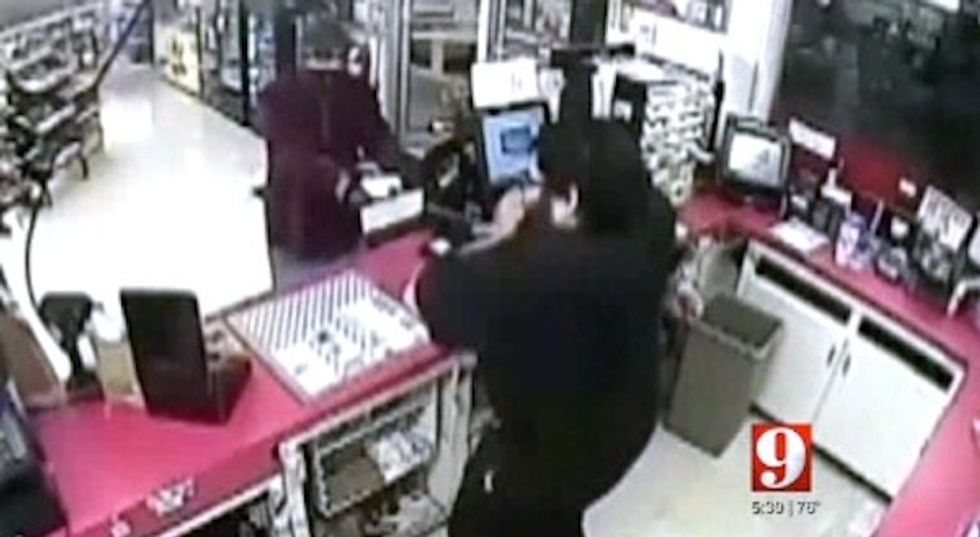 A man sprayed this gas station clerk with lighter fluid and threatened to set him on fire if he didn't hand over cash. (Image source: WFTV-TV)
According to the Palm Bay police, the "flame-throwing robbery suspect" was given an undisclosed amount of cash and fled the scene. He was, however, caught on the store's surveillance camera, which the cops hope could give them a lead.
Watch the video in WFTV-TV's report about the incident:
Rosado told WKMG his first thought was "'Whoa, you just got robbed, that's unbelievable.'" Then he thought, "'I just got robbed with lighter fluid, that's odd, that's very odd.'"
Rosado was not injured in the incident.
Police are offering a reward to anyone who has information leading to the arrest of the robbery suspect.