Republicans in the House and Senate vowed Thursday to find some way to moderate or stop the Federal Communications Commission's now-approved plan to regulate the Internet.
In the past, Republicans have passed legislation to stop what they see as regulatory overreach, and that's an option the GOP could consider in the coming weeks. But for now, they said only that they'd be looking at some way to blunt the impact of the FCC's new rule.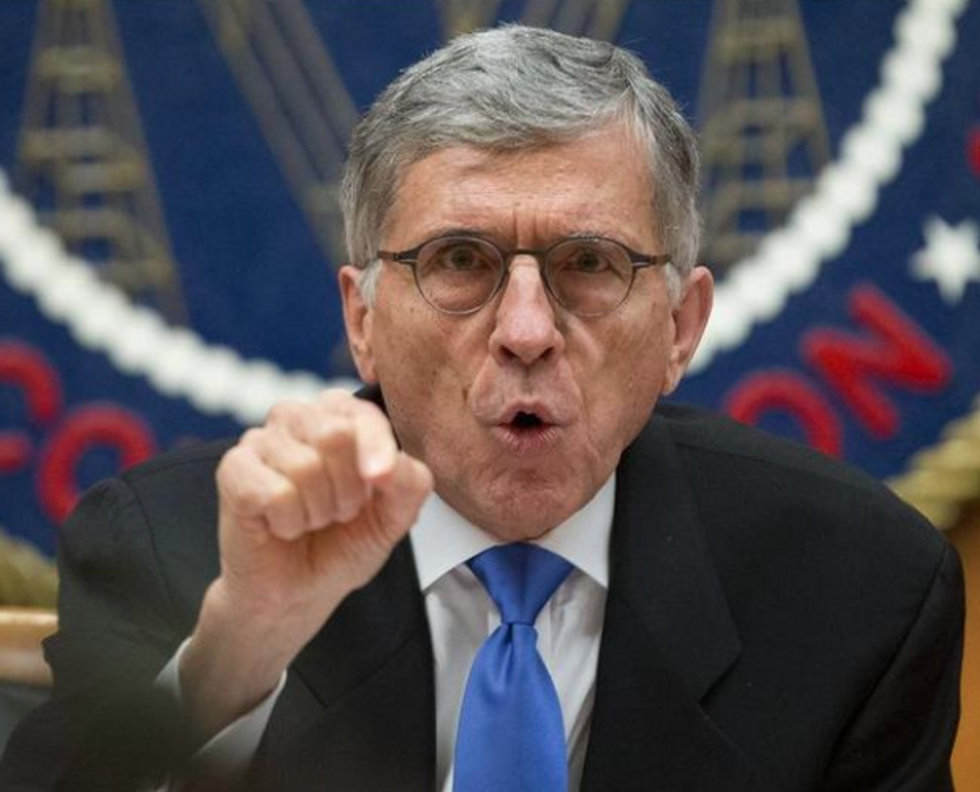 Federal Communications Commission Chairman Tom Wheeler gestures near the end of a hearing for a vote on 'net neutrality' on Thursday. Image: AP Photo/Pablo Martinez Monsivais
"[L]ike Obamacare, the Obama administration's plan for the Internet may not work, but it will create years of uncertainty and lead to expensive legal fights," said House Speaker John Boehner (R-Ohio). "More mandates and regulations on American innovation and entrepreneurship are not the answer, and that's why Republicans will continue our efforts to stop this misguided scheme."
Senate Majority Leader Mitch McConnell (R-Ky.) said the regulation marks a shift from the "light touch" that the federal government had been showing, one that allowed the Internet to flourish.
"The Obama administration needs to get beyond its 1930s rotary-telephone mindset and embrace the future," McConnell said. "That means encouraging innovation, not suffocating it under the weight of an outdated bureaucracy and poorly named regulations like this one."
McConnell was silent on what the Senate might do about the regulation, but another Republican, Sen. John McCain (R-Ariz.), suggested that Congress needs to step in.
"t upends the longstanding hands-off approach to the Internet that has been taken since its advent – one that has encouraged innovation and allowed the Internet to become what it is today," McCain said. "This is a matter for Congress to carefully consider and correct."
In a party-line vote, the FCC voted to pass a massive new rule that would allow the FCC to regulate the Internet like a public utility. Democrats have indicated their goal is to prohibit Internet service providers from favoring some data over other data, and preventing entities from paying more for faster service.
But opponents of the regulation say it ignores the reality that some websites need special consideration, and that the FCC rule is just a first step for the government to impose even more objectionable rules.
Boehner noted that Congress hasn't even seen the regulation, and noted that the FCC hasn't wanted to share any details of it until after it was approved.
"The text of the proposal is being kept hidden from the American people and their elected representatives in Congress, and the FCC's chairman has so far refused to testify about it," Boehner said. "This total lack of transparency and accountability does not bode well for the future of a free and open Internet, not to mention the millions of Americans who use it every day."