NATIONAL HARBOR, Md. — Utah Sen. Mike Lee stepped out before a roomful of conservative activists and declared: "My name is Mike Lee, and I am not running for president."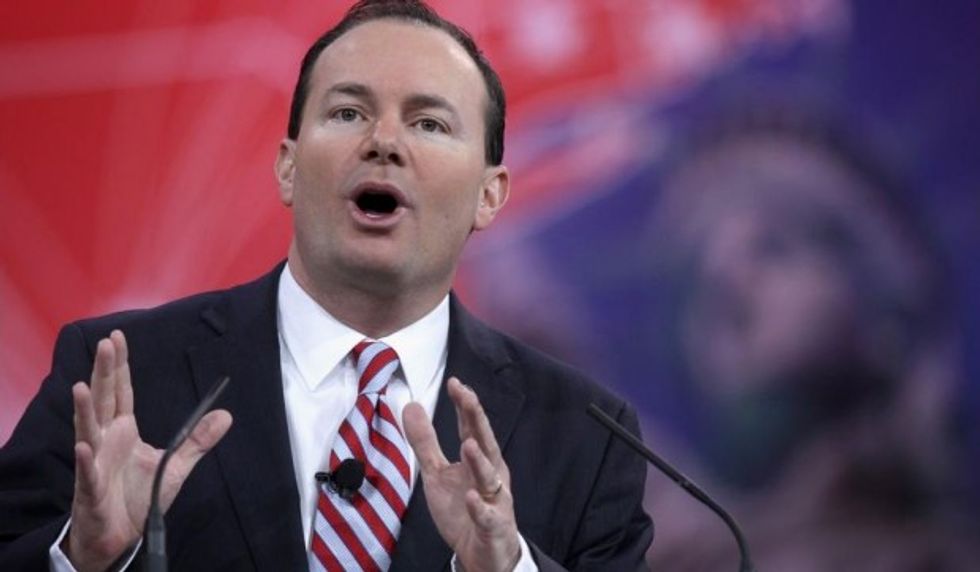 Sen. Mike Lee (R-Utah) addresses the Conservative Political Action Conference, Feb. 26, 2015 in National Harbor, Md. (Alex Wong/Getty Images)
The second speaker to address the annual Conservative Political Action Conference, which will include a slew of potential 2016 contenders, Lee gave his formula for winnowing down any field of White House wannabes.
To earn Lee's endorsement, a candidate must be "principled, positive and proven."
"Being principled means you're being a conservative every single day, and not just on the campaign trail," Lee said, "It means there are no 'buts' — you can't say 'I'm pro-life, but.'"
And with splintering within the GOP, Lee said Republicans need a candidate who can bridge the differences between the factions in the party.
He talked about a person who can unite the moderates and conservatives: "The candidate who we all deserve, can attract both, without alienating either."
In terms of positivity, Lee clarified this requirement by using the classic G.K. Chesterton quote, "A true soldier fights not because he hates what is in front of him, but because he loves what is behind him."
And in terms of a candidate being "proven," he said he means someone "that has shown he can win elections and then showed he deserved to win those elections."
Lee's focus on candidates with substance over style could be boiled down to one statement: "It's not just about finding the guy who shouts 'freedom' the loudest … It's not about finding the guy who tells the best Joe Biden jokes."
__
Follow Mike Opelka (@Stuntbrain) on Twitter.