The Islamist gunman who killed four Jews inside a kosher market in France last month apparently videotaped his rampage with a camera attached to his body — and dialogue showed that he asked at least one victim his origin and fatally shot him after he replied "Jewish," BBC News reported.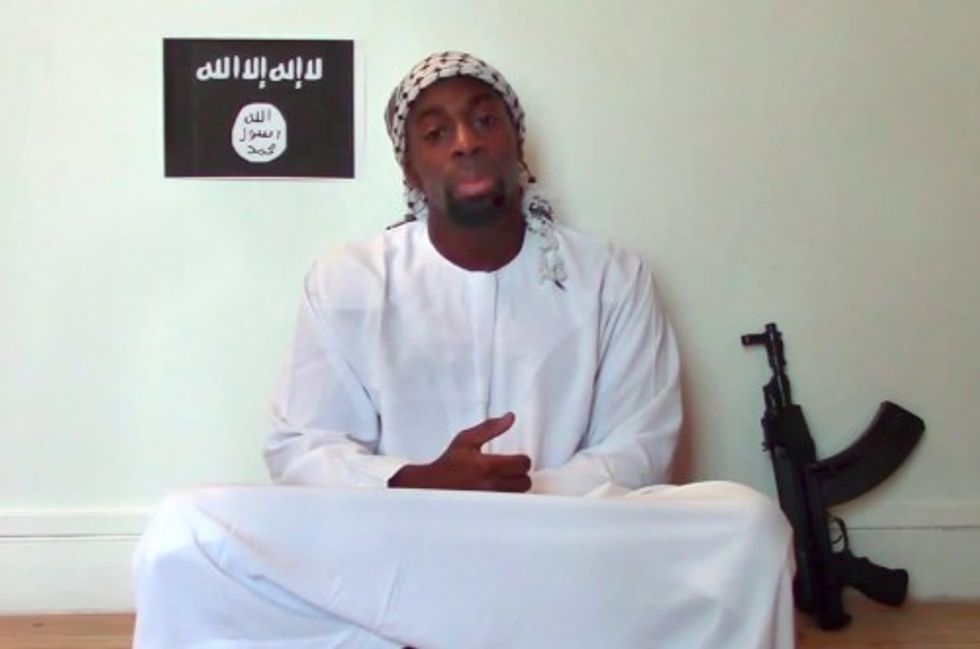 This image made from a video posted online by militants on Sunday, Jan. 11, 2015, shows slain hostage-taker Amedy Coulibaly, who shot a policewoman and four hostages at a kosher grocery in Paris, with a gun in front of an Islamic State emblem as he defends the Paris attacks carried out on the satirical newspaper, police and a Jewish store. At one point in the video, he gave his allegiance to the head of the Islamic State. (Image source: AP/Militant Video)
French website Le Nouvel Observateur obtained the transcript of the nearly 8-minute video, which allegedly also captures Amedy Coulibaly fatally shooting three of his four victims and issuing an anti-Semitic diatribe and yelling "stand up or I'll kill you!" at hostages.
More from the BBC:
It shows him shouting "Nobody move," before grabbing hold of a customer, asking his name, and then shooting him dead.

He asks another man what origin he is. And when the hostage replies "Jewish," he kills him too.

"So you know why I am here then. Allahu Akbar," he shouts, according to Le Nouvel Observateur's report. He is also heard making anti-Semitic remarks when one woman tries to tell him that his hostages have done nothing wrong.
President Obama's initially said the gunman "randomly [shot] a bunch of folks in a deli."
The day after Obama's statement was published, the White House defended Obama's position, saying the attacker didn't know specifically by name who he was killing, only that it was a Jewish market. It was "not because of who they were, but because of where they randomly happened to be," White House press secretary Josh Earnest said Feb. 10.
Earnest added during the press conference that "there were people other than just Jews who were in that deli."
Later on Feb. 10, Earnest tweeted amid harsh criticism that, "Our view has not changed. Terror attack at Paris Kosher market was motivated by anti-Semitism. POTUS didn't intend to suggest otherwise."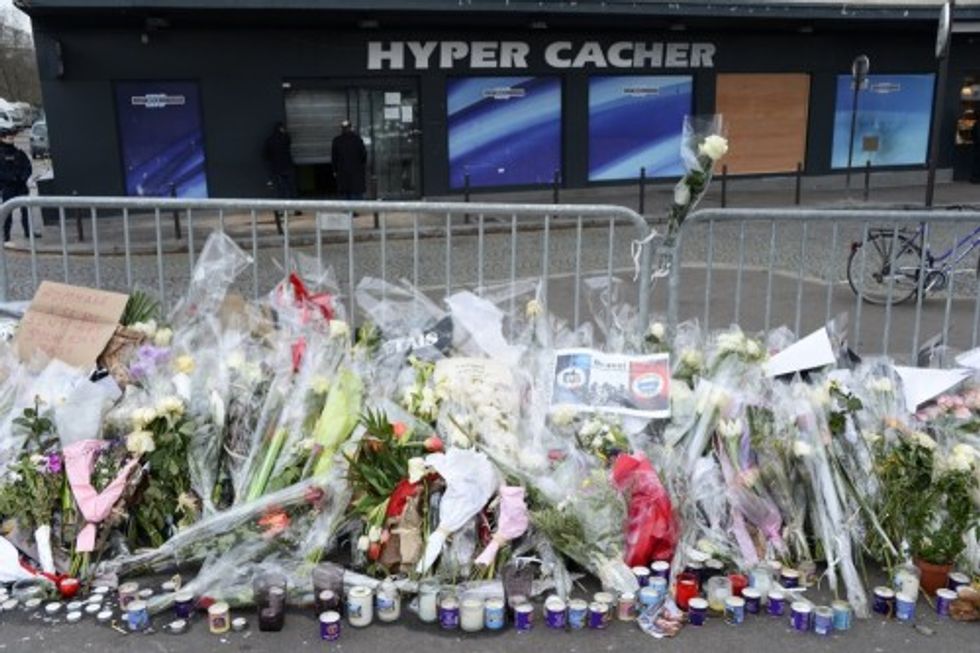 A photo taken on January 16, 2015 shows a flower tribute to the victims of the attack which killed four people at the Jewish supermarket in Porte de Vincennes by jihadist gunman Amedy Coulibaly during a hostage-taking. (Image source: Bertrand Guay/AFP/Getty Images)
A separate video of Coulibaly emerged after police fatally shot him in which he apparently pledged loyalty to the Islamic State. "I'm a soldier of the Caliphate since the beginning," Coulibaly allegedly said in the video. "Our group [of attackers] was coordinated before the attack. France is a legitimate target because what they are doing to us."
TheBlaze has not independently verified the report BBC News attributed to Le Nouvel Observateur.
A total of 17 people were killed over the course of three days of terror last month in France.
(H/T: The Gateway Pundit)
—
Follow Dave Urbanski (@DaveVUrbanski) on Twitter