DALLAS (AP) — An overnight storm that dumped freezing rain on parts of Texas and Oklahoma has made roads treacherously slick and forced the cancellation of hundreds of flights at Dallas-Fort Worth International Airport.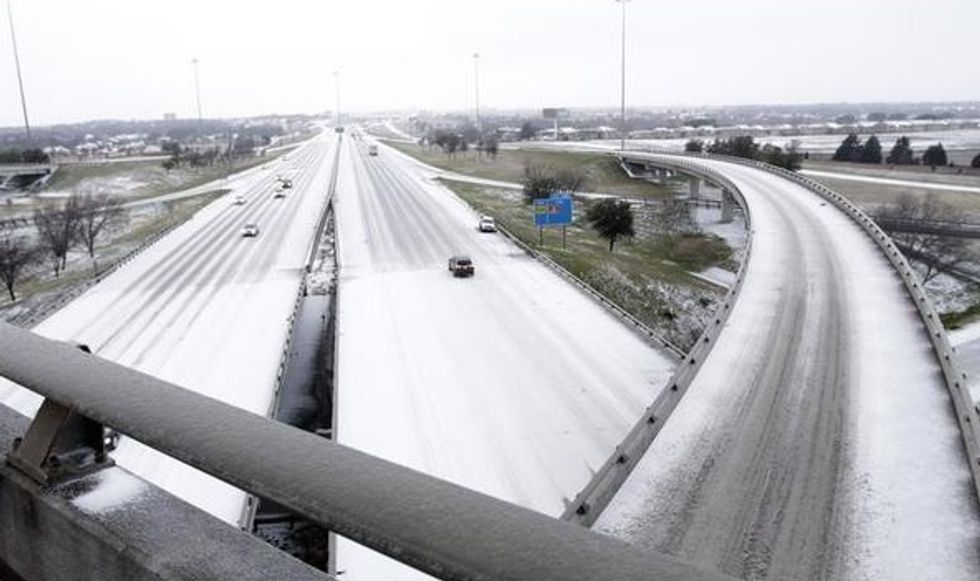 A view looking westbound on I-20 on the I-35 overpass on Monday, Feb. 23, 2015, in Dallas. Ice forced the cancellation of some 1,300 Dallas flights between Friday and Saturday, the last two days of February. (AP Photo/The Dallas Morning News, Irwin Thompson)
Transportation officials and the National Weather Service have warned people to stay off the roads, if possible, until temperatures rise and the ice melts. The weather service issued a winter weather advisory for the Dallas-Fort Worth area until Saturday night.
Airport spokesman David Magana says about 700 Saturday flights had been canceled. About 600 were cancelled Friday, forcing about 5,000 travelers to spend the night at the airport. The airport provided cots, blankets and toiletries to the passengers.
Area temperatures are expected in the upper 40s Sunday.