The president of Venezuela said Saturday that Americans, including a pilot, have been captured over espionage activities, Reuters reported.
President Nicolas Maduro said that the "U.S. citizens in undercover activities, espionage" were "trying to win over people in towns along the Venezuelan coast," Reuters noted.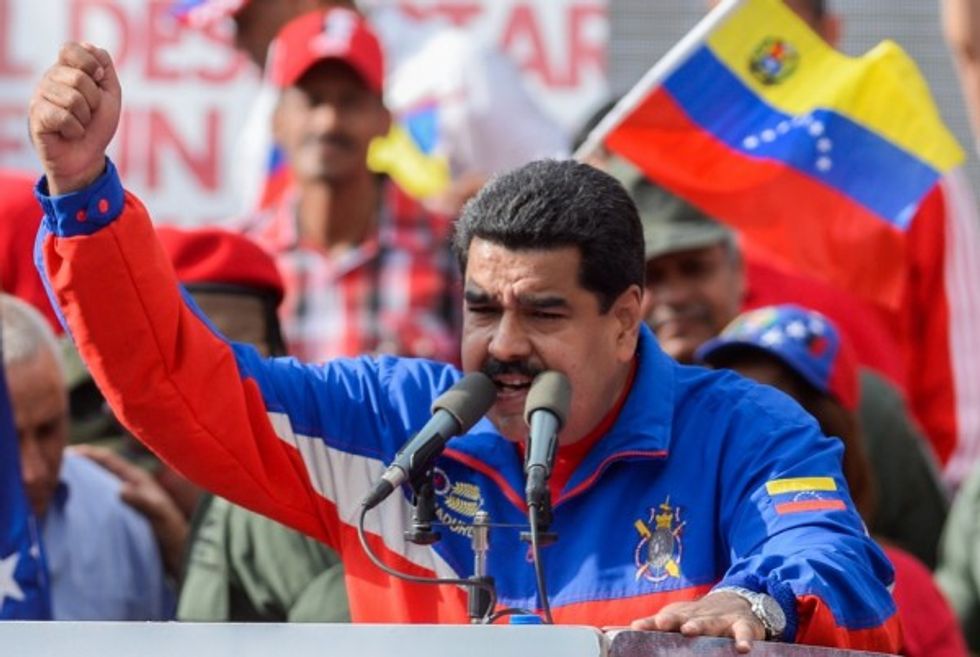 Venezuelan President Nicolas Maduro delivers a speech in Caracas on February 28, 2015. (Image source: AFP/Federico Parra/Getty Images)
Maduro said a "pilot of a U.S. plane" was captured in Tachira and is of "Latin origin" and was carrying "all kinds of documentation," Reuters added.
The Venezuelan president also said his government will ban some U.S. officials from entering the country in retaliation for a similar measure enacted by the American government against Venezuelan officials, Reuters reported.
More from Reuters:
A spokesman for the U.S. embassy in Caracas said he was unable to comment, citing a lack of any official diplomatic communication with the Venezuelan government.

The head of a Venezuelan evangelical organization on Friday said a group of four missionaries had been called in for questioning after participating in a medical assistance campaign in the coastal town of Ocumare de la Costa.

That pastor, Abdy Pereira, on Saturday said in a telephone interview that the four had left the country for Aruba after having been questioned for several days about alleged involvement in espionage.

Pereira said the group had been coming to Venezuela for 14 years and denied the missionaries were involved in espionage.

The Communication Ministry did not answer calls seeking details about the identities of the missionaries or their whereabouts.
Maduro added that Americans will be required to carry visas to enter Venezuela and also will be charged the same visa fees that Venezuelans pay to enter the U.S., Reuters reported.
More from Reuters:
Officials this month arrested Caracas Mayor Antonio Ledezma on conspiracy charges, a move Maduro said would stymie a U.S.-backed coup effort. The White House dismissed charges it was linked to the alleged plot as "ludicrous."

Maduro's adversaries passed off the plot as a charade meant to distract from product shortages, soaring consumer prices and Maduro's tumbling popularity ratings.

Caracas and Washington have had tense diplomatic relations since the era of late socialist leader Hugo Chavez, who was briefly toppled in a 2002 coup that he said was orchestrated by the State Department.
—
Follow Dave Urbanski (@DaveVUrbanski) on Twitter