OMAHA, Neb. (TheBlaze/AP) — Berkshire Hathaway, billionaire Warren Buffett's conglomerate, released its 2014 letter to shareholders on Saturday.
The letter contained some amazing stats — and a story of a stubborn young Buffett turning down a deal over pride.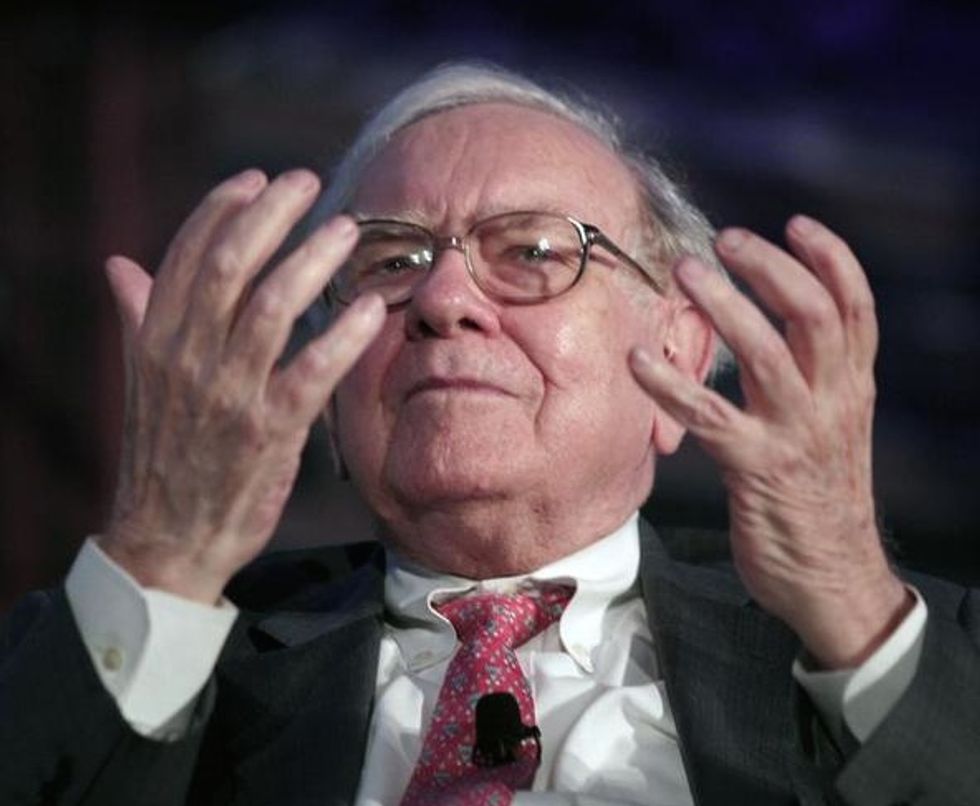 Billionaire investor Warren Buffett speaks at an event called, 'Detroit Homecoming' September 18, 2014 in Detroit, Michigan. (Bill Pugliano/Getty Images)
Buffett told investors of how he'd purchased Berkshire shares for $7.50 per in 1962, only to find himself facing a deal two years later:
On May 6, 1964, Berkshire Hathaway, then run by a man named Seabury Stanton, sent a letter to its shareholders offering to buy 225,000 shares of its stock for $11.375 per share. I had expected the letter; I was surprised by the price.

Berkshire then had 1,583,680 shares outstanding. About 7% of these were owned by Buffett Partnership Ltd. ("BPL"), an investing entity that I managed and in which I had virtually all of my net worth. Shortly before the tender offer was mailed, Stanton had asked me at what price BPL would sell its holdings. I answered $11.50, and he said, "Fine, we have a deal." Then came Berkshire's letter, offering an eighth of a point less. I bristled at Stanton's behavior and didn't tender.

That was a monumentally stupid decision.
Buffett may have passed up a chance to turn a 50 percent profit because of his bristling — and he noted that by 1985, he was forced to shut down Berkshire's textile business — but the situation proved to be a crucial formative experience.
"Irritated by Stanton's chiseling, I ignored his offer and began to aggressively buy more Berkshire shares," Buffett recalled.
Fifty-one years later, Buffett is in a position to present the recently slumping, but historically astronomical, profits of his company.
Berkshire's fourth quarter profit slid 17 percent because of declines in the paper value of its investments and derivative contracts, the Saturday letter said. Berkshire's quarterly net income declined to $4.16 billion, or $2,529 per Class A share, on $48.3 billion revenue. That's down from $4.99 billion, or $3.035 per share, on $47 billion revenue last year.
The biggest factor was investment and derivative gains of $192 million this year compared to $1.2 billion last year.
Buffett says operating earnings, which exclude investments, are often a better measure. Those were $3.96 billion, or $2,412 per share, up from $3.78 billion, or $2,297 per share.
Recent dips can do little to reverse the staggering performance of Buffett's company in the long haul.
Berkshire's 50-year gains, as revealed by Saturday's letter: 1,826,163 percent.
(H/T: Business Insider)
—
Follow Zach Noble (@thezachnoble) on Twitter