Anti-Israel activism has skyrocketed on college campuses in the U.S. and in many cases is crossing the line into outright anti-Semitism. This, according to a new documentary film aptly titled: "Crossing the Line 2: The New Face of Anti-Semitism on Campus," which brings examples of the hostile atmosphere that pro-Israel and Jewish students are facing on some college campuses.
Produced by the pro-Israel organization Jerusalem U, the film includes footage of pro-Palestinian student rallies in solidarity with the terrorist group Hamas, student government leaders silencing pro-Israel speakers by having them arrested, and a professor praising Hamas for their "great healthcare and kindergartens."
At one college, students wearing Palestinian keffiyeh scarves chanted, "Allahu akbar," and, "We are Hamas!"
Elsewhere, a pro-Palestinian student led a "mic check" exclaiming, "We support the intifada!" which was then echoed by his audience.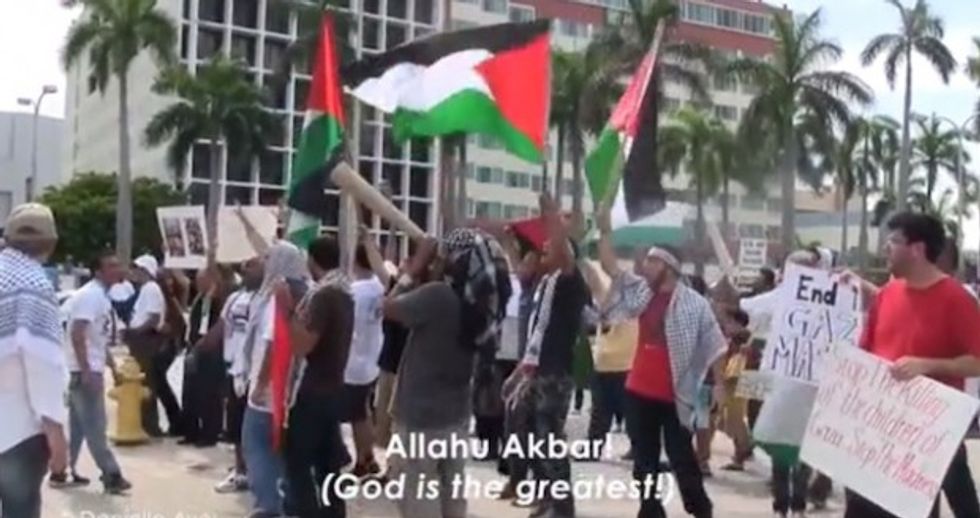 Students chant "Allahu akbar" and "We are Hamas!" (Image source: Crossing the Line 2)
"It's been more hostile a feel on campus which didn't used to be the case," said Sophia Wilkof, a University of California student.
Chloe Valdary, a prominent black pro-Israel activist and University of New Orleans student, said she has been frightened at times.
"It's generally large groups of people who seem intimidating and who are very loud and who seem to have power in numbers," Valdary said.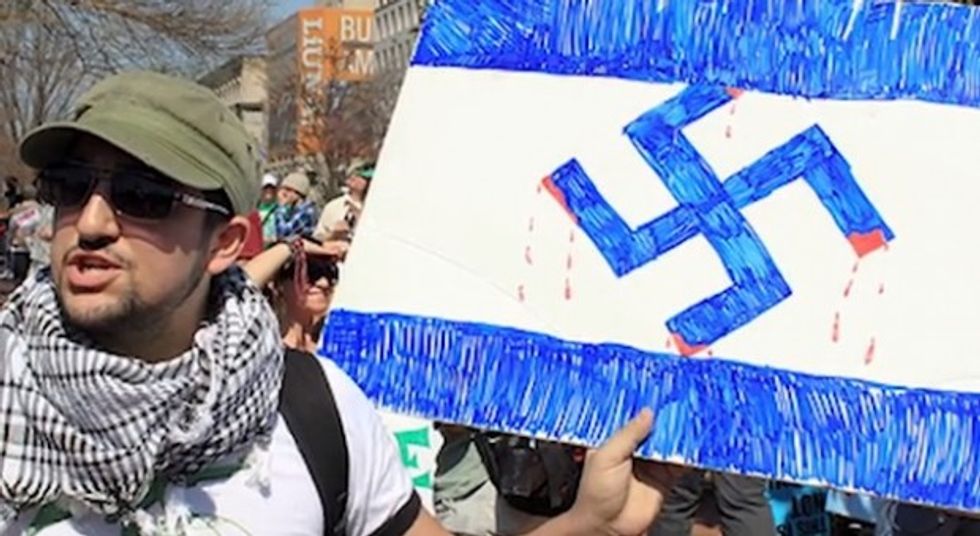 Pro-Israel students feel intimidated on some campuses. (Image source: Crossing the Line 2)
Tenured anti-Israel professors were of particular concern to several students interviewed in the film who worried their grades could be penalized if they state their honest opinion in class.
"The professors are our biggest challenge. Students come and go but with professors, they stay," said Aviva Slomich, campus director for the Committee on Accuracy in Middle East Reporting in America (CAMERA) who added she worries they are "espousing their very anti-Israel and distorted views on the students."
The film showed Northeastern University Prof. Denis Sullivan who once said from the lectern, "We can say that Hamas is a terrorist organization, sure. They also do great health care and kindergartens."
"I feel powerless in a sense and very intimidated that these figures of authority and academic knowledge are basically invalidating everything I support," said Sarah Abonyi, a University of New Mexico student.
Another point of tension highlighted in the film revolved around the efforts by Students for Justice in Palestine to pass Israel divestment resolutions through the student government.
Pro-Israel students at the University of Michigan reported they had been called "dirty Jews" when pro-Palestinian students tried to pass a resolution calling on the university to divest from Israeli companies.
Others got phone calls from those saying, "We know where you live."
The film showed one student government member lambasting the pro-Palestinian students.
"To say this is a non-violent peaceful movement, I would seriously disagree," the student government member said. "Especially with the number of e-mails and harassing texts and harassing voice mails and harassing calls that have caused me to miss class for a week."
Becky Sebo, an Ohio University student who supports Israel, was arrested in September along with three other students during a student government meeting after the pro-Palestinian student body president called in the police, accusing her of speaking out of turn.
"Being arrested for speaking my beliefs, showing my support for an amazing country is something I never thought would happen to me in my life," Sebo told the filmmaker.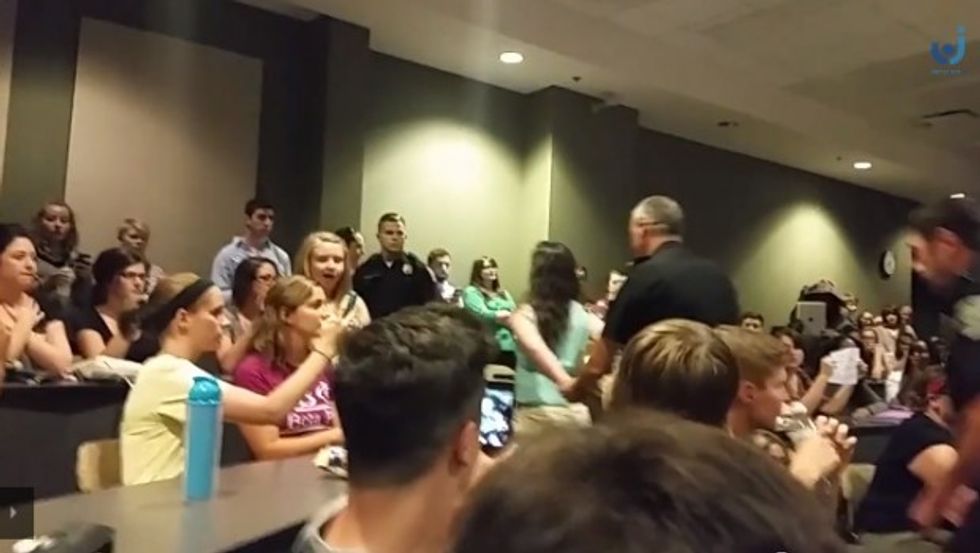 Ohio University student Becky Sebo was arrested by campus police after the a pro-Palestinian student government president said she was speaking out of turn. (Image source: Crossing the Line 2)
Other student senators resigned following the incident in protest that students had tried to shut down the dialogue by calling the campus police.
Uninformed students often are not aware that the goal of many Students for Justice in Palestine supporters and boycott Israel advocates is erasing the Jewish state altogether.
One rally last year in Oakland, California included a speaker who said, "Israel is a settler colonial project that does not have the right to exist. The Zionist state of Israel in and of itself is a crime against humanity."
Justin Hayet, a student at Binghamton University, said, "They're not saying let's have these borders. They're saying lets have all of Israel gone. Israel has no right to exist."
One guest speaker at the University of California in Irvine espousing just such a worldview was shown in the film. The unidentified speaker said, "Two state solution is off the table. No. One state. Check this out – one state, majority rules: Us, the Muslims."
Valdary, the pro-Israel activist, explained, "If you are an anti-Zionist, what you're essentially saying is Jews have no right to live with sovereign rights in their historical homeland."
The film was posted just as pro-Palestinian groups on many campuses are gearing up to launch the so-called "Israel apartheid week" this week in which they stage a variety of street theater events aimed at swaying students against Israel.
Col. Richard Kemp, the former commander of British forces in Afghanistan suggested the student groups are not acting alone.
"This is part of a very widespread orchestrated anti-Israeli campaign," Kemp said.
Here is the film from Jerusalem U: