You might have predicted that some controversy would arise when "Fifty Shades of Grey" star Dakota Johnson appeared on "Saturday Night Live" this week.
But you might not have expected where the controversy would be.
People are expressing outrage after Johnson appeared in an "SNL" sketch about a father dropping his daughter off with the Islamic State.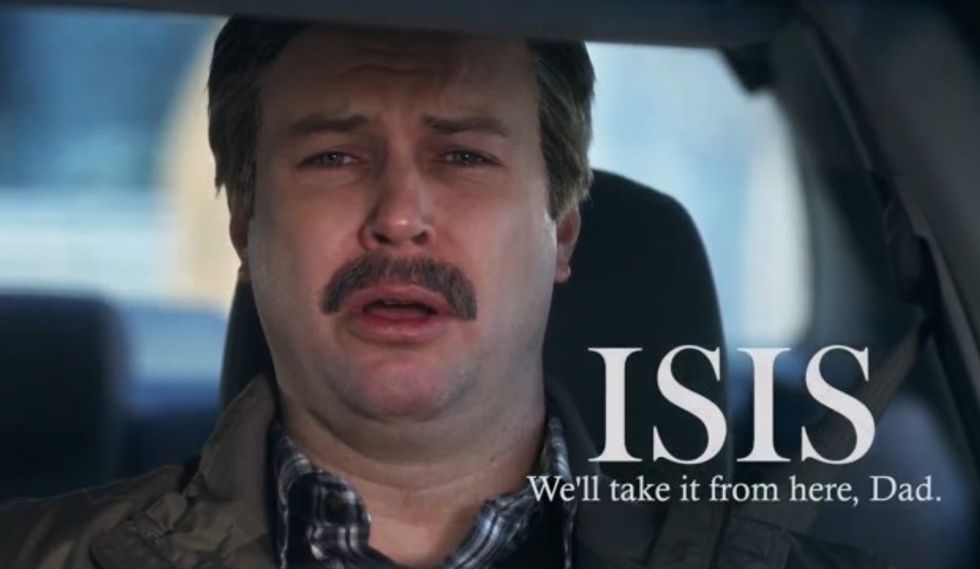 Image via NBC
Playing off the trope of a dad letting his daughter go as she grows up, the sketch takes a weird turn when a truck full of jihadists pulls up.
"You be careful, OK?" the father says.
"Dad, it's just ISIS," responds Johnson, winking.
The father says through teary eyes, "Take care of her."
A jihadist responds, equally somber, "Death to America."
On Twitter, dozens of people expressed outrage over the sketch, calling it a "disgrace" in poor taste.
@nbcsnl I have watched SNL from the 1st show 40 yrs. ago. Stayed up to watch last night. Will never watch again! ISIS is no joke! #disgrace

— Barbara M. H. (@firstbascia) March 1, 2015
3 young girls are somewhere in Syria tonight because they got mesmerised by ISIS, family is sick with worry and you do this? #SNL #shame

— Sue (@manxie809) March 1, 2015
I'm going to go ahead and voice my opinion on the #SNL ISIS skit. Absolutely hell no, under any circumstance. Poor poor taste!

— Matthew Lyle (@mlyle2) March 1, 2015
Others praised the show for including the Islamic State in a "perfect" sketch.
Seeing #SNL took some shots at ISIS tonight. About time somebody did.

— Joseph Goodman (@JoeGoodmanJr) March 1, 2015
I take back everything bad I've said about #SNL recently. The ISIS ad was inspired.

— Rocky Mountain Mike (@RockyMntnMike) March 1, 2015
SNL nailed the ISIS joke. Perfect. #snl

— Anthony Brian Logan (@ANTHONYBLOGAN) March 1, 2015
Watch the "SNL" clip in question below:
Of course, it's not the first time "SNL" has incorporated the Islamic State into a sketch.
I don't get why this ISIS #SNL skit is getting criticized so much when no one complained about the ISIS Shark Tank skit back in November?

— chelsea (@chelseamgill) March 1, 2015
What do you think of the sketch? Take the poll below and let your voice be heard.
(H/T: Salon)
—
Follow Zach Noble (@thezachnoble) on Twitter