The owners of a bakery in Indianapolis, Indiana, who came under fire after they refused to bake a cake for a gay couple's commitment ceremony have officially closed their doors — but they say it isn't due to a lack of business.
111 Cakery first made headlines last March after owners Randy and Trish McGath declined to make the cake for Shane Laney and Mike Stephens, two men who were planning to hold a commitment ceremony, the Indianapolis Star reported at the time.
Once the story was broadcast on local news and posted on social media, the bakers found themselves igniting a fair amount of controversy, though that debate is said to have died down relatively quickly and to have only drawn one protester on site — a surprise, considering the bakery's location in a gay-friendly area.
As attendees of a Baptist church, the McGaths, who had opened the bakery in 2012, explained that they didn't want to be a part of the commitment ceremony, as they believed it reflected a "commitment to sin," according to USA Today.
"There was zero hate here. We were just trying to be right with our God," Randy McGath said in a recent interview. "I was able to speak to many homosexuals in the community and to speak our opinion and have a civil conversation. I'm still in touch with some."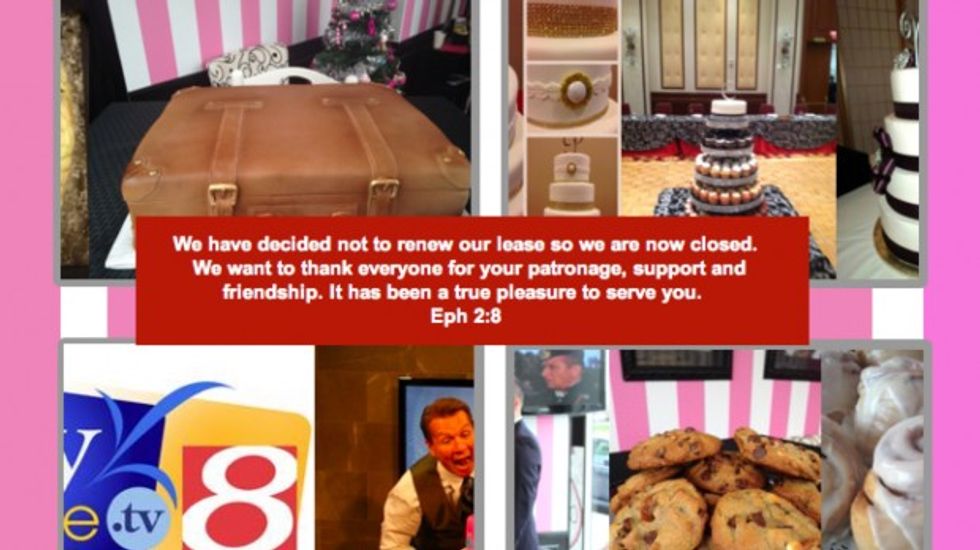 A screen shot from the 111 Cakery website
The family explained itself in greater detail in a Facebook post last year, writing that they treated everyone who walked through the door with "respect and kindness," but that they had a policy of not making cakes that conflicted with their religious views.
Here is a portion of that explanation:
As artist we must find the inspiration to create something special for our clients. When asked to do a cake for an occasion or with a theme (alcohol explicit in nature) that is in opposition to our faith, that inspiration is not found. We feel that it is important for a paying customer to know when this is the case. Why would you want a cake that is less then inspired for your special event. That is why this week we told a man that requested a cake for a same sex ceremony that it was against our policy but we would be happy to help him with anything else. It was not that we wanted to deny them a cake it's just tough to create something that goes against your beliefs. Was this the right thing to say? Maybe not but this phone call caused us to do a lot of soul searching because we want to be right with our God as well as respect others. We have not heard from this man but would welcome a chance to meet with him. We sincerely wish them the best.

Please know that there is zero hate here. We are not judging the lives of our clients. We are not trying to make a political statement or change someone's mind. We respect the fact that everyone has different values and believes. Everyone is entitled to their opinion we would encourage you to share those in a respectful way. We have happily done cakes for gay people, as well as people with different believes. We are just a small family business trying to bring happiness with cake. You may criticize this response but realize it is sincere and from the heart not a letter drafted by an attorney.
While there was a harsh response among some, the bakers claim that 111 Cakery wasn't forced to close its doors due to a lack of business, as Randy McGath, 48, told USA Today that his wife, Trish McGath, 45, was simply worn out and wanted to spend more time with her grandchildren.
He insists that sales never dipped below pre-controversy levels and even cited a three to four month period last year in which supporters of the business caused an unexpected sales spike. 
A message on the bakery's official website now reads, "We have decided not to renew our lease so we are now closed. We want to thank everyone for your patronage, support and friendship. It has been a true pleasure to serve you."
A Bible reference — Ephesians 2:8 — is included after that message. That verse, which focuses on Jesus' death, reads, "For it is by grace you have been saved, through faith — and this is not from yourselves, it is the gift of God." 
(H/T: USA Today)