LOS ANGELES (TheBlaze/AP) — Police fatally shot a man Sunday who struggled with officers on a sidewalk in the Skid Row section of downtown Los Angeles, authorities said.
The officers, answering a robbery call in the area at about noon, struggled with the man and tried to use a stun gun on him before shooting him, LAPD spokesman Sgt. Barry Montgomery said. He was declared dead at a hospital.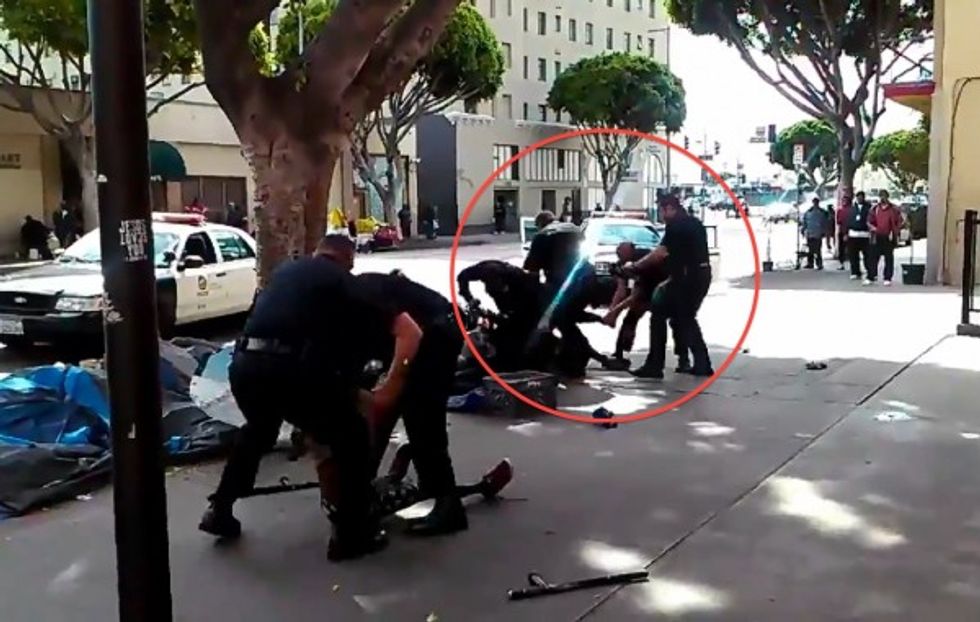 Video screenshot just before police began firing. The man who was fatally shot is within the red circle. (Image source: YouTube)
Police did not immediately say how many officers were involved or how many shots were fired. Nor did they say whether the man was armed or identify him.
The shooting is the latest in a recent series of fatal police shootings around the country that have drawn widespread protest.
Witnesses told the Los Angeles Times that the man — who's known as "Africa" in the area where tents and cardboard shelters for the homeless cover the sidewalks — had been on the street for four or five months.
[sharequote align="center"]"he's got my gun!"[/sharequote]
Five or six officers were involved in the struggle, and two of them broke away to handcuff a woman who had picked up one of their dropped batons as the others wrestled the man to the ground, witnesses said.
One witness, Jose Gil, 38, told the Times he saw the man swinging at police and then heard one of them shout, "he's got my gun!" before multiple shots were fired.
Here's a KTLA-TV report that includes video of the fight between the man and the officers. (Content warning: While video of the actual shooting isn't shown, the gunfire and screams are audible):
Dennis Horne, 29, said the man had been fighting with someone else in his tent before officers arrived.
"It's sad," Horne said. "There's no justification to take somebody's life."
Los Angeles Police Commission President Steve Soboroff told the Times that the LAPD, the independent inspector general and the district attorney would all investigate the shooting "very, very carefully."
The following is more in-depth report from KTLA, although it doesn't include the video of the fight:
—
Follow Dave Urbanski (@DaveVUrbanski) on Twitter