Conservative Republicans were scrambling on Monday morning to prevent House Democrats from using an obscure rule allowing them to call up and pass their preferred Department of Homeland Security bill — one that funds President Barack Obama's executive action on immigration.
Due to the way House rules are set out, House Democrats may have a chance this week to call up a "clean" DHS bill that doesn't touch Obama's immigration plan, and have it pass if just a few dozen Republicans support it. That could happen soon after the Senate votes later today against a House-Senate conference to work out their differences on the DHS bill.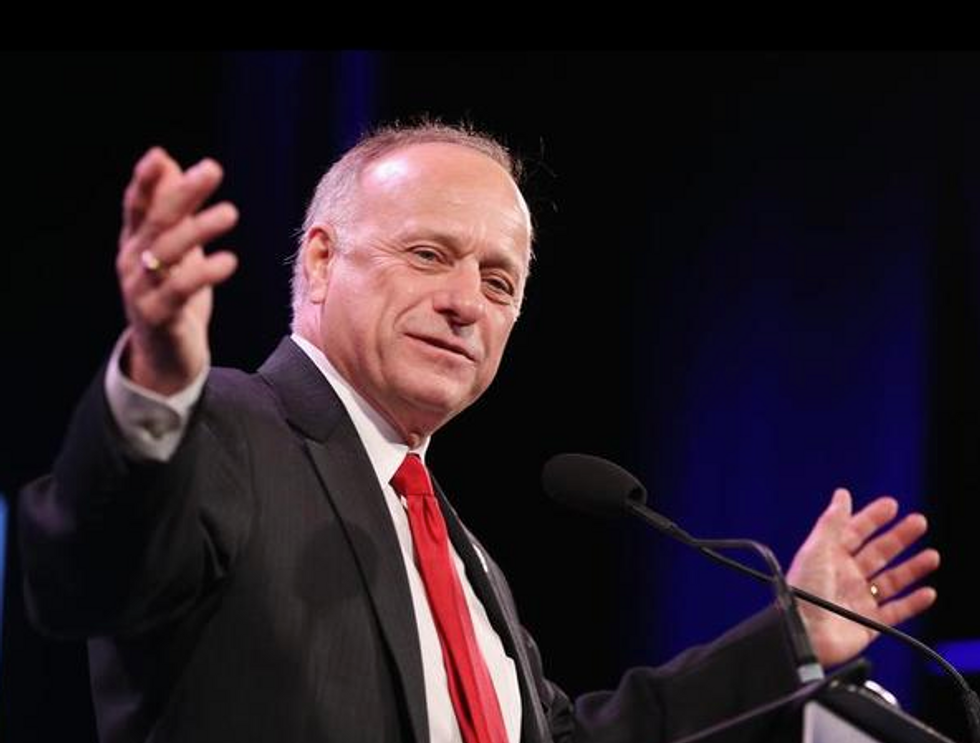 Rep. Steve King (R-Iowa) has a plan to stop Democrats from using House rules to pass their preferred DHS bill. Image: Scott Olson/Getty Images
Rep. Steve King (R-Iowa) on Monday warned several dozen Republicans that this could happen, and said he was preparing a change to the rules to prevent Democrats from seizing control of the House to pass the Senate's version of the appropriations bill.
"If we let Nancy Pelosi execute a privileged motion that would force a vote on the Senate version of DHS approps, it would pass and Obama's lawless amnesty would be funded until Sept 30th," King wrote to Republicans. "There is a way to block that motion."
Under the current rule, anyone can offer a privileged motion to call up the Senate DHS bill once the two chambers formally disagree with each other on the legislation. That motion is "privileged" in that it must receive a vote, so Democrats could use the rule to get the Senate bill passed.
But King noted that in 2013, House Republicans changed the rule so that only the House Majority Leader or his designee could call up a bill under dispute. He said that needs to be done again on the DHS bill to ensure Congress protects the Constitution from Obama's overreach on immigration.
"Republicans were elected on a promise to stop Obama's unconstitutional amnesty," King wrote. "A single clause in a rule we have the power to change is not an excuse to fund lawlessness. This is only a trap if we fail to act."
In an interview with TheBlaze, King said he believes House Democrats decided to vote for a one-week DHS funding bill last week because they knew they would have the power this week to call up the Senate bill.
King said he's not sure how many Republicans would vote with Democrats, but said he thinks most Republicans would vote against it in order to not let Democrats effectively take over the House.
Still, he warned that "thirty Republicans could team up with Democrats and sacrifice the constitutional principle."
King said it's not clear how he'll be able to push his proposed rule change, and said he would wait to see what response he gets to his call to action from Monday morning. In the short-term, he said his goal is to "preempt Nancy Pelosi from taking over the floor."
Last week, King compared the legislative wrangling over the DHS bill and immigration as a "fish trap," as it's giving Republicans the appearance of making progress on the problem, but is mostly boxing them into an outcome that will favor Democrats.
He said losing the fight this time around — if that is the end result — could encourage more Republicans to fight harder the next time around, in the 2016 appropriations bills that will come up later this year.
"I don't know how many more times they need to be cooked before they decide they don't want to swim in there again," he said.
Republicans lured into fish trap on DHS funding. Just 1 more funnel to swim through and we are cooked in #Obamnesty. pic.twitter.com/84pownKMGc

— Steve King (@SteveKingIA) February 27, 2015