The top White House spokesman said Monday that Israeli Prime Minister Benjamin Netanyahu has no strategy for accomplishing his goal of dealing with Iran's nuclear ambitions.
White House press secretary Josh Earnest said that only President Barack Obama has a strategy for ensuring that Iran does not obtain a nuclear weapon, but he was pressed Monday on Netanyahu's small but significantly different goal.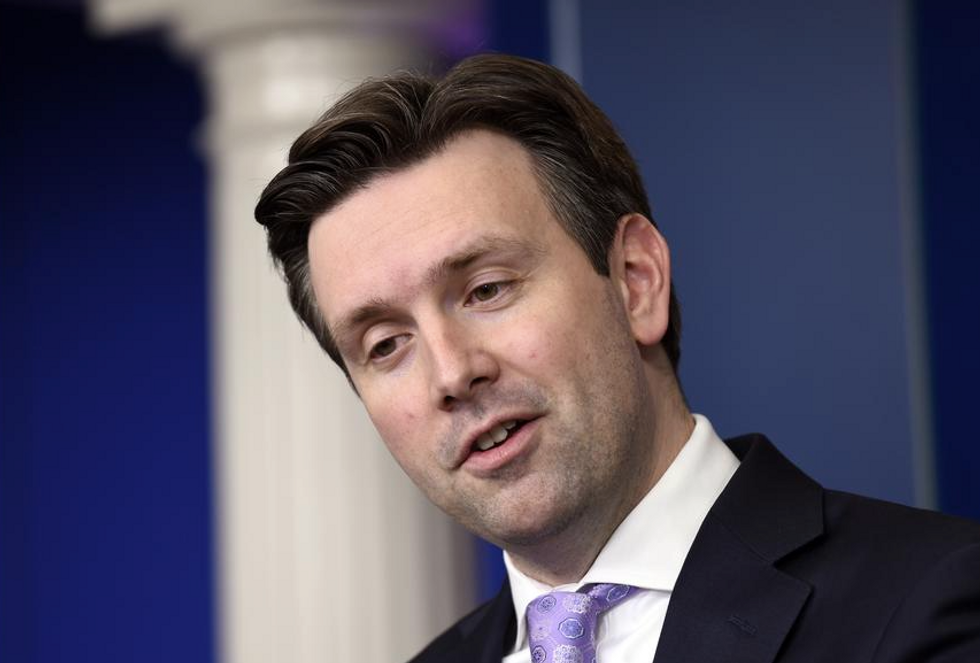 AP Photo/Susan Walsh
ABC News reporter Jonathan Karl pointed to the difference.
"You said the United States is committed to a position where Iran will never acquire a nuclear weapon, but Bibi Netanyahu today said what he's been saying all along is the goal is to make sure Iran doesn't get the capability to build a nuclear weapon, which he says, and it is, a different view," Karl said. He later elaborated that the prime minister was referring to uranium enrichment capability and a ballistic missile program to enable a delivery system for a nuclear weapon.
Earnest was not clear that he saw a difference, and wanted to know what Netanyahu's plan was.
"The point is, the president has made a strategic decision about clearly what he believes is in the best interest of the United States," Earnest said comparing Obama and Netanyahu. "No one else has laid out a strategy for how to accomplish apparently what the prime minister has laid out as his goal. He hasn't even laid out a strategy for how to accomplish his goal."
Iran has asked for the ability to enrich uranium for energy purposes but not for nuclear weapons. The negotiations would likely provide an avenue for some enrichment but prohibit making a bomb. Netanyahu believes having that capacity will allow Iran to move forward with weapons.
Netanyahu spoke Monday at the American Israel Public Affairs Committee's annual conference in Washington and will address a joint session of Congress on Tuesday. Earnest said Obama did not watch Monday's speech and likely will not watch the Tuesday speech. Multiple Democrats have said they will not attend the speech to Congress.
Obama has declined to meet with Netanyahu in Washington, citing a close proximity to the March 17 Israeli election. Still, the White House insists the bond between the U.S. and Israel continues to be strong.
Referring to hawks that oppose negotiations with Iran, Earnest said there is no strategy there either.
"I'm not even sure that the military option that some people consider to be an alternative to the president's strategy would even accomplish his goal, because it would require not just a detailed destruction of Iran's infrastructure but it would also require a removal of knowledge that Iran has already obtained," Earnest said. "So the fact is, the goal the president set out, that is consistent with our national security imperatives in this country is to ensure that Iran does not obtain a nuclear weapon. The best way for us to do that is at the negotiating table."
Nevertheless, Earnest said the likelihood of reaching a nuclear deal with Iran is still 50-50, and said, "This president has made clear, and he is not going to sign a bad deal."