It's the picture that captivated the Internet Monday.
A series of incredible photographs captured a baby weasel riding on the back of a woodpecker — but it's not the tale of two pals that you may have been led to believe.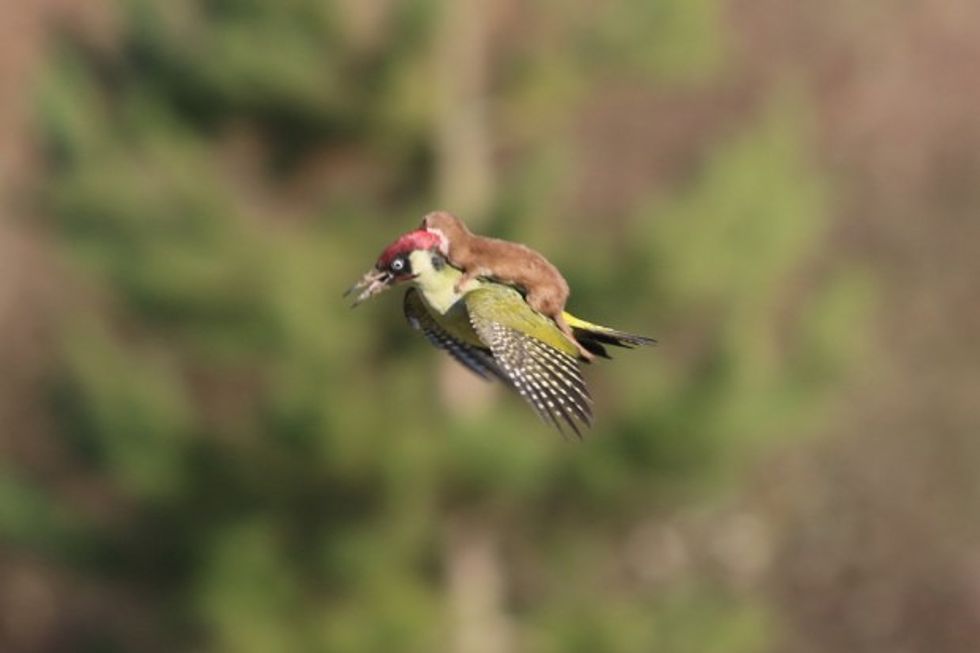 Image source: Martin Le-May
As much as we'd all like to believe this is a wondrous tale of friendship wherein two mates go on an epic adventure featuring a baby weasel and his magnificent flying steed, sadly it's NOT. 

It's a photo of a weasel trying to kill a woodpecker.
A wildlife expert added to BBC News that weasels are "ferocious as a lion" and "fearless."
Photographer Martin Le-May also provided insight to BuzzFeed into the moment he called a "struggle for life."
"Just after I switched from my binoculars to my camera the bird flew across us and slightly in our direction; suddenly it was obvious it had a small mammal on its back and this was a struggle for life," he told the news outlet.
"The woodpecker landed in front of us and I feared the worst. I guess though our presence, maybe 25 meters away, momentarily distracted the weasel," Le-May added. "The woodpecker seized the opportunity and flew up and away into some bushes away to our left. Quickly the bird gathered its self respect and flew up into the trees and away from our sight."
"The woodpecker left with its life. The weasel just disappeared into the long grass, hungry."
—
Follow Oliver Darcy (@oliverdarcy) on Twitter