White House press secretary Josh Earnest refused to say Tuesday whether Hillary Clinton violated the law by conducting government business through her private email during her tenure as secretary of state.
Pressed multiple times during the press briefing, Earnest's only answer each time was that Clinton's team said she has complied with the law, and that it's up to the State Department to make that determination.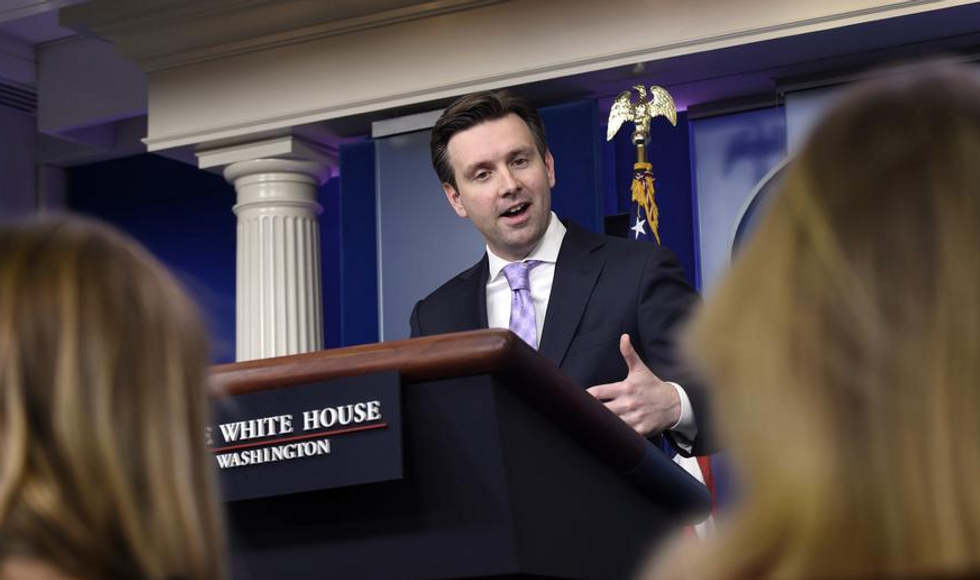 White House press secretary Josh Earnest speaks during the daily briefing at the White House in Washington, Monday, March 2, 2015. (AP Photo/Susan Walsh)
"I know that Secretary Clinton's team has indicated they have complied with that guideline and that the Department of State has made the request and received what the secretary's team put together," Earnest said. "But, it is the responsibility of those two parties to assess whether this is in the guidelines of what is required."
Despite Israeli Prime Minister Benjamin Netanyahu's much-anticipated speech to Congress hours earlier, it was Clinton, not U.S.-Israel relations, that dominated the briefing.
The revelations that Clinton didn't use a government email address — and didn't even have a State Department account — have thrown extra gasoline on the suspicion that Clinton has something to hide, as well as the Obama administration's much-touted commitment to transparency. They also come on the heels of new questions about foreign government donations to the Clinton Foundation at a time she was leading foreign policy for the U.S. government.
The Federal Records Act requires government documents be maintained for archive purposes.
Earnest said he was not aware whether any White House staff routinely conduct business through personal email accounts. He referred multiple reporters to the State Department.
"The policy as a general matter allows individuals to use personal email address as long as emails are maintained," Earnest said, and later added. "If you ask Secretary Clinton's team, that's what they have completed in the last month or two."