The United States could face a shortage of 90,000 physicians in the next decade, according to a new report from the American Association of Medical Colleges.
The report says that while the number of doctors in the country is likely to grow slightly between now and 2025, demand is expected to skyrocket. That's due to a combination of the average age of Americans getting older and more people having health insurance.
Surgical specialties are expected to be the area with the biggest shortage, followed by primary care.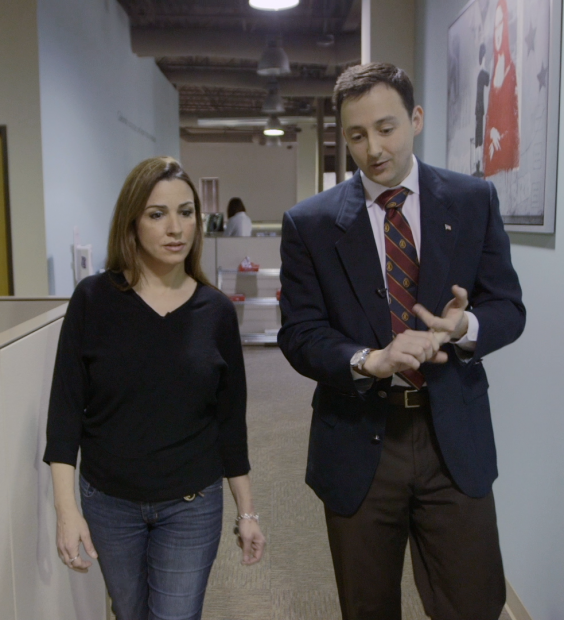 Ameriflex CEO William Short talks with For the Record correspondent Sara Carter for the episode "Cashcare." (Photo: TheBlaze TV)
For the Record investigated the link between insurance and health care, as well as some of the emerging trends in medicine in the episode, "Cashcare: Exposing the Middleman" (Wednesday, March 4, 8:00 p.m. ET on TheBlaze TV).
One of the experts interviewed is William Short. He is the CEO of Ameriflex, which handles services like flexible spending accounts and health care spending accounts for 3.5 million people. He said the current insurance model is a big reason why the number of doctors isn't keeping pace with the number of patients.
"Primary care physicians are dropping out in droves because they can't afford to pay their bills," Short said. "So, yeah, great, everyone gets coverage, but if they don't get care and they don't have access to care what's really the point?"
Short said that financial crunch isn't just hurting doctors; patients are suffering too.
"That primary care physician is dealing with the working capital/accounts receivable death spiral, and where the only way they're going to have a chance of making their payroll, making the bills that are due, is by seeing as many people as possible," Short said. "When you have that churn process you're not getting the care, not getting access to it, you are no longer just a patient."
Short continued, "The reason they have to churn through it has been when they see a patient today and that by the time they pay someone to file a claim, and by the time that claim is repriced by the government or some other third-party payer, it's 30, 60, maybe 90 days before they get paid.  So how do they keep ahead of that? They've got to see more. It's like the classic death by volume — I'll make it up in volume. Well, who suffers? The patient suffers.  The quality of care the patient gets suffers."
There is now a growing trend of physicians turning away from insurance entirely to avoid that churn. A study by the Heritage Foundation found that the number of "direct primary care" or "concierge" physicians in the U.S. jumped from 756 in 2010 to 4,400 in 2012.
One of those physicians is Dr. James Pinckney, who founded Diamond Physicians in Dallas in 2012. His practice does not accept insurance; instead, patients pay a monthly fee of $95-295 per adult and $45 per child for unlimited visits. That business model dramatically changes the typical patient visit.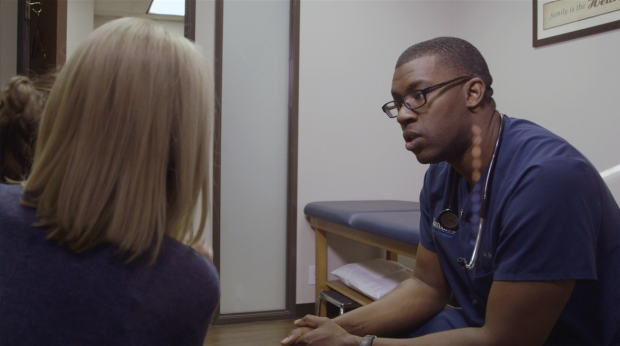 Dr. James Pinckney of Diamond Physicians talks with a patient. (Photo: TheBlaze TV)
"The average doctor visit right now, the face-to-face time between a patient and a physician is eight minutes. Our average face-to-face time is 60 minutes," said Pinckney.
"When a client walks into a Diamond Physicians office, I greet them personally in the reception area. I take them into my office. We sit. We chat. We establish rapport. Then we go into the exam room, I do my exam, then we come back to the office and we recap, we summarize, we go over a plan to figure out how we can move forward, how we can reverse disease, and how we can truly modify lifestyle.  That's the way to prevent disease."
Pinckney believes that changing the way Americans view health insurance could make a huge difference in health care.
"When I'm driving in my car and I need gas, I don't make an insurance claim. I swipe my credit card and fill my tank with gas. If I need new windshield wipers, if I need an oil change, or new tires, I pay cash. Well, your day-to-day medical services should be utilized in that same manner. You should pay cash for a flu shot. You should pay cash to see your doctor," Pinckney said.
"Insurance should be utilized for catastrophic surgery, cancer, hospitalizations, motor vehicle accidents.  That's when you use your insurance.  It's just like when you get in a car accident and you have major damage, thousands of dollars to your car, then you make an insurance claim. And that's why car insurance is relatively low, especially compared to medical insurance."