Senate Democrats have forced the Senate to delay work on a bipartisan bill that would require Congress to approve a nuclear agreement with Iran before it can take effect, after they objected to a Republican attempt to start that process this week.
On Wednesday, Senate Majority Leader Mitch McConnell (R-Ky.) started the process of bringing up the bipartisan bill, in an effort to allow work to start when the Senate returns next week. McConnell's move would have required a procedural vote early next week that would let the Senate take up the issue.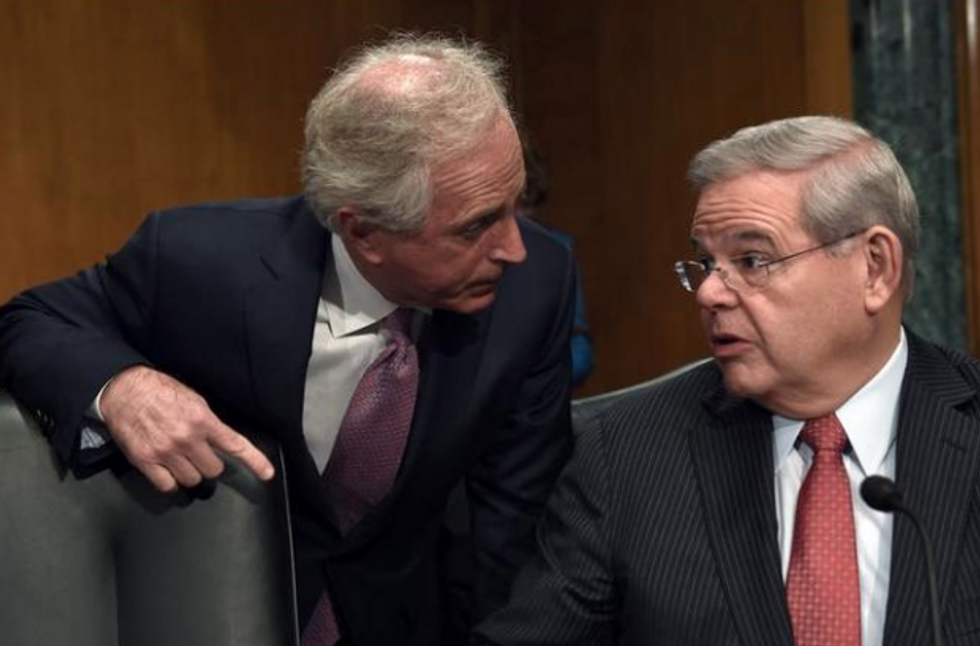 Sen. Robert Menendez (D-N.J.), right, was one of many Democrats who opposed GOP efforts to start work on a bill requiring congressional approval of an Iran nuclear deal. Image: AP Photo/Susan Walsh, File
But Democrats objected to that move, and accused him of trying to move the bill right to the Senate floor, before it could be considered in the Senate Foreign Relations Committee. Sen. Robert Menendez (D-N.J.) and other Democrats warned that they would only consider the bill after it's considered in the committee, and accused McConnell of trying to score political points against Democrats by moving quickly on the bill.
"There is no immediate or urgent need to circumvent the Committee process and we are disappointed that you've pursued this partisan course of action," they wrote.
Claims that McConnell was trying to play a partisan trick may have been prompted by a Tuesday speech to Congress by Israeli Prime Minister Benjamin Netanyahu, who criticized the emerging deal that the Obama administration is seeking with Iran, and said flatly, "this is a bad deal." The speech was seen by many Democrats as an attack against President Barack Obama, and it may have led Democrats to see McConnell's effort to start work on an Iran bill as more criticism.
However, McConnell never said he was going to move until after the committee acted, and said Wednesday that he would still give the committee time. He said his move was only aimed at letting the Senate start debate on the bill — once the committee acted, the Senate could use the committee-approved bill as a basis of further debate.
"This isn't complicated, a bill was introduced, and as I discussed with the chairman of the Foreign Relations Committee, it can be marked up, and the committee-passed bill would be the substitute the Senate considers," McConnell said.
But by Thursday, Democrats had only hardened their position, and it became clear to Republicans that Democrats would filibuster efforts to start work on a bill they support, until it's approved by the committee.
"While the original schedule would have allowed for a committee markup and vote on the Iran Nuclear Agreement Review Act of 2015 before final floor consideration, it is clear that Senate Democrats will filibuster their own bill — a bill they rushed to introduce before the White House cut a deal with Iran," McConnell spokesman Michael Brumas told TheBlaze. "So, instead, the Senate will turn next to the anti-human-trafficking legislation while Democrats decide whether or not they believe they and Congress as a whole should be able to review and vote on any deal the president cuts with the leaders of Iran."
Senate Majority Leader Harry Reid (D-Nev.), who criticized McConnell for rushing the issue, welcomed the decision on Thursday.
The bill in question is from Menendez and Sen. Bob Corker (R-Tenn.), who chairs the Senate Foreign Relations Committee. Corker said in a statement this week that he still wants to work for committee approval of the legislation, and hinted that could happen shortly.
"I am encouraged by the growing support for the bipartisan Corker-Menendez Iran bill and look forward to working through the committee process to build additional support so that Congress has the ability to weigh in on behalf of the American people on one of the greatest national security issues of our time," said Corker.
The timing on the Iran nuclear agreement and possible legislation all depends on what happens in the next few weeks. The Obama administration has said it is shooting for a framework agreement that it can share with Congress by the end of March.
Those talks have been taking place even as many have called for tougher sanctions against Iran. Those who support sanctions now argue Iran will not offer any meaningful concessions, and that only sanctions will work.
Menendez has criticized Obama's approach as well, but in late January said he would not support any new sanctions legislation until it's known whether the U.S. and Iran can meet the March deadline for a framework deal.
The bill being debated in the Senate is not a sanctions bill, but it would accomplish another goal of skeptics by requiring Congress to review and approve any deal that's reached. It would also allow the administration ease sanctions against Iran only after Congress decides it approves of the deal.
The legislation would also require the government to inform Congress about Iran's compliance with the deal every three months, and would allow Congress to quickly vote to restore sanctions if compliance can't be verified.