Ten Senate Democrats told President Barack Obama on Tuesday that they would not vote for an Iran sanctions bill until after late March, essentially giving Obama two months to reach a framework deal under which Iran agrees to give up its nuclear weapons program.
The Obama administration extended negotiations with Iran on a nuclear deal last November, and is now targeting March 24 as a deadline for reaching a framework agreement. The administration hopes to reach a final deal by June 30.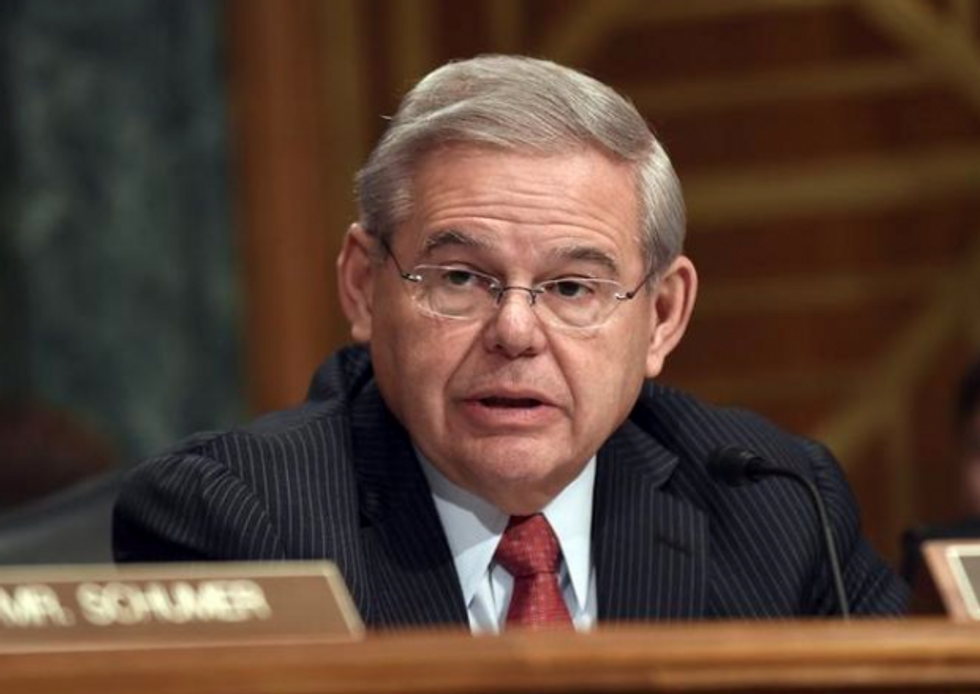 Sen. Bob Menendez (D-N.J.) and nine other Senate Democrats said they would not vote on an Iran sanctions bill until late March, after a key deadline in the Iran nuclear talks passes. Image: AP Photo/Susan Walsh
In the meantime, the administration has said it opposes any effort in Congress to approve new sanctions legislation. That has caused friction among Republicans and Democrats who argue that Iran is stalling for time, and that Congress should be getting new sanctions ready in case a deal fails to materialize.
But in their letter to Obama, Sen. Bob Menendez (D-N.J.), the top Democrat on the Senate Foreign Relations Committee, and nine other Democrats said they would give Obama some breathing room by not voting for a sanctions bill until after March 24.
"After March 24, we will only vote for this legislation on the Senate floor if Iran fails to reach agreement on a political framework that addresses all parameters of a comprehensive agreement," they wrote. "This deadline is the critical test of Iranian intentions."
Democrats no longer run the Senate, but Menendez is a key Democratic backer of tougher sanctions on Iran. As a result, it now appears unlikely that the Senate will be in any position to move a sanctions bill until late March.
Their commitment is unlikely to fully satisfy the White House, since it holds open the chance of a sanctions vote if a framework deal is reached that doesn't satisfy Congress. But it does give Obama about two months to work on that deal without the threat of sanctions, at least in the Senate.
It's not clear, however, if House Republicans will also agree to hold their fire.
Senate Democrats said they doubt any deal will emerge from the talks at all.
"We remain deeply skeptical that Iran is committed to making the concessions required to demonstrate to the world that its nuclear program is exclusively peaceful by March 24 – the deadline agreed upon for a political framework agreement," they wrote. "Considering Iran's history in nuclear negotiations and after two extensions of the Joint Plan of Action, we are concerned that Iran is intentionally extending the negotiations to improve its leverage at the negotiating table."
Israeli Prime Minister Benjamin Netanyahu is scheduled to address a joint session of Congress on March 3, when he is expected to lay out his case for tougher actions against Iran.