The 89-year-old widow of a World War II veteran was left stunned Thursday when she was presented with the dog tag her husband lost while overseas in 1944.
"If nothing else ever happens to me again, this is the most wonderful thing that has happened to me. Jim was such a good person," Catherine Wallace, of Indianapolis, told WRTV.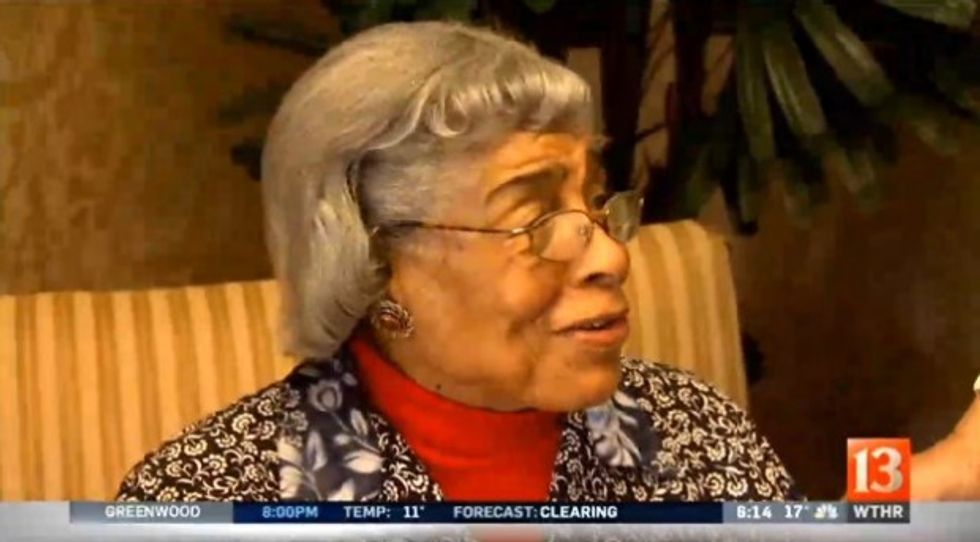 Image source: WTHR-TV
The dog tag, lost in Normandy, France, was found with a metal detecter by Frenchman Francois Blaizot last summer. After making the discovery, the 22-year-old made it his mission to return it to the man's family.
Eventually he made contact with Cory Goodwin who works at the Grant County Veterans Affairs. Goodwin searched through local records and was ultimately led to Wallace. A presentation ceremony was setup for Thursday to return James' dog tag to her.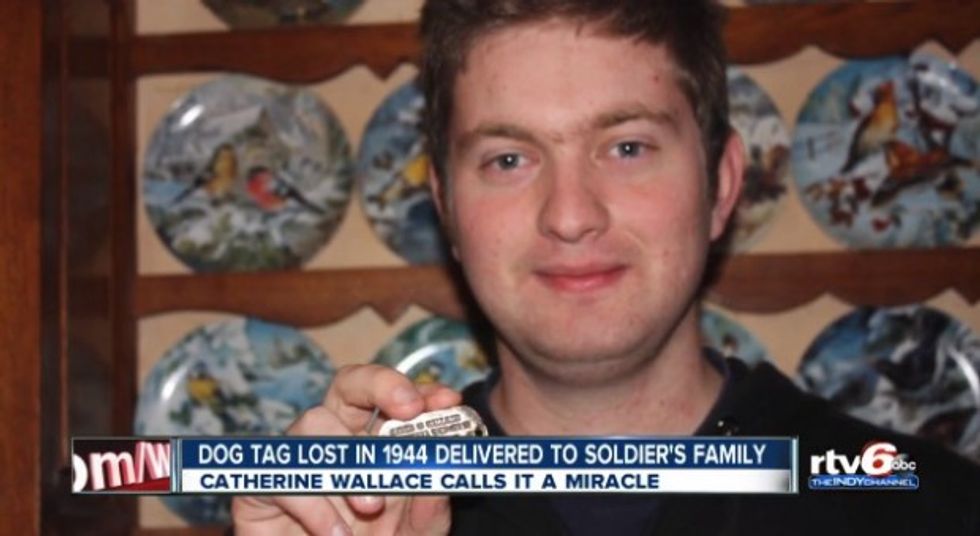 Francois Blaizot. (Image source: WRTV)
"He could have given it to someone. He could have sold it to a collector. Instead he decided he wanted to find the family," Wallace's daughter, Tanya, told WRTV.
"I think it's remarkable. I think it's fantastic. I think how wonderful it lasted. I don't know what kind of metal they used back then, I'm so surprised it lasted in the condition that it did," echoed daughter Robin Wong.
Blaizot sent Wallace a letter along with the dog tag.
"It's a real pleasure to give you back the dog tag of your husband," it said. "It is a way for me to pay tribute to men like your husband who came to our country and restored liberty."
Speaking to WTHR-TV, Wallace said the whole thing just seems surreal.
"I just can't believe it," she said. "I just can't believe it."
"Did you realize how rare it is someone would find that on another reach and send it to another country?" a reporter asked.
"I think it's a miracle. I think it's a miracle," the 89-year-old answered.
Wallace's husband served as an Indianapolis firefighter for decades before retiring as a lieutenant and passing in 1997.
—
Follow Oliver Darcy (@oliverdarcy) on Twitter